Learn more about how we received LEED Certification at one of our biggest plants and why this is so important to our company and our people.
We're thrilled to share that our Hamilton, Ontario plant received the Leadership in Energy and Environmental Design (LEED) Silver certification, acknowledging it as a plant that improves efficiency, lowers carbon emissions, provides healthier space for people, and saves money! Maple Leaf Foods was awarded this certification from the Canada Green Building Council, an organization that champions 'green' buildings to create a healthier planet for all.
On our journey to receiving LEED Certification, the City of Hamilton provided our organization with a $2.6 million grant to support the necessary introductions and innovations to become a green building. So, we had to thank them!
We held a commemoration event at our Hamilton plant — affectionately nicknamed 'Heritage' — to welcome and thank representatives from the City of Hamilton for its significant support.
At the event, Team Members Randy Huffman, Chief Food Safety and Sustainability Officer, and Heritage Plant Manager, Tom Sims represented Maple Leaf Foods and welcomed Deputy Mayor and Councillor (Ward 4) Tammy Hwang and Councillor Mark Tadeson (Ward 11) to the ceremony and thanked the City of Hamilton for its support.
It was a day of celebration and gratitude — filled with hope for what's to come for our commitment to sustainability at Maple Leaf Foods.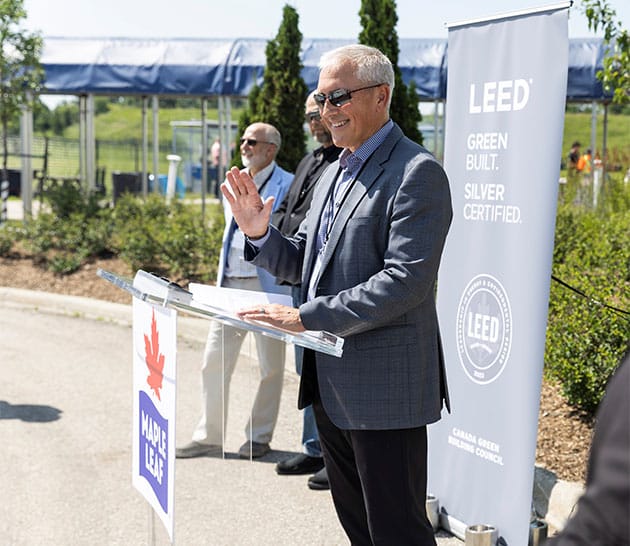 How did Heritage implement LEED Certification into its building design?
Receiving LEED certification is a remarkable accomplishment for the Heritage team who have played a significant role in becoming a certified facility.
The LEED Canada Rating Systems are promoted by the Canada Green Building Council to encourage and facilitate the development of more sustainable buildings. This project was evaluated according to LEED Canada-NC (for New Construction) system.
At Heritage, the process to receive LEED Certification began from the site's construction. We knew from the beginning that we wanted to construct it with an eco-friendly design.
Key building features that went into creating this 'green' facility include alternative transportation such as a bicycle storage area and low emitting and fuel-efficient vehicles, optimizing energy performance, enhanced refrigeration management, water use reduction and using low-emitting materials maximizing open space that encourages interaction with the environment among other environmentally friendly features.
In the past few years, the Heritage facility has implemented several initiatives that have led to gradual reductions in our environmental impact including a national LED lighting retrofit program, equipment efficiency and optimization upgrades, ammonia heat recovery and wasted heat recovery systems, composting and recycling programs, control measures and closed-loop systems for water use, and improvements to storage, handling, and employee training to reduce food waste.
As a result, Heritage has reduced its electricity intensity by 72.9%, natural gas intensity by 47.2%, and water intensity by 54.8% all from a 2014 baseline, it's solid waste intensity by 51% from a 2015 baseline, and food waste intensity by 45.4% since 2016.
In 2014, the 500,000 sq. ft. Heritage facility officially opened its doors. Today, the plant employs more than 900 Team Members. It truly is a state-of-the-art prepared meats facility! Heritage makes a wide variety of hot dogs and deli meats, including more than 500 delicious products that consumers just like you eat every day.
LEED Certification isn't the only major feat for Heritage — in fact, it's also an award-winning plant! In 2022, we were proud to be named Site of the Year for the Americas by Brand Reputation Compliance Global Standards (BRCGS), an honour that reflects our incredible and hard-fought journey to excellence.
At Maple Leaf Foods, we're proud to be the world's first major carbon neutral food company. We will continue to implement sustainable innovation — and we'll do it one environmentally friendly step at a time.
Ready to join us? Find your career path at Heritage here.