Where we work
Maple Leaf Foods Hamilton, Heritage
440 Glover Road
Hannon, ON
L0R 1P0
Our state-of-the-art prepared meats facility makes a wide variety of hot dogs and deli meats. Opened in 2014, the Heritage plant combines the production of five Maple Leaf Foods plants into one facility. It produces over 500 unique SKUs of delicious products.  
An award-winning plant in Hamilton, Ontario
We are proud to be named Site of the Year for the Americas by Brand Reputation Compliance Global Standards (BRCGS) in 2022!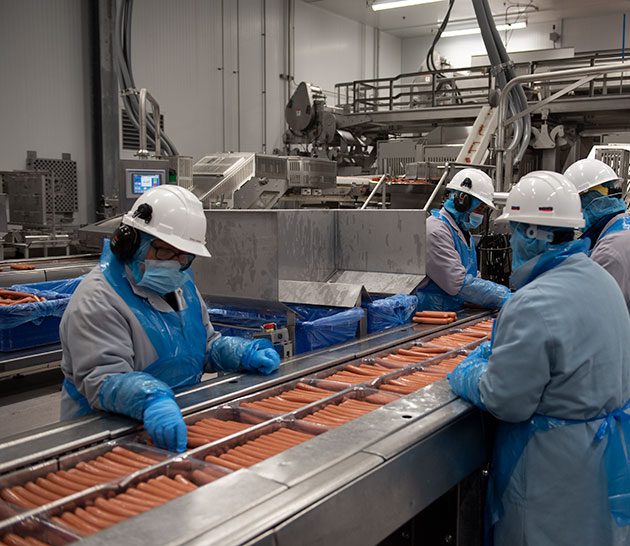 What we make at the Maple Leaf Foods plant in Hamilton
Our Hamilton "Heritage" plant is one of our largest plants. In this state-of-the-art facility we produce more than 350 products, including hot dogs, ham, and turkey, as well as a wide range of other deli meats.
 
Our Maple Leaf® Top Dogs are made right here!
Our story
Creating jobs in Hamilton
Hamilton is home to our state-of-the-art Heritage facility. We chose Hamilton because of its proximity to Toronto and other major cities and because it's home to a skilled workforce. Our plant represents the largest investment ever made in food manufacturing in Canada.
 
We broke ground in June 2012 on 48 acres of land and the new 500,000 sq ft plant began production in 2014. Heritage is our most technologically advanced prepared meats plant. We use automation throughout food processing to reduce human contact with products, which improves food safety.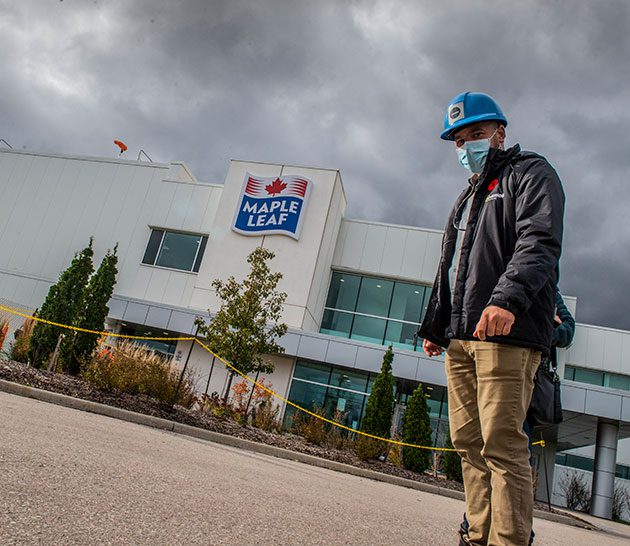 Sustainability at the Heritage plant
We've improved our lighting, invested in waste and water management equipment, and are constantly making improvements at the plant to meet our sustainability goals.
Plant Facts
Total # of employees: 1,000 employees
Size of plant: 500,000 sq ft
Opened in 2014
Produces 60 million kgs of deli meats and wieners
Wiener operation produces over 800,000,000 hot dogs per year
Utilizes the AI (armor inox) cook and bag process that is unique to Heritage and was the first use of this technology within Maple Leaf Foods and in Canada
Winner of the BRCGS as the Site of the Year for the Americas in 2022
Q&A with Heritage leadership team
Tell us about your plant and what you produce there?
Heritage opened in December 2013. At the time, five legacy sites were merged to form Heritage: Kitchener, Bartor Rd., Hamilton, Moncton, and Berwick. Today, we employ approximately 1,000 salaried and hourly staff.

At Heritage, we produce more than 350 product SKUs comprised of Deli Sliced & Piece Meats, Bologna, Pepperoni, and Wieners.
What's an interesting fact about your site or operations that people wouldn't know?
In 2022, we hosted an employee appreciation event that included clowns, balloon animals, face painting, and games, and finished off with fireworks. We were able to have more than 300 Team Members and their families attend the event, and we're looking forward to it being even bigger and better year over year!

We are also a LEED certified building! In 2023, Heritage received the Leadership in Energy and Environmental Design (LEED) Silver certification, acknowledging our site as a 'green' building that helps create a healthier planet for all.
Do you have a unique plant tradition or culture?
During Christmas time each year, Heritage participates in Adopt-a-Family, where we raise funds to support a family in need. It's run through St. Matthew's House, and last year we were able to support nine families.
What makes this a fun place to work and a good community to work in?
We've put a lot of time and energy into building an amazing culture that people enjoy being a part of. We host monthly BBQs for our staff, take part in lots of different events throughout the year, and are continuously looking at ways to celebrate and recognize our staff. Our social committee always has something up their sleeve for the next big event at Heritage.

There are lots of great people that make up the team at Heritage and we have great connections within the community. Hamilton has slowly transitioned its downtown and hosts some of the best restaurants in Ontario, so if you enjoy food, you have to check some of them out!
Does your plant do events or team building? What does Diversity and Inclusivity look like at Heritage?
Events and team building is one area we put a lot of time and effort into as it's key to ensuring our team has a chance to bond outside of the typical work environment. We do different events throughout the year and we celebrate diversity and inclusion in many ways through events we plan during the year!
What are the different teams/departments that work here? What is your location and access like?
Being one of the largest sites in the Maple Leaf Foods network, we have a large supporting cast that includes Health & Safety, Food Safety/Quality Assurance, Human Resources, Scheduling/Purchasing, Maintenance, Automation, Finance, and Operations. There are tons of great roles and an opportunity to cross train between them!

Our plant is located just outside of Hamilton. It's great because it doesn't get caught up in the GTA traffic as it's off the Red Hill Valley Parkway and Lincoln Alexander Parkway. We have free parking on site including spots for electronic vehicle charging, and have round the clock bus access.
What kind of perks does Heritage offer? How do you reward and value your employees?
We have many team events throughout the year, many of which that include food or free swag. We also pair up with other sites across the network to do employee giveaways, so our Team Members can get a chance to try some of the great products we make!

At Heritage, we also have several different ways we look to recognize and reward our teams, including but not limited to gift cards, free swag, lunches, and more. We take time to invest in our people through various training at both on- and off-site locations to develop the next generation of leadership!
What is the process to receive your uniforms and PPE? Is this provided or paid for out of pocket?
PPE is provided to all Team Members here at Heritage, we ensure that you have everything you need to work safe and go home to your family and friends in the same condition you came in!
What does professional growth and development look like at Heritage? Do you have a success story?
When it comes to professional growth and development, we offer several different ways to train and develop our people here at Heritage. As of 2023, we have an on-site training team which is responsible for coordinating training for both hourly and salaried Team Members. We've had many hourly Team Members work their way into various salaried roles up to and including Production Managers!

We have many success stories of people who have come from our building. Several of our salaried positions are currently held by former members of our hourly staff who showed the desire and determination to continue growing within the team. Additionally, we've had many great leaders from Heritage continue on to impactful roles throughout the business across all functions.
Manufacturing at Heritage
A peek inside our plant.
Are you looking for an exciting career in manufacturing? Join us in Hamilton!