Starting off as a new graduate with Maple Leaf Foods just 10 years ago, today Carmelle has advanced to lead the hiring plans at our state-of-the-art poultry processing plant!
Carmelle Voth is the Leader of Human Resources (HR) at our new London Poultry processing plant in London, Ontario. Carmelle joined Maple Leaf Foods fresh out of university in 2012 and since then, has been in several different roles within the HR department while supporting many business units.
Today, Carmelle's role is in supporting the start-up the London Poultry facility. It's one of largest and most technologically advanced poultry processing facilities in the world with leading-edge food safety, environmental, and animal welfare processes and technologies to advance our vision to be the most sustainable protein company on earth. In her role as HR leader, Carmelle is responsible for the development of our strategic people plans necessary to support the start-up of this world-class facility. The London Poultry team is now in the ramp-up phase of the project with plans designed to attract and retain the more than 1,600 people required to successfully run this operation!
What brought you to Maple Leaf Foods?
When I joined Maple Leaf Foods, the organization was in its transformation phase and had recently announced an expansion to the Winnipeg facility to consolidate all of the bacon manufacturing into one centre of excellence. I joined as part of the project team supporting the startup and while I knew nothing about manufacturing, I thought it would be a good way to develop my HR skills on an exciting and impactful project. It didn't take long, and I was quickly hooked on the excitement and fast pace found in our manufacturing operations.
What made you stay?
I get asked this question a lot when I meet with people during the interview process, and I always tell them two things.
First, in my 10 years here at Maple Leaf, I've been able to take part in multiple projects including expansions, plant closures, corporate initiatives, and now our London plant startup. The organization continues to grow and change, and with it provides new and exciting opportunities that have developed my skills as a professional and offered me continuous learning.
Secondly, I've stayed because all of the people I get to work with. Maple Leaf Foods has a strong, values-based culture that's brought to life by our people and makes this a great place to learn and grow.
Why is gender equity so important in the workplace?
The easy answer would be that it's the right thing to do given that the world's population is split 50/50. However, those that know me know that I have a strong love for all things facts and data and believe that there exists a clear business case for why gender equity and overall diversity are important within the workplace. Countless studies have shown that some of the benefits of gender equity include improved decision making, improved culture and employee engagement, and stronger connections with customers in addition to improving the bottom line. I believe that organizations who want to thrive into the future cannot ignore these factors both from a values and business perspective.
How do you define your purpose at Maple Leaf Foods?
My role at Maple Leaf Foods is focused on our people, and the collective work of our people is what will ensure we achieve our vision to become the most sustainable protein company on earth. I believe it's my purpose to ensure that we have the right people, in the right roles, and with the right skills to help us bring that vision to life.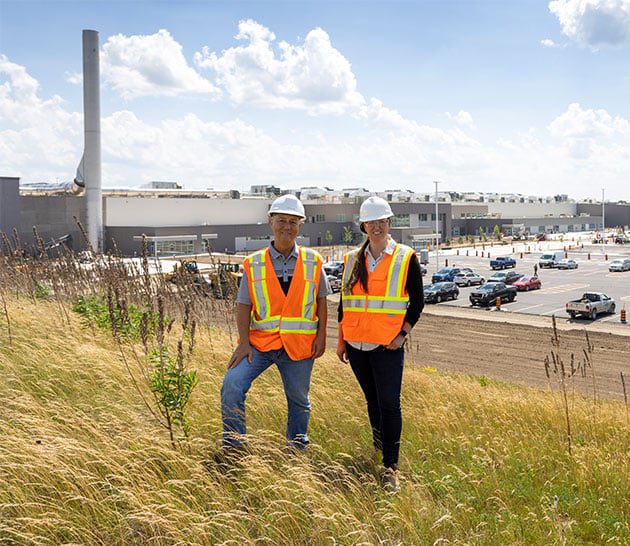 What's one of your proudest accomplishments?
My proudest accomplishments have happened when I get to watch teams of people that I've helped to build or develop come together to achieve their objectives. The London Poultry project I'm currently supporting is a prime example of this. While the work is still far from done, I'm incredibly proud of the team we've put together and the work everyone is doing to ramp-up this new operation. The successful start-up of the London Poultry facility is an important part of our strategic vision, and I'm proud to be a part of this team.
What challenges have you faced as a woman in a leadership role? How did you overcome them?
As a leader, I've had many experiences where I've been both the only woman and the youngest person in the room. At times, I experienced self-doubt and questioned if I had earned the right to be where I was. You might have heard the term "imposter syndrome" which can be very real for many people and is something that's more commonly felt by women in these types of situations. An important mentor helped me realize that the only person asking those questions was myself and these feelings would only get in the way of me being present and being my best self.
There's an interesting TED Talk by Amy Cuddy that discusses how our body language affects how others see us but can also impact how we see ourselves. Exhibit confidence even if you don't always feel it internally as it might just help you develop a real confidence in all that you do!
What do you wish people understood better about what you do?
You might have heard the description of human resources responsibilities as "hiring and firing" which always makes me cringe. There's so much variation in the world of HR that isn't always understood by those not in the field and it's often done behind the scenes. We truly are a business partner for the organization and the work we do is focused on helping the organization achieve its objectives.
Do you have a personal motto?
Not necessarily a personal motto, but I do have a favourite quote which is: "The future belongs to those who believe in the beauty of their dreams." – Eleanor Roosevelt. It helps remind me that you don't have to justify your goals or dreams to anyone, they just need to matter to you.
What advice do you have for women in the early stages of their career?
There are two pieces of advice that I would offer other women as they navigate their careers:
Be curious and don't be afraid to ask questions and learn about things that you might feel are outside of your scope. You might be surprised by the information you learn that can help you as you build your career. I never thought that as an HR professional, I would need to understand the intricate details of manufacturing bacon or poultry products. However, these things have been critical to helping me understand the needs of the business and supporting our teams.
Don't hold yourself back and base your career decisions on what you think the future you will want or need. We're not very good at predicting the future so it's important that you don't make decisions that will take you out of the game before it has even started. Instead, I would encourage women to be confident enough to step outside of your comfort zone and seize the opportunities that are in front of you. These are often the times we learn the most about ourselves.