Where we work
Maple Leaf Foods Winnipeg, Lagimodiere Blvd
870 Lagimodiere Blvd,
Winnipeg, MB
R2J 0T9
This is our Bacon Centre of Excellence! We make raw and pre-cooked bacon and ham.
What we make at the Maple Leaf Foods Lagimodiere plant in Winnipeg
Our Lagimodiere plant in Winnipeg is our Bacon Centre of Excellence! We process fresh pork from our Brandon plant into delicious bacon and ham products. We love bacon and this is where it's made.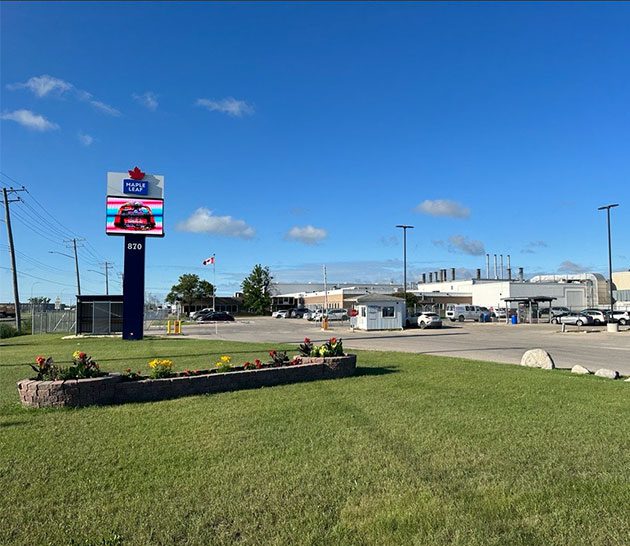 Bacon Centre of Excellence
This state-of-the-art facility is our Bacon Centre of Excellence!
We added 73,000 square feet to our Lagimodiere plant in 2021. This investment has helped us meet growing consumer demand for bacon. Our plant is now Maple Leaf Foods' primary hub for pre-cooked bacon production. The expansion also increased production capacity for our other bacon products.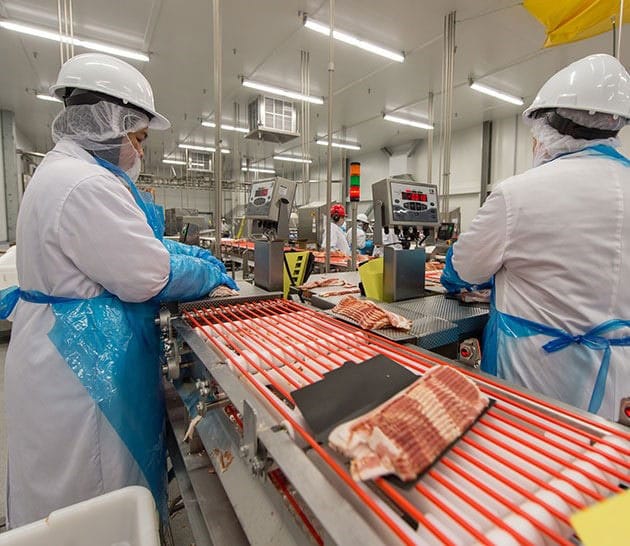 Plant facts
Total # of employees: 1,795 employees
Size of plant: 500,000 sq ft
Produce product for sale in Canada and U.S.
We have our own warehouse and four unique plants under one roof
Q&A with the Lagimodiere leadership team
Tell us about your plant and what you produce there?
Lagimodiere opened in 1964 in its original form, with expansions in 2008, 2012, and 2021.

Here, we produce raw and ready to eat ham and pork products, and of course bacon in our Bacon Center of Excellence!

At peak season, we'll have 1,800 frontline team members in hourly positions, and 230 support team members in salaried positions working on-site at the Lagimodiere plant.
What's an interesting fact about your site or operations that people wouldn't know?  
We support local lunch programs, neighbourhood cleanups, and promote sustainability through our Environmental Sustainability Group. This group of Team Members support creative initiatives such as our burnt woodchip recycling program, where employees can take burnt woodchips home to use as fertilizer in their gardens.
Do you have a unique plant tradition or culture?
At Lagimodiere, we like to have a TON of fun — we work hard, and we play hard! Some of the events that we've done to build this culture include our annual golf tournament, softball tournaments, staff BBQs and pizza days, holiday gift exchanges, and our Friday theme attire days where staff wear sports jerseys or other fun-themed clothing.
What makes this a fun place to work and a good community to work in?
We thrive on engagement and in creating a positive environment – affectionately referred to as our 'Fun Factor!'

Lagimodiere is located on the East side of Winnipeg, a city offering affordable housing, a low cost of living, diverse employment opportunities, and a multicultural and diverse population. In addition to the city's great culture, Winnipeg has a strong health care system and world-class universities.
Does your plant do events or team building?
We hold annual whole plant pizza, BBQ, and holiday lunches — yes, we have ordered 2,000 individual pizzas for everyone at the plant! Many of our teams begin their day with a group stretch (both or frontline and support teams), and we hold annual golf and bowling team building events, as well as smaller functional group teambuilding events.
What are the different teams/departments that work here? What is your location and access like?
We have team members working in Production, Distribution, Maintenance, as well as Sanitation and Janitorial. We have four production plants and a distribution center within our facility. Our plant is approximately 500,000 square feet and we operate 24 hours, 6 days a week.

At Lagimodiere, there's access to public transit with our plant being on a bus route and we offer free parking.
How do you reward and value your employees? What kind of perks does Lagimodiere offer?
We offer competitive wages, benefits, bonuses based on plant targets and objectives, referral bonuses, a defined contribution pension plan, and an employee and family assistance program (EFAP).

In addition to our teambuilding events, we have a Plant Market where team members can purchase discounted products. We also have monthly draws, contests, celebrations for meeting targets, as well as recognition programs where team members can be recognized with event tickets for local sporting events, gift cards, and Maple Leaf Foods merch (tumblers, lunch bags, etc.)
What does Diversity and Inclusivity look like at Lagimodiere?
With almost 2,000 people at our plant, we celebrate diversity and inclusivity in all forms. From our hiring practices to our inclusive environment, everyone has a place and is respected at Lagimodiere!
What is the process to receive your uniforms and PPE? Is this provided or paid for out of pocket?
PPE and uniforms are supplied by Maple Leaf Foods and are provided during orientation. We also provide reimbursement for the purchase of steel-toe boots for maintenance personnel.
Do you have a success story?
Graeme Acheson started with Maple Leaf Foods back in spring of 2000 as a general labour team member in packaging working on the Supervac Machine — a machine that's still in the plant! He progressed to a junior role in finance and then to operations as a Production Supervisor. Graeme spent time working in the Human Resources Department, then went back to operations and worked as a Production Manager and progressed to an Operations Leader, before assuming his role of Site Leader in 2023.
Manufacturing at Lagimodiere
A peek inside our plant.
Want an exciting career in manufacturing? Join us!