Barb Callander shares why she's excited for the future of opportunities for young women in manufacturing and operations.
Barb Callander, VP of Operations Excellence, Six Sigma & Learning at Maple Leaf Foods, will be leaving a lengthy career in manufacturing and operations to pursue broader interests in leadership development.
Barb reflects on the positive changes she's seen in manufacturing organizations, and the importance of Diversity & Inclusion at all levels in the workplace. As a mentor for people early in their careers, Barb is set to leave a legacy of developing the next generation of leaders — who are prepared to advocate for themselves and have the courage to take on interesting challenges.
During your career, what kind of progress have you observed in opportunities for women? Are you hopeful about the future?
As I approach retirement, I'm finding that you become very reflective. Looking back over the 38 years that I've worked in manufacturing and operations I've seen a lot of positive change. The concept of a "glass ceiling" for women and minority groups was first introduced in 1978 and has been the subject of much discussion since. While women and minorities are still under-represented at senior levels in some industries, I think those invisible barriers are better understood and organizations are taking the importance of Diversity & Inclusion seriously.
When I think about the really talented women that I've had the opportunity to learn from in my career, they're thriving in "C" suite roles with global organizations today. The glass ceiling isn't talked about as much anymore and they've smashed through it. We all just want a seat at the table and to be considered for opportunities based on our ability. Gender, race, or sexual affiliation shouldn't be a factor. I'm extremely optimistic about the opportunities that young women will have in the future and I think that so many of the challenges I saw early in my career aren't there to the same extent today. Leaders are embracing diversity and recognize that organizations are more effective when we encourage everyone to have a voice.
What can we do to encourage more women to pursue opportunities in operations and manufacturing?
I think there's a historical stigma about careers in manufacturing that we need to change. There are some pretty exciting things going on. Organizations are investing in automation, the Internet of Things (IoT), and machine learning to improve their efficiency and skills.
I was talking to a member of my team recently about this very thing. I agree with her point of view that influencing young girls early on is important. Students make curriculum choices that can change their future trajectory especially when it comes to math and science. When I was in the automotive industry, we did a lot of educational outreach as part of our Women's Advisory Council initiatives encouraging young girls to keep taking math and sciences in school. I would encourage women to try manufacturing. It's a great opportunity for accelerated learning. In such a fast-paced environment, you build skills that you can apply anywhere in the organization.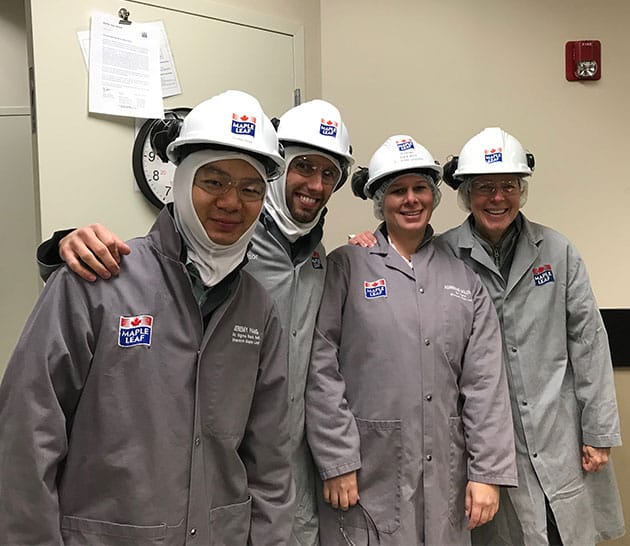 What advice would you give women who want a thriving career in operations?
The magic happens outside of your comfort zone. Seek out stretch assignments. Have confidence in your ability to take on something that your experience level might not check all the boxes for.
What's one of your proudest accomplishments?
I'm extremely proud of our OES-6Sigma-Operations Learning team. Together we've built a strong community of skilled professionals who flex to support the shifting priorities of the business. Many stepped out of their traditional roles during the pandemic to support plant critical needs. I've had the privilege to support really smart, talented people in my career.
What challenges have you faced as a woman in a leadership role? How did you overcome them?
I've worked in non-traditional manufacturing roles at a time when the environment didn't have a lot of female role models. My approach was to diffuse tense situations through humour. I've had the benefit of some amazing mentors and sponsors who've taken a risk on me.
What advice would you give your younger self starting out in your career?
Advocate for yourself, and let people know what you need.
How do you hope you'll be remembered after retirement?
I see my role as helping to develop the next generation of leaders. That's why mentoring people early in their careers, as well championing the Leadership Track program, the Operations Leadership Academy, and the Diversity in Operations Task Force are so important to me. I hope that's how I'll be remembered.