Check out our
New Grad Jobs
If you're early in your career, we've got a program for you!
Our Leadership Track Graduate Program is a unique three-year rotational career opportunity that gives you hands-on experience in different areas of Maple Leaf Foods.
About our graduate leadership program
We created the Leadership Track Graduate Program to give recent graduates a kickstart to a career in the food industry and skills and training to become a future leader.   
 
When you join our program, you will join different teams across different business areas, get a chance to work on real projects and develop your leadership skills. Successful graduates of the program go on to roles at Maple Leaf Foods where they continue to grow their careers!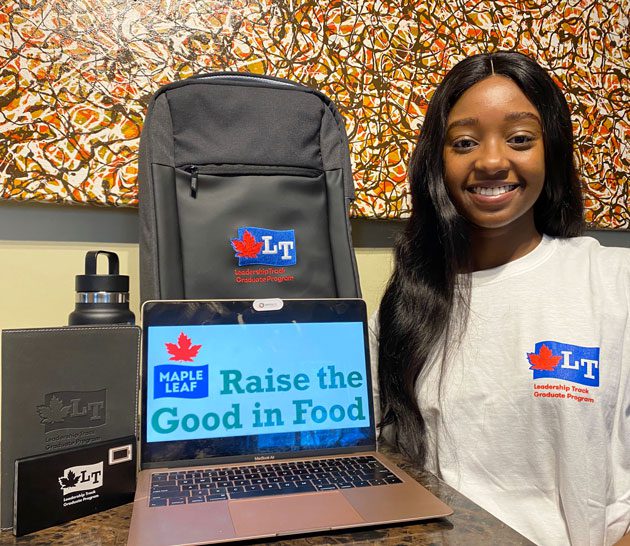 We're looking for talented, driven and ambitious new graduates
Are you looking for a challenging, demanding and rewarding experience? Do you have what it takes to be a future leader?
Who we're looking for:
Students in their final year of undergraduate or post-graduate university studies
Passion for the food industry, manufacturing, operations
Strong affiliation with our Leadership Values
Willingness to relocate to our many locations across Canada and the U.S. to gain the best experience
Demonstrated leadership through work experiences, involvement in school programs, volunteer roles, community activities and sports
Exceptional communication skills
Strong analytical and critical thinking skills
A team player with lots of energy and passion
What you get from our new graduate program
It's important that you get on-the-job experience, but that's not everything. To truly be a future leader, you will also receive:
Access to learning resources, professional workshops, leadership training
Early-on feedback and annual performance reviews. You'll develop a career action plan that will help you obtain the skills and experiences you need to reach your full potential
Senior-level mentorship
Networking and learning opportunities throughout the company
Competitive salary, benefits and a pension plan
How to apply to our new graduate job program
We post a job listing for the Leadership Track Graduate Program on our job board each September. Applications are due mid-October.
 
We also post at various post-secondary institutions across Canada – check out the job boards at your school!
 
Here's what you'll need to apply:
– A resume
– Cover letter where you tell us what career path you'd like to take
– Academic transcript (official or unofficial is fine)
Graduates of our Leadership Track Graduate Program go on to be leaders in the company!
Here's what they have to say about the program.
"You're actually put in a job — a job that needs to get done. So there's accountability, there's responsibility, and you really get to try something, and own something. It's really foundational that you can accelerate that experience over a course of time and in so many different areas."

– Adam, Greenleaf Foods

"I think the LTP program provides you with the opportunity to be in a leadership role or position extremely early in your career. At other places you have to earn that right–whether it's supervision, project leadership, etc. The LT program gives you that experience up front and you're going to use that as a base in any profession or functional path you choose."

– Ryan, Greenleaf Foods

"I discovered how much I enjoyed being in an entrepreneurial type environment. I wouldn't have known that as a graduate. So a benefit of the program is that you have an opportunity to find yourself in a way you may not have anticipated – I'm grateful to have had that opportunity because I probably wouldn't have spent any time in sales otherwise."

– Josh, Food Service Sales and Marketing
Start your career in food