Ketchup vs. mustard, pickles vs. relish, diced vs. fried onions—we round out the best condiments to put on hot dogs
By Janet Riley, Vice President of Communications, Maple Leaf Foods, aka 'The Queen of Wien'
It's time for the second round of The Hot Dog Debate series and this time, we're facing off hot dog condiments!
In Round 1, you saw Maple Leaf Foods take it upon ourselves as hot dog lovers to settle the longstanding question: what's the best way to cook hot dogs?
We understand that there are many ways to dress your franks, but did you know that there are technically right and wrong hot dog toppings too? If you're Canadian, the odds are high that you've been committing a hot dog faux pas your whole life and didn't even know it. But don't worry, we'll let you off the hook for this one.
Read on to dive into the debate of the best condiments to put on hot dogs this grilling season!
1. Ketchup on hot dogs
You've likely done it dozens of times in your life and didn't even know that down south, your neighbours were wincing at the thought of drizzling ketchup on hot dogs.
How could something that's deemed so wrong taste so good?
According to our own Hot Dog Etiquette first released in 2019 and updated in 2021, "many Americans shun ketchup on hot dogs, [but] reaching for ketchup is as natural a reflex for Canadians as gripping on a hockey stick. It's permitted within Canadian borders for hot dog lovers at any age."
And in this video from the National Hot Dog and Sausage Council on Hot Dog Etiquette, I explain the cardinal rule of hot dog consumption: "never, ever put ketchup on a hot dog after the age of 18. We all have to grow up sometime!" Plus, legend has it in the city limits of Chicago, you could be arrested for committing the simple offense of dressing your dog in ketchup.
Speaking of differences between Canadians and Americans, have you heard about the catsup vs. ketchup debate? In Canada, we primarily call it "ketchup" but some American brands use a variant spelling and pronunciation, calling it "catsup" according to the Government of Canada. There's a quick conversation starter for your next backyard BBQ!
So, hold the ketchup if you're an adult in America, and go full steam ahead if you're a Canadian born and raised with this iconic hot dog topping.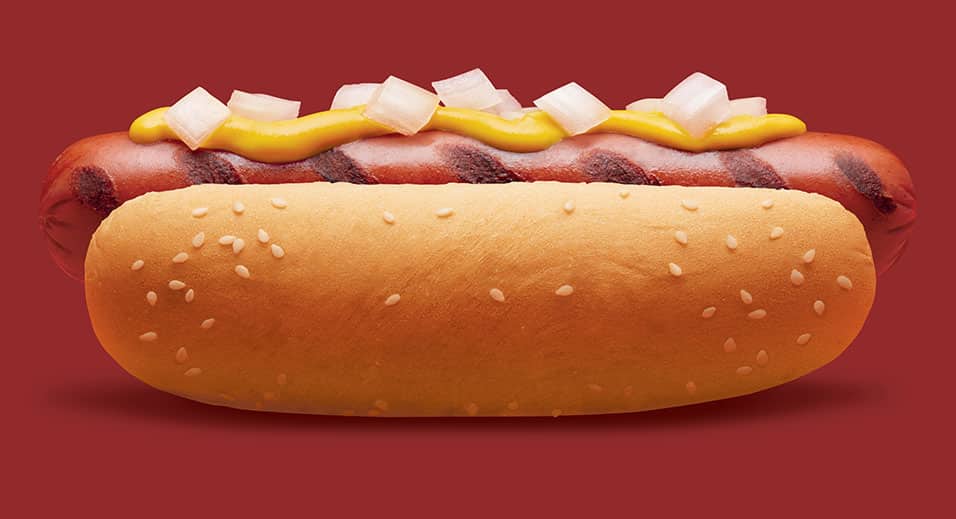 2. Yellow mustard is a hot dog win
If ketchup is frowned upon down south, then you might be wondering what is an acceptable condiment to put on hot dogs?
Mustard is widely accepted as the most delicious and suitable hot dog condiment, and it seems like classic yellow mustard is the simple choice. But it's also worth trying hot mustard, brown mustard, or even honey mustard atop your precious frank for a sweet or spicy kick.
So why was this unwritten rule not communicated to Canadians—or were we told at some point in history and just refused to accept any hot dog topping as the best besides ketchup? Whether you're Team Ketchup or Team Mustard, we're happy with whatever way you decide your dress your Maple Leaf® Top Dog™ this summer.
3. Pickles add a dill twist
Of course, there are dozens of other hot dog toppings that are widely accepted, and maybe even underrated, to add that perfect finishing touch to a juicy frank.
First up for vegetable toppings: pickles or relish? While some may opt to top their hot dogs with a sliced or speared pickle, others may opt for a sweet pickle relish that adds the perfect balance of sweet and sour. You can also achieve that sweetness with a few bread and butter pickles or sweet pickles to top off your handheld treat. For a dill pickle twist, check out this Schneiders recipe for All Beef Hot Dogs with Honey and Dill Sauce. In Chicago, they add both relish AND a dill pickle spear on a Classic Chicago Dog.
When it comes to onions, the jury's out on whether people prefer them raw or caramelized. While diced onions add a great crunch to a juicy wiener, New Yorkers love steamed onions, and fried onions also add extra flavour and sweetness. These Maple Leaf Pickle De Gallo Dogs let you experiment with finely chopped dill pickles and white onions.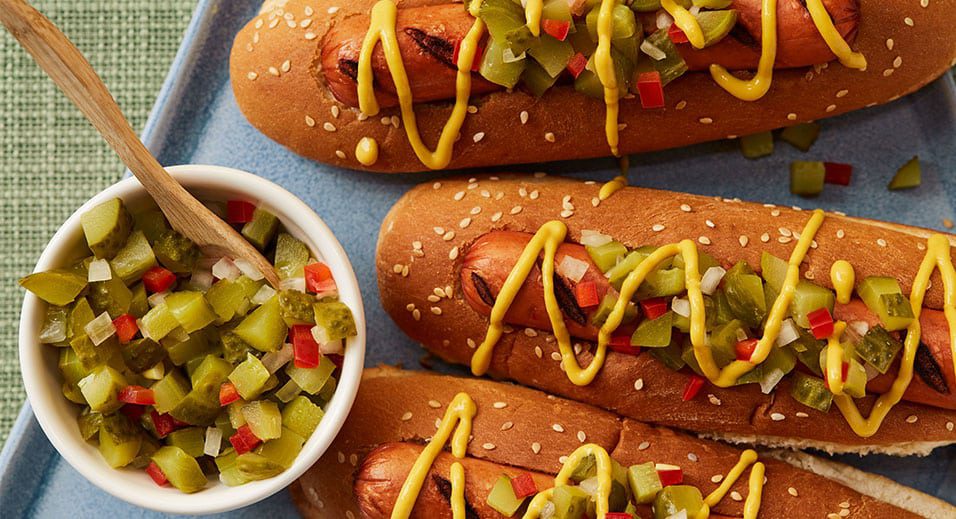 Another tried-and-true classic is sauerkraut. What is sauerkraut? Originating from Germany, sauerkraut consists of raw cabbage finely cut down into shreds that get packed into a jar and fermented in a salt brine. You can find it on grocery store shelves or can also consider making homemade sauerkraut if you have the time and patience to wait for your tasty topping to ferment.
If you like outside the box ingredients, our Canadian Hot Dog Etiquette guide also acknowledges gravy and cheese curds as acceptable. While many people outside of Canada may be puzzled, no explanation is needed here in Canada. A hot dog poutine? Sign us up!
Layer your hot dog toppings the right way
Most importantly, when it comes to your hot dog condiments, you should consider how to correctly layer your ingredients. You should always dress the dog and not the bun. Wet condiments like mustard and chili are applied first, followed by chunky condiments like relish, onions, and sauerkraut, followed by shredded cheese. Finish your masterpiece with spices like celery salt or pepper.
Whether your favourite hot dog condiments include ketchup, mustard, pickles, sauerkraut, or any other creative combination, we hope you take the time this summer to try your favourite toppings on Maple Leaf® Natural Top Dogs™, Schneiders® Juicy Jumbos® or Red Hots®, or even plant-based meat options from Lightlife and Field Roast.
And don't forget what may be my most important etiquette advice: condiments may be licked, not washed, off the fingers.
Stay tuned for National Hot Dog Day – July 20
Stay tuned for National Hot Dog Day coming up on July 20 and follow Maple Leaf Foods on Twitter to keep up with the exciting festivities we have planned to honour this national holiday!