As we head into barbeque season, get your daily veggie intake with delicious plant-based protein options ready to grill and serve
You've likely heard the phrase "eat your vegetables" time and time again. This time-tested guidance is truer than ever, but there are new and novel ways to add vegetables to your daily eating habits.
Canada's Food Guide was first introduced in 1942 and identified six food groups that were suggested for daily consumption—adding vegetables as its own category to consume. After a handful of revisions throughout the decades, the Government of Canada notes that the most recent guide from 2019 has evolved quite a bit from its predecessor.  
Today, Canada's Food Guide notes the ideal meal should consist of 50 percent fruits and vegetables, 25 percent protein-based foods, and 25 percent whole-grain foods. And it seems like Canadians are on board the veggie train as Statistics Canada reports that vegetable sales rose by 4.0 percent to $1.4 billion in 2021.
We know that vegetables are vital, and those who have experimented in the kitchen know that there are countless ways to spice up a veggie-based meal in unique and delicious ways.
Sneak your veggies into plant-based foods
Did you know that Maple Leaf Foods has more than just meat and poultry-based protein options under its portfolio of mouth-watering brands? That's right. Plant-based protein options can trick even the pickiest eaters into munching on non-GMO dishes that pack a strong serving of protein and a tasty punch of vegetables into every bite.
Maple Leaf Foods welcomed two plant-based protein brands to our family in recent years: Field Roast™ and Lightlife®. Both brands bring decades of experience in plant-based foods, which continue to grow in popularity worldwide.
Field Roast's product offerings include plant-based meat and cheese made from vegetables, grains, legumes, and fresh herbs and spices blended into uniquely fresh foods. Established in Seattle more than 20 years ago, Field Roast became one of our brands in 2018. Products include plant-based sausages, frozen appetizers like corn dogs, chicken nuggets and buffalo wings, and popular Chao Creamery™ plant-based cheeses.
Lightlife's story began 40 years ago under the original brand, "Tempeh Works," changing to its current name back in 1984. In addition to tempeh—a minimally processed 'superfood' made from just three ingredients—Lightlife's portfolio of products includes plant-based Smart Dogs, Plant-Based Chicken, Plant-Based Burgers, Bacon and more.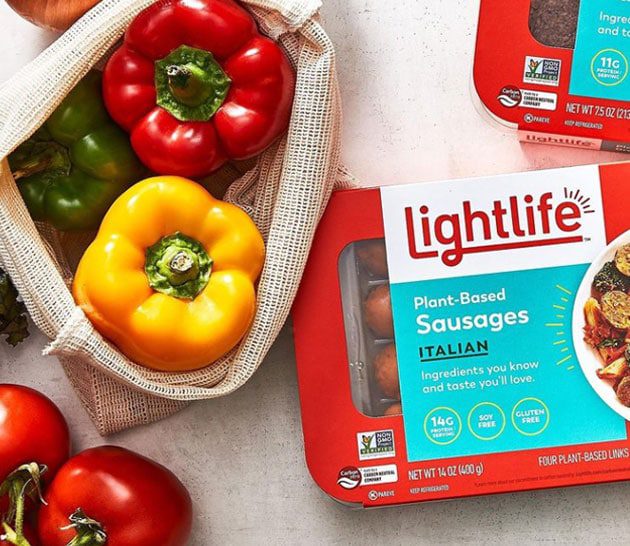 So, we thought, what better way to celebrate the upcoming National Eat Your Vegetables Day than by taking a deep dive into plant-based foods! This fun holiday emphasizes the importance of vegetable consumption as we learn more about taking care of our bodies inside and out.
Learn more below about the unique plant-based protein products by Field Roast and Lightlife, delectable meals you can whip up for National Eat Your Vegetables Day on June 17, and how to incorporate more veggies into your diet.
Plant-based food options you should explore
The vegetable party is only just beginning this summer! As we head into grilling season, why not sample a plant-based hot dog?
The whole family will love Lightlife Smart Dogs®, which offer 8g of protein and 0g of saturated fat in every hot dog. Looking for something with an even bolder taste? Field Roast's Signature Stadium Plant-Based Hot Dog delivers. The Signature Stadium Dog is a pea-protein-based hot dog inspired by the flavours of premium beef hot dogs. The dogs are double smoked using maple hardwood chips and a combination of steam and dry heat, plus they offer the same amount of protein per serving as most traditional beef hot dogs but with less sodium and no GMOs.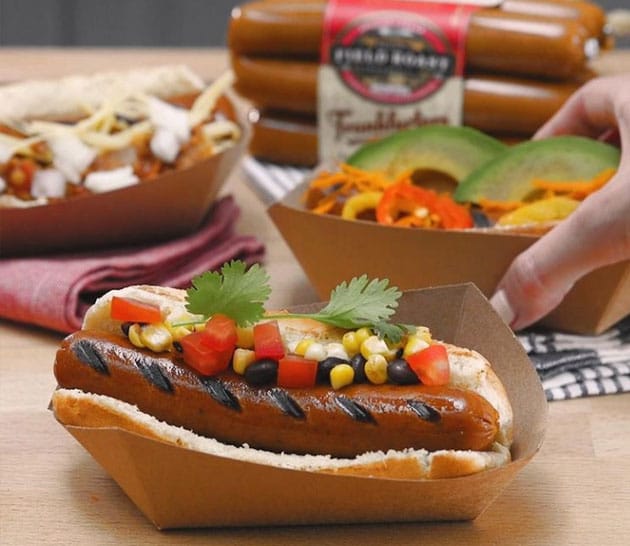 For the burger lovers, check out Lightlife's plant-based burger with an impressive 20g of protein, and is free from gluten and soy. The ingredients are simple: water, pea protein, coconut oil, beet powder, garlic powder, and canola oil.
You could also toss on some of Lightlife's plant-based bratwurst sausages, plant-based Italian sausages, or top your plant-based burger with Smart Bacon® that packs a crispy, smoky punch in every bite. And we bet that you didn't know plant-based options could taste so good with Field Roast's plant-based sausages featuring flavours like Smoked Apple & Sage, Italian Garlic & Fennel, and Spicy Mexican Chipotle.
Eat your vegetables with uniquely delicious dishes
As a sustainable food company, all products under the Maple Leaf Foods banner are part of a well-balanced diet. We promote vegetables eaten alongside our irresistible hot dogs, sausages, ham, bacon, and more premium meat products. Which means that even if you go back to meat after National Eat Your Vegetables Day is over, you can still enjoy environment-friendly products alongside your favourite veggies such as carrots, broccoli, lettuce, or—dare we say—brussels sprouts?
While you can enjoy our wide array of plant-based products "plain jane" style, dozens of fun recipes can add even more vegetables to your plant-based dishes.
Check out Field Roast's Classic smoky style Chicago frankfurters featuring sweet onions, pepperoncini, and dill pickle spears.
Impress your guests with Lightlife's Cali burger topped with homemade balsamic onions, baby spinach, and sliced tomatoes or Pineapple, Pepper and Smart Dog Skewers with sweet peppers and blanched pineapple for a refreshing fruit and veggie mix.
Switch it up this grilling season with a variety of ready-to-cook, plate, and serve plant-based food options available in grocery stores near you!