From steamed, microwaved, or oven baked to air fried, roasted, or grilled, we crown the best method for how to cook hot dogs
By Janet Riley, Vice President of Communications, Maple Leaf Foods, aka 'The Queen of Wien'
Grilling season is back which means it's time for backyard barbeques featuring one of the nation's most beloved food items: hot dogs!
In this first round of "The Hot Dog Debate" series, we'll dive into the longstanding question that's been stumping the nation: What's the best way to cook hot dogs?
We at Maple Leaf Foods have a duty to settle this debate—with decades of experience producing beloved hot dog brands including Maple Leaf® and Schneiders®.
Let's take a look at popular ways to prepare hot dogs!
Baking hot dogs in the oven
Baking hot dogs in the oven is a great option, especially when feeding a crowd. Simply place your hot dogs in a preheated oven to 400°F and cook for 10-15 minutes until they've browned and curled up a bit.
The result? Perfectly cooked, slightly browned, and juicy inside hot dogs that are ready to serve on a bun and topped with delicious condiments.
For a classic twist while the oven is pre-heated, wrap the hot dogs in pre-made crescent roll dough and to create family favorite "pigs in a blanket."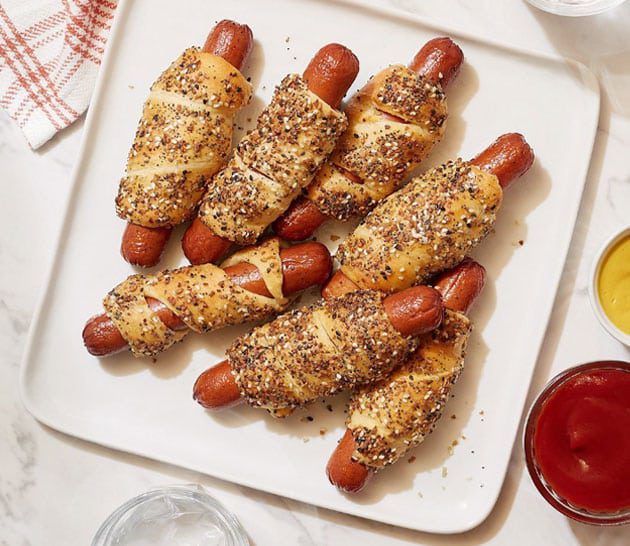 Steaming hot dogs
Sometimes overlooked and so underrated, steamed hot dogs are a beloved treat that can traditionally be found at hot dog stands, baseball stadiums, and fast-food spots.
The key to a great steamed hot dog is in the preparation. Boil water and then remove it from the heat source. Place hot dogs in the water, cover and allow to sit for approximately five minutes until heated through.
Microwaving hot dogs
Microwaving is a great method when you are running low on time – or just can't wait to dive into your steamy hot dog. Simply place a hot dog on a plate and microwave according to package directions, usually 30-60 seconds.
Air frying hot dogs
Wondering if you can air fry a hot dog? The answer is yes. Air fryer hot dogs are a quick and easy method that creates a crispy texture similar to grilled hot dogs. With just three steps, per Little Sunny Kitchen, all you do is take your dogs and slice a few diagonal slits while careful not to cut all the way through, place in the fryer for six minutes, and that's it! You can also toss your buns in for a few minutes to toast them perfectly. Imagine this deliciousness in under 10 minutes.
Plus, Little Sunny Kitchen adds steps on how to air fry vegetarian hot dogs too—which would be great to try with Lightlife or Field Roast dogs. Did you know these two plant-based protein brands are under Maple Leaf Foods' Greenleaf portfolio?
Roasting hot dogs
A campfire classic, roasting hot dogs over a fire adds a special crisp and smoky taste to the classic wiener.
Position your hot dogs on a skewer and make sure to continuously rotate them so they cook all the way through. Two to three minutes should do the trick, and the outsides will get browned and crisped to perfection.
Grilling hot dogs
For many Canadians, grilled hot dogs are the way to go when the grills are out for barbecue season.
There are just a few items to remember before tossing your dogs on the grill. According to our own Chef Sam Lazuric, you must not forget to clean the grates before grilling, because unnecessary smoke emissions are caused by caked-on, burnt food. And don't burn your hot dogs, of course. Regular sized wieners should cook for about five to seven minutes or until the ends start to split.
In a poll we conducted last year, we found that 59 per cent of Canadians said grilling hot dogs is their favourite cooking method. Americans were also on board and agreed that franks are best served hot off the BBQ. So, why are grilled hot dogs the best way to cook hot dogs? Perhaps because grills are most often fired up during those wonderful summertime months when hot dogs are part of so many amazing memories.
And finally, our official position on the best way to cook hot dogs: it's the way that tastes best to you!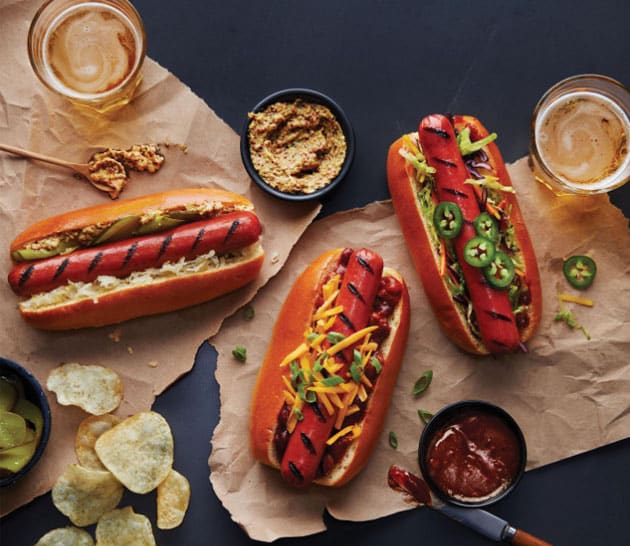 We concentrate on making good food for Canadians, and that includes our extensive line of Maple Leaf Natural Top Dogs™, as well as Schneiders® Red Hots® and Juicy Jumbos® under our brands portfolio.
When it comes to hot dog calories which may concern those looking to shape up during summer months, our Maple Leaf® Natural Top Dogs™ Chicken Hot Dogs clock in at just 70 calories per wiener, so you can still bite into low calorie options.
Celebrate National Hot Dog Day – July 20
Now that we've whet your appetite, stay tuned for National Hot Dog Day on July 20 and the exciting festivities Maple Leaf Foods has in store to celebrate!