Five tips on how you can adopt sustainable living habits during this BBQ season and beyond
By Chef Sam Lazuric, Corporate Chef, Maple Leaf Foods
As we enter another grilling season, now is an excellent time to reflect on your eco-friendly practices with some simple steps to add care when BBQing.
Recent research from Maple Leaf Foods found that 76 per cent of Canadians are interested in learning what little changes they can make in everyday life to benefit our environment. That's why we launched the 'Little Changes, Big Impact' campaign to raise awareness about small changes you can make in your household that help our planet.
After all, there's no Planet B. So, it's important that we take care of the one we have now. Did you know that Maple Leaf Foods is a carbon neutral food company? When you choose our products with a Carbon Zero logo, you're supporting efforts to build a carbon neutral world.
And as the 'Queen of Cuisine' at Maple Leaf Foods, I'm on a mission to share my expertise on how to implement sustainable living habits into your everyday life.
This summer, fire up the grill with my 'recipe' for five eco-friendly BBQing tips that can make a big impact on our planet for future generations.
1. Choose a greener grill with an eco-friendly BBQ
Did you know that electric-powered and natural gas BBQs limit more airborne carbon emissions than any other fuel? These are excellent options to invest in that benefit your family and the planet.
Meanwhile, charcoal grills often send carbon back into the atmosphere, resulting in more airborne emissions. So, a green grill is something to consider when you're looking for your next BBQ to serve up chicken breast, Top Dogs™, and more Maple Leaf products for your friends and family.
2. Cleaner is greener (don't forget to clean your BBQ grates!)
It's important to adopt regular BBQ cleaning habits to keep your grill clean between each backyard party. Unnecessary smoke emissions are caused by caked-on, burnt food that could be avoided by using a DIY BBQ grill cleaner.
My tips on how to clean BBQ grates are simple and use household products you should already have on hand. Make sure to scrape debris off the grates after each use. Then, once the grates have cooled down, scrape them clean using a mixture of warm water and baking soda for a deeper clean.
3. Sustainable protein choices are the way to go
It really does matter where your meat comes from. That's why Maple Leaf Foods is proud to display the Carbon Zero logo on a range of our pork and chicken products that are ready for you to grill and serve to your family.
As an environmentally responsible company, we became the world's first major carbon neutral food company in 2019. Now, we're striving to reduce our environmental footprint by 50 per cent by 2025. We're doing this by taking steps like developing more sustainable packaging and reducing our carbon emissions throughout every step of our supply chain.
4. Waste not, want not: reduce food waste in Canada
Our research found that 87 per cent of Canadians throw away expired or spoiled food. You can reduce your food waste by adopting mindful shopping habits or pre-planning to ensure you don't purchase too many grocery items that you won't consume before they go bad.
Prepared leftovers can be refrigerated in airtight, organized containers to be re-consumed afterwards. Fresh products like packaged chicken or hot dogs can be frozen and used when you're ready to cook and consume.
5. 'Upcook' your leftovers: try my leftover chicken breast recipe!
Since 75 per cent of Canadians report that they usually have leftover food, you should consider crowdsourcing your menu beforehand. Don't guess what your guests will want to eat at your backyard BBQ parties. Ask them for their preferences ahead of time so you can buy an appropriate amount of food to serve.
But, if you do happen to get stuck with extra leftovers, you can give your BBQ leftovers a lift. Check out my recipe for Southwest Grilled Chicken and Corn Caesar Salad in the infographic below! Using Maple Leaf Prime chicken breast, romaine lettuce, grilled corn, and avocado, this Caesar-style salad is sure to be a hit—featuring leftover goods from your backyard BBQ party.
There are countless ways that you can transform your leftover meat and vegetables by 'upcooking' them into new and exciting dishes even the kids will love.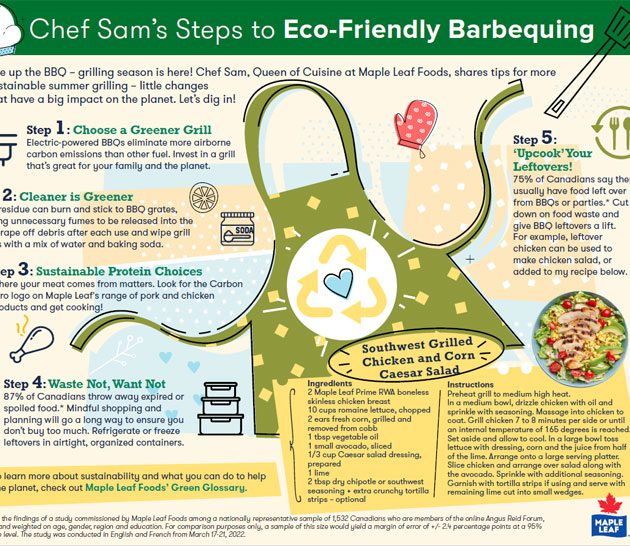 Kickstart your sustainable living goals
At Maple Leaf Foods, we take sustainability seriously. In our research, we found that 92 per cent of Canadians know they have a duty to protect the environment, and 76 per cent say they'd like tips and examples of small things they could do every day that would benefit the environment in positive ways.
But we also discovered that more than half of Canadians say they don't even know where to begin to do their part in protecting the environment. Meanwhile, 42 per cent are confused by environmental terminology, and only 44 per cent can define what the term 'carbon neutrality' means for protecting and maintaining the planet.
To see the full fact sheet with my five steps to eco-friendly BBQing, click here.
Check out MapleLeaf.ca for more tips, tricks, and resources on how you can kickstart your sustainable lifestyle this grilling season!
---