For Sharon, feeling aligned with Maple Leaf's sustainability vision is vital to her success as a mentor and to taking pride in her career path.
Sharon Palmer is the Director of Finance Services at Maple Leaf Foods, where she leads an active team providing Accounts Payable, Payroll, Travel & Expense, Master Data Maintenance, and Governance centralized services for the broader company.
With 27 years of experience at Maple Leaf Foods, Sharon has led a vigorous and growth-filled career in Finance. Her Finance Services team handles a lot of transactional volume and has learned that opportunities for process improvement and automation are key to ensuring they can keep pace with growth and change within the business.
In her current role, Sharon helps enable her team to do their best by clearing roadblocks, providing direction, and developing future strategies for improved efficiency.
What brought you to Maple Leaf Foods?
In 1995, I was working for the external audit firm performing the year-end audit for Schneiders. As a new parent trying to balance work and family, I could see that a career in public accounting wouldn't provide the balance I was looking for. I really enjoyed the supportive, family-like culture I experienced from the team at Schneiders and knew it was a company I would be proud to work for.
I started at Schneiders as a Senior Treasury Analyst shortly thereafter and have never looked back. In 2004, I transitioned to Maple Leaf Foods when Schneiders was acquired and was fortunate to be part of the project team bringing these two great companies together. This was a high point in my career, and I've greatly enjoyed the people and culture at Maple Leaf.
What made you stay?
While I've been with the company for almost three decades, I've never felt stagnant. The constant pace of change in technology and business growth has brought something new each year. I enjoy working with a team of high performers and, while the environment can be challenging, I've always felt supported to take the necessary time for my family to maintain a healthy work-life balance. I've been fortunate to work for many great managers who've seen potential in me before I could see it myself and have encouraged me to move into various new roles to support my career growth over the years.
Why is gender equity so important in the workplace?
Gender equity in the workplace builds an environment of trust where an employee knows they'll be valued for their unique contribution, without judgement or bias. Employees who are confident to express themselves from a place of authenticity can leave behind stereotypes and instead focus their energy on moving the business forward. We can all benefit from that.
How do you define your purpose at Maple Leaf?
To work collaboratively with others in the most efficient way possible to achieve the company's strategic goals. Each employee has their own unique role to play in this. The Maple Leaf Leadership Values guide us in how to fulfil that purpose.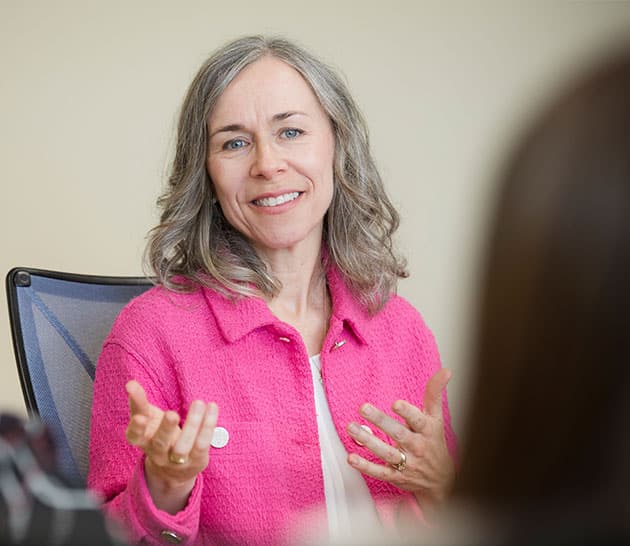 What advice do you have for women in the early stages of their career?
Be someone who other people enjoy working with. No one likes to be around a person who's negative or difficult. Be positive, flexible, and willing to help others. Being easy to work with builds positive relationships that are mutually beneficial. As new opportunities arise, others will think of you which will help in your career development. When you need the support of others, they'll be there for you. Remember that a smile and a thank you can go a long way.
Also, be open-minded when it comes to career opportunities. The best moves that I've made in my career were opportunities that I wouldn't necessarily have chosen for myself but turned out to be very rewarding and influential in my career development.
Do you have a personal motto?
Mottos tend to come and go for me, depending on the phase I'm in. However, the one that's stood the test of time and that I need to remind myself of periodically is, "Be proud of who you are."
Early in my career, I spent a lot of time trying to change myself to be more like others whom I thought had it all figured out. Experience taught me that actually, there are others out there wishing to be like me. Ironic, isn't it? We can all learn from each other but knowing who you are and being confident in that allows you to contribute your unique talents. This leads to a much more diverse and, frankly, interesting outcome.
When you retire, how do you hope you'll be remembered?
That I made a difference. This might be the role I played in a strategic project, a new process I implemented that reduced our cost, a question I asked that others hadn't thought of, or the time I spent with my co-workers to coach, mentor, or just to listen to them. In this way, I feel very aligned with Maple Leaf's vision. The Maple Leaf Centre for Food Security and our sustainability vision are significant ways that our company is making a difference in our community. I'm proud of that.
If you needed inspiration and could have lunch with any woman you admire, alive or dead, who would it be? Why?
There are so many accomplished, well-known women to imagine spending time with, however, if I could choose, I would pick my aunt Margaret, or "Peg" as she was known. Aunt Peg was born in 1921 and had a career in accounting starting in the 1940s when it was almost unheard of for a woman to choose a career over having a family. She lived in Brazil for a time, learning Portuguese and later settled back in British Columbia. At around age 70, she attended university and earned a degree because it was something she'd always wanted to achieve. She was kind and generous, always making a person feel noticed but didn't hesitate to speak her mind. She squeezed every bit out of life and demonstrated many attributes that I value. I didn't get to spend much time with her other than short annual visits but now that I'm older, I would love to share notes with her and understand what inspired her over her lifetime.