Kate has been part of making history during a time that's seen more women enter the meat production industry than ever before — hoping this is only the beginning of women's journeys to the top!
Kate Perrie is a Director of Engineering at Maple Leaf Foods, where she's been part of the Corporate Engineering team for nearly 15 years. As part of her role, Kate helps execute large capital projects across the Maple Leaf network, ranging from $3 million to $800 million. That's a lot of investments in the engineering space!
For her first 10 years with the company, Kate executed a wide variety of capital projects of increasing size and complexity, concentrating on projects in the former pasta division; Prepared Meats; and Greenleaf Foods, Maple Leaf's plant-based subsidiary. These days, she's focused on setting the standards for how Maple Leaf Foods executes capital projects as well as developing a pipeline of projects to get them ready for launch.
What brought you to Maple Leaf Foods?
I knew a couple of people who worked here, and Maple Leaf had a strong reputation for its culture. The organization's Leadership Values were more than simply a poster on the wall. They're concepts that are talked about day-to-day and sometimes even come up in social settings, which is actually where I learned about Maple Leaf's commitment to its values.
What made you stay?
Honestly, I wondered if I'd made the wrong decision when I first joined Maple Leaf. I joined just weeks before the 2008 Listeria outbreak. It was a huge crisis for the organization and, while the outbreak was a tragedy that weighs on all of us, I think we can be very proud of how it shaped our culture. The leadership with which the crisis was handled was fully aligned with the company's values and convinced me that Maple Leaf Foods was, in fact, exactly the right place for me. It was a defining moment for a culture where food safety is at the centre of all that we do and is a responsibility of everyone in the organization.
As the years have gone on, I think there are two things that have kept me engaged and growing at Maple Leaf over so many years. The first is the diversity of assignments that I've had in my roles in Corporate Engineering. There are always new technologies, applications, packaging, products, and locations on the projects that we work on, so it never gets boring. The second is that I believe Maple Leaf has a strong talent pool. There are top-notch people working here who are smart, engaging, and passionate about their work and that challenges me to bring my best to the table.
Why is gender equity so important to you in the workplace?
When we don't have a talent pool that reflects the general population, there's an un-tapped talent that's out there in the world which we can't benefit from as an organization and that limits the potential of the company as a whole. When candidates see that Maple Leaf Foods has a team that's not only diverse but inclusive, they can see how they could fit in and be welcome. That's how we grow to our full potential as an organization.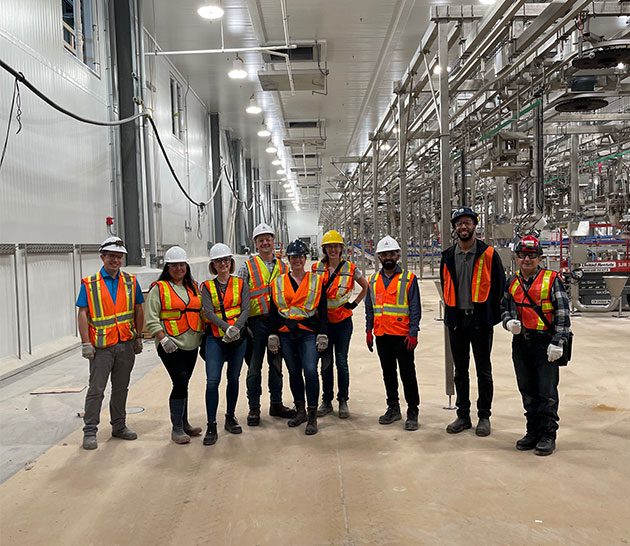 During your career, what kind of progress have you observed in opportunities for women? Are you hopeful about the future?
When I first joined the Corporate Engineering team, I was one of only two female engineers on the team. The other woman was a highly respected leader with a high-profile position, so Maple Leaf was clearly open to women in leadership at the time, but it wasn't really reflected in the overall demographics of the team. I think people shrugged it off as being typical of the meat industry.
These days, Maple Leaf is actively looking for diverse talent because we recognize that different points of view challenge us to bring better solutions to the table. The Corporate Engineering team looks a lot different than when I joined and I'm really proud of the diversity of talent on our team. I used to think I was a bit of a unicorn in being a female engineer who was interested in working in the meat industry, but I've been really impressed by the top talent that we've attracted who've brought their passion and skills to Maple Leaf.
How do you define your purpose at Maple Leaf?
My purpose is to support the development of capital projects and ensure that they're setup to successfully deliver on Maple Leaf's commercial and business objectives. A big focus of my work is scope definition, which requires collaboration with cross-functional teams across the organization to ensure a broad range of considerations that are built into those projects, including: food safety, people safety, sustainability, and quality.
What's one of your proudest accomplishments?
Being nominated for and winning an Annual Values Award (AVA) from Maple Leaf for Disciplined Decision Making last year. What I'm most proud of is that a group of my colleagues thought it was worth the time and effort to nominate me … I know it's a lot of work to pull together those nominations! It's particularly an honour to be nominated for Disciplined Decision Making because it's my favourite Leadership Value, the one that really resonates with me. It meant a lot to win something that I feel has become my own personal brand.
Do you have a personal motto?
Plan the work; work the plan … I am a project manager at my core!
When you retire, how do you hope you'll be remembered?
I hope I'll be remembered as just one of many women who contributed to the success of Maple Leaf Foods in technical roles. I want there to be such a diverse workforce by the time I retire that it's completely unremarkable to have had a woman as a Director of Engineering in the meat industry. Then, I can just be remembered for my work and my relationships with the people I worked with.
What advice do you have for women in the early stages of their career?
You need to find your own way of approaching things that feels authentic to you. You don't need to emulate the style of the people who have gone before you. Early in my career, I would watch how more experienced project managers handled conflict and it just wasn't my style. I had to figure out my own way of dealing with difficult conversations that felt authentic to me. That turned out to be acting calm and fact-based about the situation.
I've learned that there's power in being fact-based and that power has given me confidence in difficult situations. It's also earned me respect and has become something that I'm known for. I can say with confidence that this disciplined, fact-based approach is what led me to the role I'm in today. So, an area that was initially something that I struggled with became a defining skill in my career and led to opportunities because I figured out a way to handle things that was authentic to who I am.