We've come so far, but the need for understanding and compassion continues
By Marcos Persaud, Sr. Specialist, Diversity & Inclusion
Toronto's 2022 Pride March was my third, but THIS Pride March represented an important change for me personally: for the first time, I marched with my family and with my fellow Maple Leaf Foods Team Members. This marked a meaningful and joyous turning point for me as I know now more than ever how important support is in helping people live and thrive.
As excitement for the weekend grew, developments abroad cast a sad shadow for many members of the community. We witnessed with horror an attack at an Oslo, Norway gay bar that killed two and injured 21. At the same time, in the U.S., we saw the Supreme Court overturn Roe v. Wade and hint at future actions that could impact gay marriage.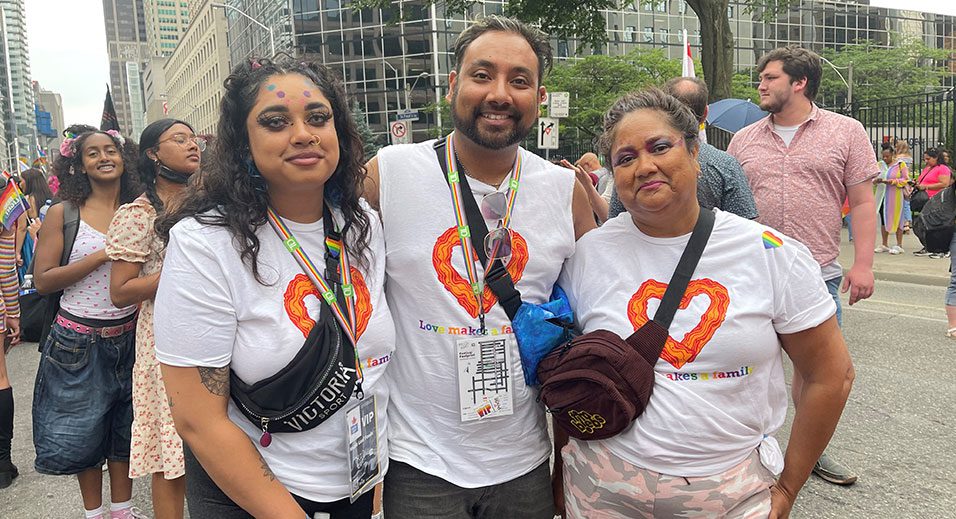 Reflecting on Pride Parade Toronto
With these events as a backdrop, I reflected on the fact that the parade's roots are not in celebration, but in protest. Toronto's first Pride Parade in 1981 occurred just months after the 1981 bathhouse raids, when 286 men were arrested by police on a single night. During the raids, the men were subjected to verbal abuse by the police. At that time, it represented the largest single arrest in Canada's history. While we've made much progress in our community since then, we simply can't take that progress for granted. Ignorance and intolerance persist, and sometimes manifest in hateful speech and acts, or even in violence.
This made the presence of my family particularly meaningful this year. When I came out more than 20 years ago, the news prompted many difficult reactions within my family. My very large family's roots are from Guyana in the Hindu religious tradition and coming out created a distance between my family and me. But their journey to becoming supporters is a powerful symbol of what is possible over time—with patience, understanding, and persistence.
Today, my parents have become much more open to ideas and people who are different than they are. This change helped pave the way for my sister's own more recent coming out, and I'm so happy that she has felt love and understanding from our family.
Diversity, equity, and inclusion in the workplace
Although trained as a lawyer, I joined Maple Leaf Foods in 2020 as part of a personal and deliberate decision to take a role in the growing and important field of diversity and inclusion. Working for a company with a demonstrated commitment to supporting its Team Members in being themselves and building a workplace where everyone feels they belong is so valuable to me. I believe that people working authentically can deliver their best and most impactful work. When I am my true self at work, I can focus without the need to waste energy on hiding parts of me for others. The company's long-time support of Toronto Pride is one example of its commitments to foster one's authentic self at work.
The convergence of my Maple Leaf Foods colleagues and family together in matching "Love makes a family" shirts on Pride Day shows I can truly be my authentic self at home, at work, and in the community. The strong show of support for my community from people lining the streets of Toronto gives me hope that we will respond meaningfully to events like those in Oslo and in the U.S. Supreme Court—and continue to push for more progress.
I know now through the support I feel within the 2SLGBTQ+ community, that we all need to come together and show our allyship when one marginalized group's rights are in jeopardy. We can only move forward with true equity and inclusion when we all share our journeys and support one another.