Get to know our fully cooked bacon products and enjoy new bacon dinner recipes from our family to yours.
If there's one thing Canadians can agree on, it's that bacon is one of our favourites treats to enjoy, but it can be messy to cook and cleanup. How about a bacon that's ready in as little as five seconds, and is made with natural ingredients? Try Maple Leaf® Ready Crisp® bacon — it's fully cooked and ready in seconds.
Maple Leaf® Ready Crisp® bacon offers the effortless and delicious option to enjoy fully cooked bacon bits and slices made with all natural ingredients. It appeals to different usage occasions than traditional uncooked bacon — enjoy in a grilled cheese sandwich, topped on a Caesar salad, sprinkled over a casserole, or more! Read on for more recipe ideas using Maple Leaf® Ready Crisp® bacon products.
What is Maple Leaf Ready Crisp bacon strips and bacon bits?
Did you know that Maple Leaf® Ready Crisp® is the #1 brand in the fully cooked bacon strips segment? It's true! It offers a natural smokey bacon flavour that tastes like cooking bacon from scratch.
Maple Leaf® Ready Crisp® is made with all natural ingredients. These bacon products are made with real, simple ingredients that you can actually pronounce. That means zero artificial flavours, artificial preservatives, artificial colours, artificial sweeteners, or animal by-products.
As part of the Maple Leaf® Ready Crisp® family, we offer three fully cooked bacon products:
Our fully cooked bacon strips are lightly smoked with just a hint of sweetness. Each package contains 10 to 12 bacon strips that are ready to be microwaved and enjoyed in as little as five seconds. The bacon bits don't need to be heated up at all — a great time saver for busy families or those on the go!
Bacon Centre of Excellence: home of our fully cooked bacon
As big bacon lovers at Maple Leaf Foods, we opened a brand new Bacon Centre of Excellence located in Winnipeg, Manitoba in 2022 where we make raw and pre-cooked bacon. We buy more than 96% of our pork from Canadian producers, and our Centre of Excellence contributed 350 new jobs to Winnipeg.
We're proud of the positive impact we're having on the pork industry by supporting Canadian farmers — and getting delicious bacon products on the tables of consumers just like you.
To make our fully cooked bacon, we use bacon bellies that are seasoned, smoked, chilled, sliced, and cooked, and are specifically created to be dried out.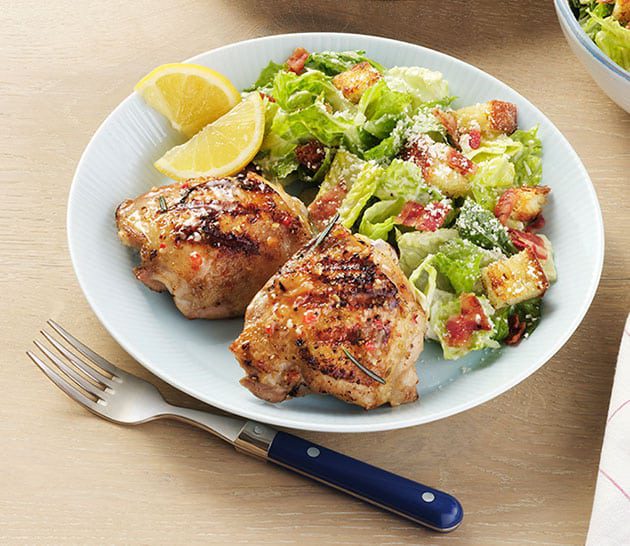 Delicious Maple Leaf Ready Crisp recipes to enjoy!
Wondering how to use Maple Leaf® Ready Crisp® bacon for your next lunch or dinner meal? Check out these ideas featuring bacon strips and bits.
Caesar salad and bacon crumbles — a match made in heaven. Try our Marinated Italian Grilled Chicken Thighs with Caesar Salad featuring Maple Leaf® Ready Crisp® bacon pieces crumbled atop your leafy greens.
Grilled cheese lovers unite for Bacon Pizza Grilled Cheese featuring slices of fully cooked bacon piled high on melted pizza mozzarella cheese for an elevated comforting lunch.
A casserole isn't complete without bacon, right? Our Down South Bacon Potato Casserole recipe uses chopped Maple Leaf® Ready Crisp® bacon — within and on top of the dish. Yum!
Now that grilling season is coming up, why not incorporate fully cooked bacon into your next BBQ party? Create a Hawaiian Pineapple Topper for your hot dogs using chopped precooked bacon combined with grilled pineapple and green onion as part of our list of the ultimate Gourmet Top Dog Toppers.
This last one is a treat for the dessert lovers. Our Bacon Candy Apple No Bake Caramel Cheesecake recipe features Maple Leaf® Ready Crisp® bacon bits cooked with caramel, nuts, and apples for a decadent cheesecake experience.
Next time you're at the grocery store looking for an easy meal option, pick up a box of Maple Leaf® Ready Crisp® bacon — perfect for any time of day! Save time with our precooked bacon products so you have more time for what really matters.