A reflection on food insecurity in Canada and the barriers Canadians face in keeping their families fed.
By Sarah Stern, Executive Director, Maple Leaf Centre for Food Security
Surely if food insecurity is the problem, then giving people food is the solution? The irony is it's not.
There are close to seven million people in Canada, including one in four children, who struggle with food insecurity. These households face impossible choices that could include:
Paying rent OR purchasing food
Paying for bills, like hydro or for a phone, OR purchasing food
Paying for medication OR purchasing food
Paying for winter boots/jackets for children OR purchasing food.
What is food insecurity?
We have more than enough food in Canada. The problem is that people can't access the food they need, mostly because they can't afford it. But other barriers — where people live, whether they live with a disability, even financial and food literacy — make getting enough good food all the more challenging.
The Maple Leaf Centre for Food Security, or 'the Centre' focuses on supporting the real changes needed. Our approach is fact-based and strategic. We are supporting groundbreaking research to elevate the issue with governments and concerned citizens. We are advocating for stronger social supports to support the basic right to food. We are funding projects that increase people's ability to access food.
A couple examples of our work in action
Accessing financial benefits is complex and presents a barrier to many people who urgently need them. Approximately 10% to 12% of people in Canada do not file taxes — sometimes because they do not have taxable income. This leaves tens of millions of dollars in unclaimed government benefits, designed to help vulnerable Canadians. The value of cash benefits lost to working-age non-tax filers in 2015 was $1.7 billion!
Since 2021, we have committed more than $750,000 to Prosper Canada to support their work around tax filing and making it easier to help people access the financial benefits that they are entitled to. The Benefits Wayfinder, launched last year, has had more than 250,000 unique users. In 2022, through their network, Prosper helped people to secure $70 million through tax filing and over $14 million through benefit navigation. People receiving benefits navigation received an average of $4,221.01, a meaningful increase to their household income.
Our recent public insight survey showed that 60% of people with disabilities are financially worse off now than two years ago and are more than twice as likely to have experience with food insecurity. Roughly 50% of people over the age of 15 living in a food insecure household in Canada have a disability. Last fall, we ran a national campaign to support the creation of the Canada Disability Benefit — a federal benefit to increase the incomes of people living with a disability.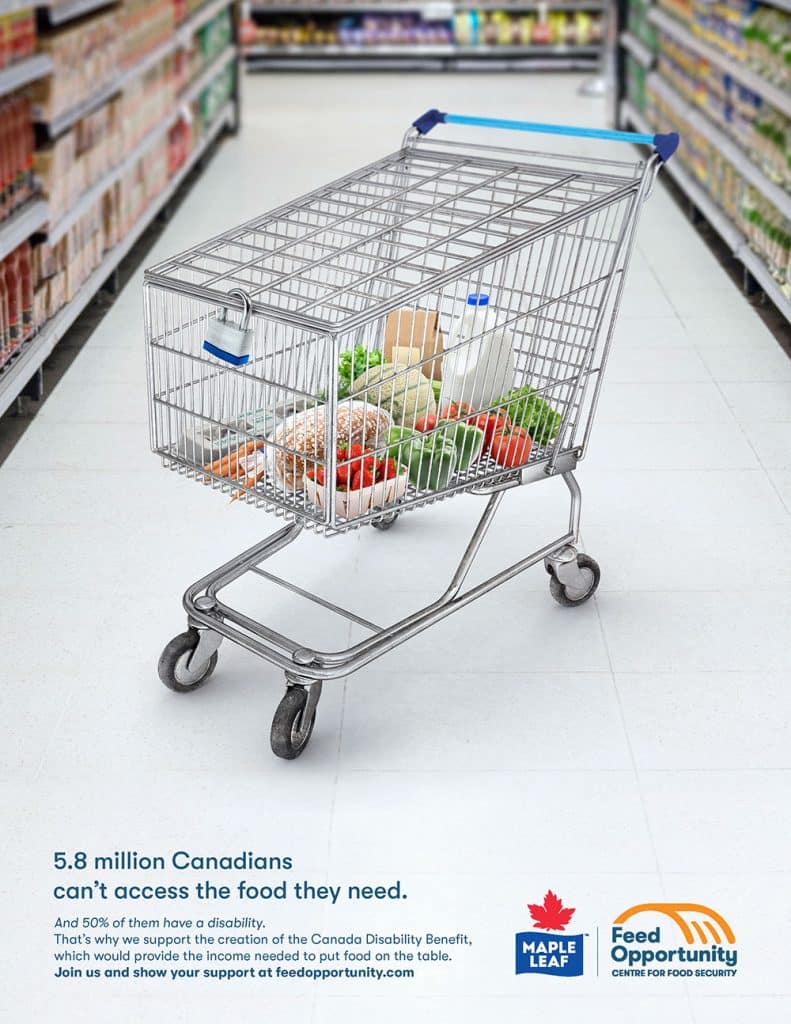 The Bill was passed in June 2023 and the process to design the benefit has begun. The process of regulation design is not a quick one and people with disabilities need support now. You can show your support and ask for quicker action by visiting Disability Without Poverty.
While we support important change for the longer-term, people struggling to feed their families need help now. And with food banks struggling to meet a fourfold increase in demand, they need our help. Maple Leaf Foods and the Centre are responding with a $250,000 contribution to support emergency relief, in addition to $250,000 to support school food programs. And while this is really important, we cannot continue to look to charities to meet these needs. It needs our collective will and support.