Exploring non-profit strategies, the government's progress, and a multi-sector approach to accelerate action to reduce food insecurity in Canada.
By Sarah Stern, Director of The Maple Leaf Centre for Food Security
We hosted our 3rd annual Food Security Symposium on October 18, bringing together attendees from across the country. While this event was initially scheduled for May 2020, it was one of the very first things that we cancelled with the onset of the pandemic in March of that year. After 2.5 years, we were finally able to host our much-anticipated event.
The Symposium uncovered what we can do to accelerate action to reduce food insecurity in Canada.
Click here to read the first part of our reflection and keep on reading to learn what insights and action items were shared with attendees last month.
Nonprofit strategies to address food insecurity
Many organizations balance between addressing immediate need while also pushing for systemic changes that will address the root causes of food insecurity. Some target government adoption or advocate for policy change. Some focus on scaling out to reach more people, while others focus on sustaining or deepening their impact in one place or with a smaller group of people.
Vani Jain, Executive Director of the Daymark Foundation, moderated a discussion with Adam Fair, VP, Strategy & Impact at Prosper Canada, Charlene Liske, Lands & Culture Resource Director at Dechinta Centre for Research and Learning, and Kathryn Scharf, Chief Program Officer at Community Food Centres Canada (CFCC) to explore how their organizations works to seek the balance of immediate need and longer-term change.
Prosper works to identify and help overcome the barriers to accessing government benefits for individuals, including needing to file taxes annually and complete other strenuous steps. "The barriers can be significant."
And for those with disabilities: "Benefit application processes for people with disabilities are the most challenging of all," said Adam, who pointed to our partner Prosper, which is helping to boost incomes and improve food security for those living with disabilities.
Kathryn, from CFCC, identified that "food insecurity is a massive and unacceptable problem," adding however that, "we have to always face this reality that what we can do is limited in scale."
Charlene at Dechinta shared about traditional harvesting in Indigenous communities and thinking about our impact on the environment. "To me, Dechinta means sharing and learning," said Charlene who added that "everybody is welcome to our fish camps" where collaboration to teach community members about how to harvest every part of an animal is key to learning how to live on the land and honour their Indigenous heritage. I'm pretty sure that more than a few of us in the room are keen to go learn with Charlene!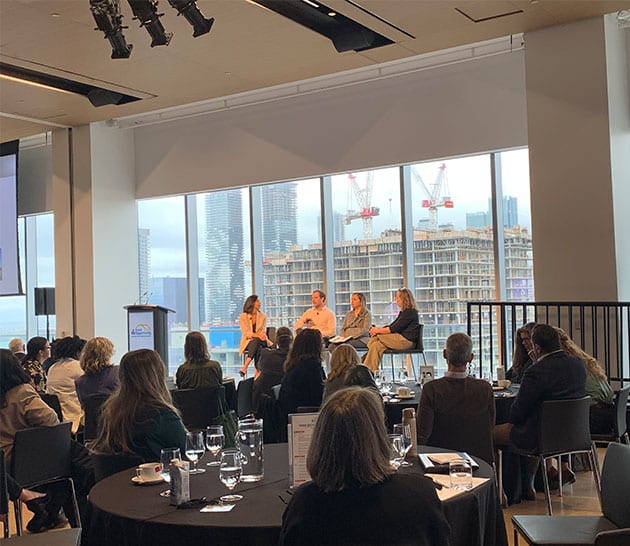 Canada's progress on alleviating poverty and food insecurity
Joining us virtually was The Honourable Karina Gould, Minister of Families, Children and Social Development, as she engaged in conversation with Dr. David Nabarro on the progress the government has made on alleviating poverty and food insecurity for Canadians.
"Everyone in the country is affected by inflation, but the low-income earners are the hardest hit … they're the ones making the choices between, 'do I pay my rent, or do I eat food?'" said Minister Gould.
Addressing those with disabilities, she added that they're "consistently the group of Canadians who live in the deepest poverty. One of the challenges here is it's often provincial and territorial governments that administer disability payments, and we're saying we want to work with them to create income supports that meet their needs."
While we were at the Symposium, we were thrilled to learn that Bill C-22-the bill representing the Canada Disability Benefit Act which would help to reduce poverty in working age Canadians living with disabilities — received a historic unanimous vote in favour moving the bill further for consideration. A triumph for the community!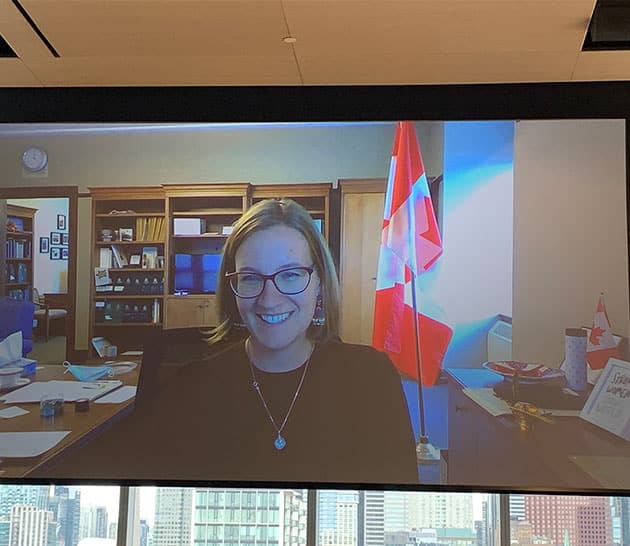 The government's approach to reducing food insecurity
The inner workings of governments can seem a bit like a black box. Chris Forbes, Deputy Minister of Agriculture and Agri-Food Canada, Annette Gibbons, Associate Deputy Minister of Employment and Social Development Canada, Valerie Gideon, Associate Deputy Minister of Indigenous Services Canada, and Wayne Walsh, Acting Assistant Deputy Minister, Crown-Indigenous Relations and Northern Affairs Canada, along with moderator Elizabeth McIsaac, President of Maytree, helped us peel back the curtains to share how their departments work together.
"One of the real advantages of having a food policy for us is it brings a common set of themes to the departments across. And it brings more of us to the table and gives us a mandate to work together and to face challenges," said Chris reflecting on food insecurity policies across Canada.
Valerie, who joined virtually, provided a glimmer of hope for communities and families in poverty adding that, "This year we've increased prevention funding by 270% … this is significantly transformative and there's a lot of flexibility in what service providers can do."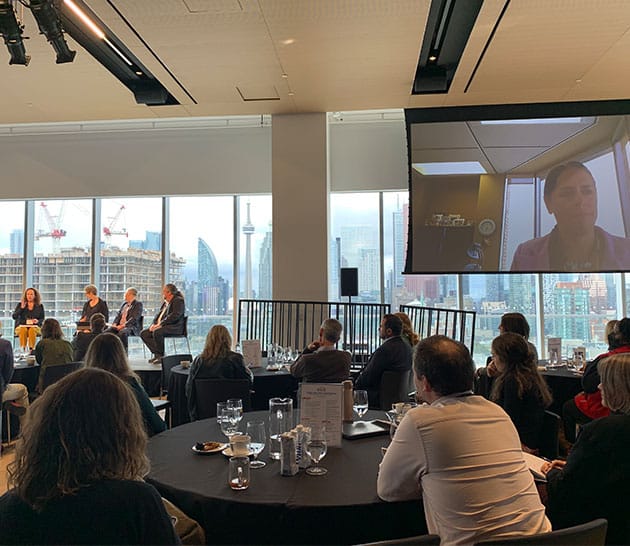 A multi-sector approach to accelerating food insecurity changes
Our final session of the day, moderated by Dr. David Nabarro, looked to explore how we can better drive action by working together across sectors. Panellists included Kirsten Beardsley, CEO of Food Banks Canada, Dr. Joseph LeBlanc, Associate Dean of Equity and Inclusion at NOSM University, Adam van Koeverden, MP, and Michael McCain, Executive Chair of the Board and CEO of Maple Leaf Foods.
In sharing his beliefs about food insecurity in Canada, Adam, who joined virtually, noted that "I'm a strong believer that poverty in Canada is solvable." He added, "Poverty is a decision — it's not inevitable. More can be done to make sure we break out of the thinking that poverty and food insecurity is inevitable."
Joseph shared a story that he learned from an Elder. He said to picture a river. The river is rushing with powerful systems that are carved into our society — racism and colonialism. You can throw a single rock into the river and make a small ripple. But we can look together at the river and start throwing rocks in the areas where it will have the biggest impact. Collectively, we can start to throw boulders, and bend the river in the direction it needs to go.
Looking forward to action on food insecurity
We know that clear targets create accountability and alignment. We also know that there's a public will for change, and we need to harness this. The Symposium was about accelerating change — there's a lot of work to be done to reduce food insecurity and see zero hunger in Canada. But together, working collaboratively across sectors, we can drive action. An aligned message from across sectors, backed by public will, is hard to ignore.
Let's go find some boulders to bend the river!