By mentoring many talented women, Debbie has helped them develop a voice and get a "seat at the table" at the Guelph, Ontario facility where 50% of its leadership team are now women!
Debbie Slater joined the Maple Leaf Foods team in 2014, after an extensive career in manufacturing. Today, she's the Plant Manager at our manufacturing facility in Guelph, Ontario, nicknamed "Speedvale" which creates a variety of tasty lunch and snack kits. It markets to a very important group — our children — and as such, it takes the safety of our team members and consumers very seriously!
Debbie has been in her current role for the past four years and has had the opportunity to work at five different Maple Leaf plants, learning all the processes inside and out while allowing her to meet and mentor new teams along the way.
As a Plant Manager, Debbie is responsible for the Senior Management team and their ability to work together to make sure they produce great, safe food!
What brought you to Maple Leaf?
Although food was a whole new venture for me, Maple Leaf recognized that I had experience in managing people and that I came from a world where continuous improvement was part of the DNA of all that we do at work, so they invited to me to apply my skills to making good food here.
What made you stay?
The opportunities at Maple Leaf are endless! I've learned so much about Food Safety and how to make great, safe food. I've been involved in five different plants now, understanding the different processes ranging from dry cured meats to baked pies to hamburgers and hot dogs! Another reason I stay is of course, the people! Having the support that you need from your team and being able to guide them to success is an amazing feeling.
Why is gender equity so important in the workplace?
Gender equity brings a vast array of perspectives to any group. When managing big teams, I feel you need to have different inputs in the "pool of thought" to make sure you're seeing issues from all angles and processing all opinions to form sound decisions. As part of the Women in Manufacturing team here at Maple Leaf, I've had the opportunity to mentor many talented women. Helping them have a voice and a "seat at the table" has always been important to me, and it's a way to share my experiences and hopefully guide them to a place where their insights are heard and valued.
During your career, what kind of progress have you observed in opportunities for women? Are you hopeful about the future?
We're seeing progress in Maple Leaf's Manufacturing sector when it comes to opportunities for women and I'm very hopeful about the future! At my current plant, 50% of my leadership team is women and my supervisory team on the floor is 66% women! We're working hard to attract more women to this segment of our company as they bring a skillset that's much needed.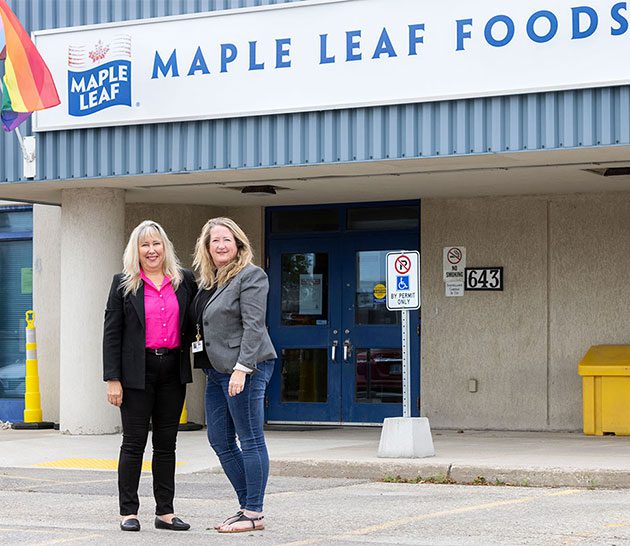 How do you define your purpose at Maple Leaf?
I'm a leader — and as such, hold a great responsibility to my team. My foremost purpose is to support the team and guide them to the best possible result in People Safety, Food Safety, and results! It's also important to have fun and get a laugh! Anyone that knows me knows I love to joke around and have a good time. Sharing laughter helps morale and can make some situations less intimidating for those who may be new or shy.
What's one of your proudest accomplishments?
I was asked to go to our Port Perry facility, which was struggling at the time, to help turn it around. The plant's metrics were all in the red and a new multi-million-dollar asset was to be installed as well. While this meant being away from my family during the week, I embraced the challenge. By the end of the year, the team at Port Perry had turned all metrics from Red to Green! The feeling of success at the end of all that hard work by everyone involved was certainly a highlight for me, both professionally and personally. I also received the very prestigious CEO/COO Award as part of the Maple Leaf Annual Values Awards (AVA) in 2020 that capped off a challenging year due to COVID.
Do you have a personal motto?
I suppose I have an "anti-motto." I always reject the concept that we do something "because that's the way we've always done it." I remind myself and my team to never be complacent with what has "always been." Continuous improvement should always be the backbone of the plants and we need to be always asking the questions, diving deep into solutions, and looking for ways to improve process. Change isn't a bad word. We need to take calculated risks, push the envelope, and always try to move forward with improvements.
When you retire, how do you hope you'll be remembered?
I really hope I've helped people in their careers — the mentorship part of my job is rewarding and very important to me. I know people will remember me as "the one that'll always tell you like it is" and that's okay, as transparency is a big part of our company's values. Healthy discussions lead to trust and knowledge, and I hope that I've earned the trust I've felt for all of my teams along the way. I strive to make people feel comfortable in their abilities and always try to share a laugh.
What advice do you have for women in the early stages of their career?
For women entering the manufacturing side of Maple Leaf, I have some insights to share.
Ask for directions! No matter which positions you fill in a plant, ask lots of questions. Your curiosity (another Maple Leaf value!) is your strength and is so important to understanding what's going on around you. Manufacturing is full of many moving parts and is complicated — never be afraid to ask about what's going on around you. Control what you can — give 100% to what you can control. The uncontrollable is out of your reach and doesn't deserve your energy or time.
Understand what makes you tick. Do you bring energy into a room — are you present? Work your energy so people know who you are and what you can bring.
Take calculated risks. It may work and if it doesn't, then you can learn from it.
Don't be afraid to have your voice heard — you're part of a team and we need to have you input.
Lastly, get a mentor. There are so many great women at Maple Leaf that can help guide your career and balance your expectations. Take advantage of these assets!