Experts within the food safety industry shared their best practices on how to ensure food consumers eat is always great and always safe.
By Randy Huffman, Chief Food Safety and Sustainability Officer
On October 24th, Maple Leaf Foods was delighted to co-host our 12th annual Food Safety Symposium with the North American Meat Institute (NAMI) Protein PACT. We're proud to commit to building and leading a food safety industry that works together by sharing best practices and education within food production.
The theme of the virtual symposium was 'How Measurement, Management and Transparency Builds Long Term Trust Among Stakeholders'. It highlighted the importance of accountability, transparency, and trust with shareholders.
We've held the Food Safety Symposium every year since the tragic events that took place in August 2008 when 23 Canadians lost their lives as a result of Maple Leaf Foods products produced at the Bartor Road facility in Toronto. Since then, we've committed to become a global leader in food safety — by educating others within the food industry about how to enhance our relationship and trust with the most important group of all: our consumers.
How to establish trust within food safety
Our keynote speaker was Stephen M.R. Covey, author and co-founder of CoveyLink and FranklinCovey Global Trust Practice. He enthusiastically opened the symposium with key insights around the topic of trust and why it's such a powerful tool to build within all relationships.
"I believe that trust has become the new currency of our time … I also think it's the currency of food safety and the food supply chain," said Stephen. "We can do better when we start with trust."
He shared his three big ideas around the topic: 1. Trust is an economic driver and not merely a social virtue, 2. Trust is the #1 competency of leadership needed today and is the currency of food safety and food supply chains, and 3. Trust is a learnable skill and is something we can create and grow.
After all, "Trust is the linchpin of a collaborative partnership," said Stephen, and it's what can turn any group into a thriving team.
Sharing best practices in food safety
I was inspired to hear from food safety experts Rebecca Marshall, Director of Food Safety Quality Management Systems at Maple Leaf Foods, Sharon Beals, Chief Food Safety Officer at CTI Foods, Jeremiah Johnson, Corporate Manager of Regulatory Compliance, Food Safety and Sanitation at Hormel Foods, Steve Tsuyuki, Senior Director of Corporate Sanitation at Maple Leaf Foods, and John Weisgerber of Weisgerber Consulting.
Discussing the topic of 'Listeria Control Best Practice Sharing in North America' and how to apply it in other areas to create value and trust for stakeholders, the presenters touched on the Listeria food safety course by NAMI and the value it brings to the food production industry.
"We all have the same goal and that's public health — to make sure we're putting out safe, quality, wholesome food to the public," said Sharon. "I see a lot more collaboration and openness in the industry … together we're smarter and that's how we improve."
My colleague Steve, who experienced the 2008 listeriosis event at Maple Leaf, touched on the 'Seek and Destroy' game that was developed as part of the food safety training course. "We gave the game to each of the presenters on the promise that at some point, they would develop their own game based on their own experiences. [Our hope was that] they would share [their results] back with us and others who've been involved in this game development."
Transparency within food safety certification
Another aspect that's part of trust with our stakeholders is transparency. That's why we invited Fabian Smith, Global Supplier Quality Management & Audit Compliance Leader at Cargill, Andrew Clarke, Senior Director Quality Assurance at Loblaw Companies Limited, and David Rasmussen, Director of Quality at The Kraft Heinz Company, to debate the topic of sharing Certification Audit (GFSI) results with the public.
Their insights and knowledge were inspiring because, as Andrew put it, "Sharing any sort of information with your customer shows a level of transparency and trust" which we're always aiming to achieve.
David added that "The beauty of GFSI is that it's a place of industry driven self-regulation. I think we're on a journey to establish that trust, that I think is yet to be done in that space, and part of that is trying to make sure we have a system that encourages transparency." And that transparency of course, means sharing the whole picture and any findings that come along the way.
I'm proud to be part of Maple Leaf Foods where transparency is a key pillar of our core values as an organization — for every person within every part of the company.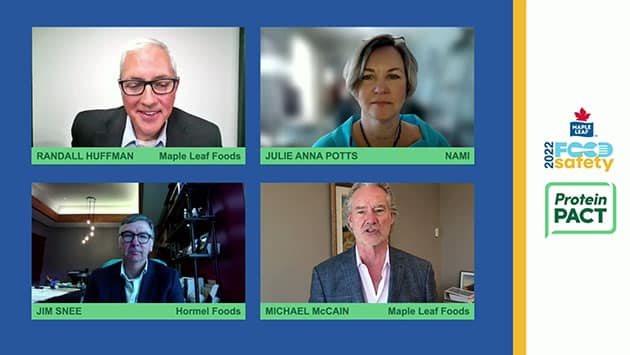 There's strength in collaboration with Protein PACT
In our final session of the day, I had the pleasure of moderating the topic of the 'Protein PACT' which highlighted its history and purpose within food safety.
Together with Julie Anna Potts, President and CEO of North American Meat Institute (NAMI), Jim Snee, CEO of Hormel Foods, and Michael McCain, Executive Chair of the Board and CEO of Maple Leaf Foods, we uncovered why there's magic to collaboration within the industry.
Julie addressed Protein PACT's ambitious visions and targets for 2030 on areas including animal welfare, labour and human rights, food safety, health and wellness, and the environment. She shared impressive statistics including that 82% of reporting establishments have plans to reduce packaging waste, and 72% of companies have a comprehensive animal welfare program. We're proud to be part of those numbers at Maple Leaf!
Our CEO Michael McCain shared the three elements that connect to our core values and culture within our own organization.
The first is Accountability: "Taking ownership for things you may or may not be responsible for but are accountable for nonetheless," said Michael. Second is Action Orientation: "We're not just going to talk about stuff, we're going to do it." And third is Transparency: "It's central to the culture at Maple Leaf and is a defining attribute of who we are — I think we've tried to live that. I feel like transparency is one of the secret sauces to trust building, that's what we've tried to live along the way."
I look forward to next year's Food Safety Symposium where we can hopefully join together in-person for a day of learning and knowledge sharing within an industry that cares deeply about its people. At the end of day, we want our consumers to enjoy our products and do it safely every time.