Read about Robert's passionate mission to lead our organization by prioritizing our resources and encouraging teams to leverage the power of operational excellence.
Robert Whig is Vice President of Operations Excellence, a role he holds as part of our Operations Excellence System (OES) Centre of Excellence under the leadership of Chief Supply Chain Officer, Iain Stewart.
His journey with Maple Leaf Foods began in January 2011, originally joining as Vice President of Manufacturing Optimization, then moving into a Vice President of Purchasing role, eventually into a Vice President of Supply Chain Planning position, and finally stepping into his current role in late 2022.
With previous experience in operations excellence and global operations, Robert says he was intrigued by the opportunity to work for a company in the midst of transformative work within the Canadian industry. And as his years of experience can demonstrate, making a real difference through operations excellence is exactly what's kept Robert at Maple Leaf Foods for so long. Read on for more!
What brought you to Maple Leaf Foods and what has made you stay?
There was an opportunity to join the team and what really attracted me was the fact that Maple Leaf Foods is a Canadian company. I had a long history in manufacturing — in electronics and other sectors that were doing a lot of outsourcing — so, the fact that this was a proudly Canadian company really spoke to me.
Also, the President and CEO at the time, Michael McCain, had talked about investing in Canadian food manufacturing. And that vision of continuing to invest in the Canadian industry appealed to me. That transformation was exactly my background and expertise — I had come from doing a lot of optimization work and this would have been the largest transformation I could be a part of.
In short, it felt like a once in a lifetime opportunity to be a part of a really large transformation for a proudly Canadian company.
What does OES mean to you?
As a whole, OES means a lot of things to me. But I would boil it down to three succinct things I would want people to know:
We have 'The Maple Leaf Way' of operating our plants, using industry standardized best practices.
We have a vision of having highly engaged Team Members delivering great quality products to our customers in safe, efficient, and sustainable ways.
We build a continuous improvement culture of constantly looking for opportunities to eliminate waste and driving higher levels of maturity progression across our six pillars in OES.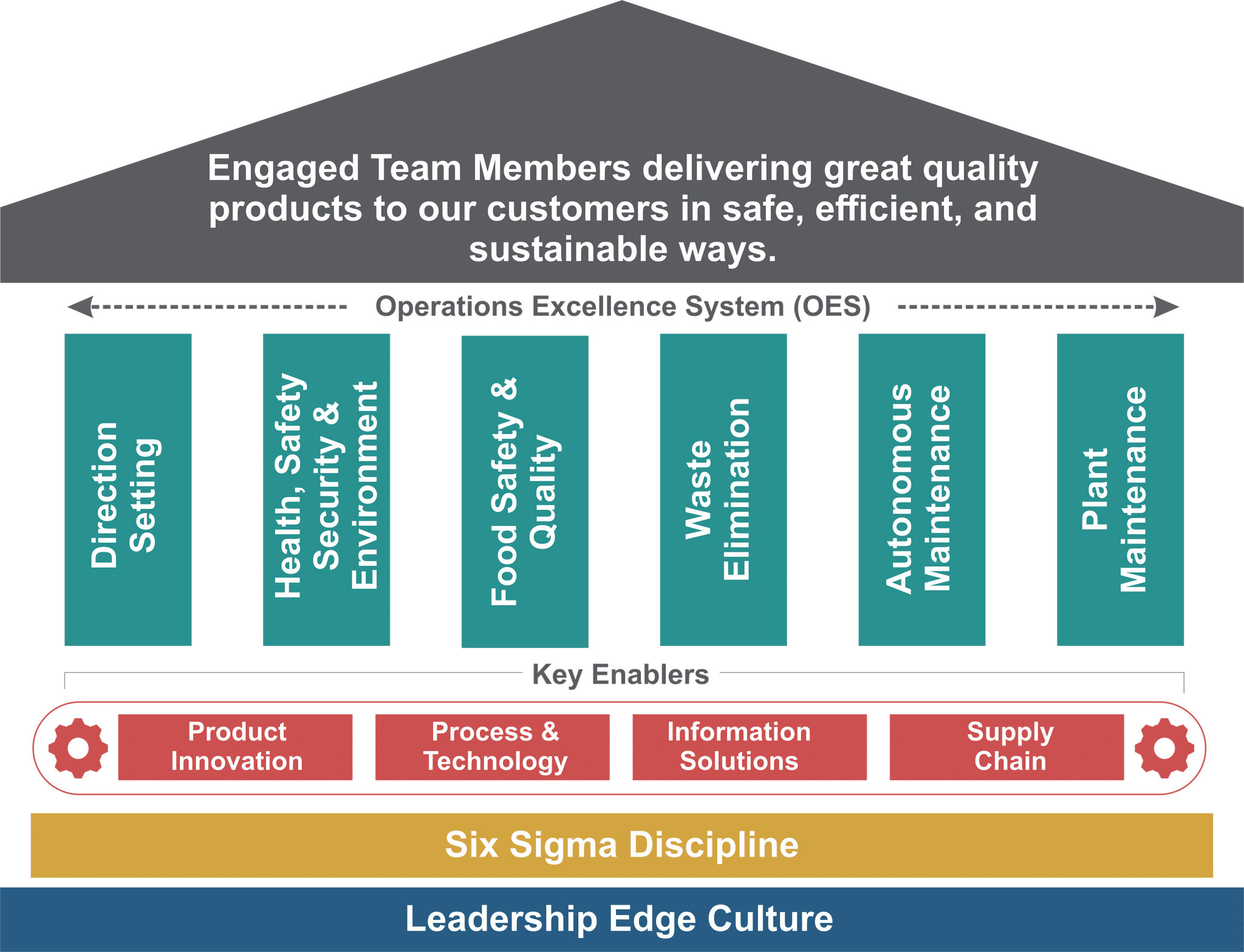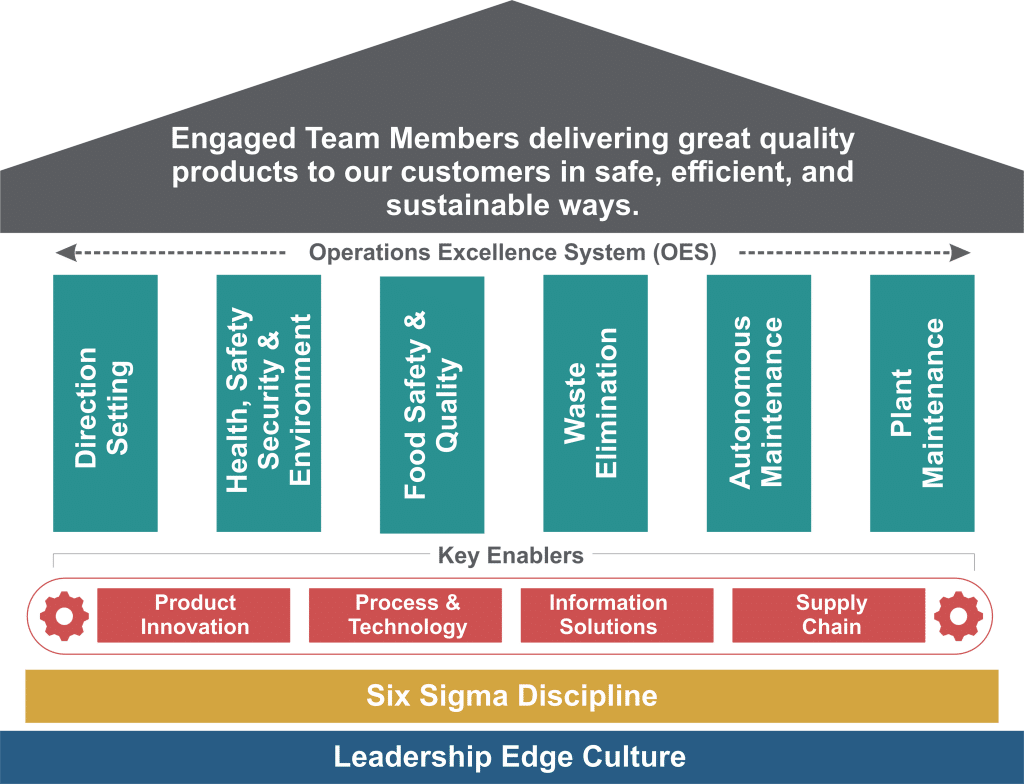 As we enter our next growth focused chapter, what part will your role play as part of our OES Centre of Excellence?
My role is to find and enable ways to accelerate our journey and our maturity across our Operations Excellence System. That involves deploying tools, processes, and best practices, removing roadblocks, as well as training, facilitating, and helping teams see the value and power of operations excellence.
My goal of helping people understand is so that at the end of the day across Maple Leaf Foods, when we're talking about OES, we all have that same basic understanding and can speak a common language together. That's a key goal and where I spend a lot of my time.
I also work to continue improving standardization to enable more seamless collaboration across all functions and business units.
If we fast forward three years, what do you hope you will have accomplished in that time through your role?
Here are a few examples of what the future could look like in three years when you walk into a Maple Leaf Foods plant:
You would experience a sense of the plant being calm and in-control (no firefighting). You would see visual metrics and boards across the plant. This makes it so that you can see at a glance how the plant is performing based on key metrics and trends.
Each plant would have Area Ownership Teams (AOT). This means we have our frontline Team Members self-manage their area and review hourly, daily, and weekly performance, setting their own performance targets, and building and implementing improvements to achieve those targets. We also have leadership teams support each area to achieve their individual objectives, so we're always providing resources and coaching. This results in not only performance improving, but our frontline Team Members feel like they're professionally developing — development is a priority for everybody.
We believe that when frontline Team Members can see their potential career paths, and feel empowered to make changes and drive improvements, that results in really strong engagement, which ties back to our vision to have highly engaged Team Members. That's one strong way of getting there.
We would enable this future state by supporting all of our plants across the network in achieving at least a Level 3 Maturity across our 5-point rating scale. At a level 3 you would see key elements of the examples above in each plant.
Maturity is a 5-step model framework that progressively builds competencies within plants over time. It allows us to standardize our methods at each level to make sure that our standards, internal best practices, and KPIs against external benchmarks are always improving.

Your role focuses on accelerating OES and continuous improvement in our plants. What does accelerating OES mean? How are you planning to accelerate our OES program?
Accelerating OES is really about trying to not do too many things at once — prioritizing our efforts and resources and narrowing our focus to make sure we have measurable wins in an area before moving on to the next.
It's about taking a much more narrow and targeted focus and prioritizing when those are done, then tackling the next item and so on. That's really the key concept — making sure we have the right level of engagement all the way from frontline folks up to senior executives and even our President and CEO, Curtis Frank.
I also strive to ensure that we showcase and celebrate our successes and wins and help support areas where we're behind.
How is Six Sigma methodology applied in driving operational excellence and continuous improvement?
There are three ways that we apply Six Sigma methodology.
First is finding waste and eliminating it. Waste is everything from loss in plant efficiency, to loss in throughput or yield, to excess inventory.
Second is structured problem solving, which includes fact-based prioritization about where to put our energy to improve, where can we get to, and then executing that plan.
Third is putting control plans in place to make sure that once we've achieved those improvements, that we're able to sustain them through self-accountability.