Have you recently graduated from a university or college and are wondering, 'what now?'
Looking for a job straight out of school and starting your career doesn't have to be scary. Not knowing what you're passionate about is okay. You don't need to have all the answers. Luckily, there are employers who offer career development programs for new graduate. And Maple Leaf Foods is one of them!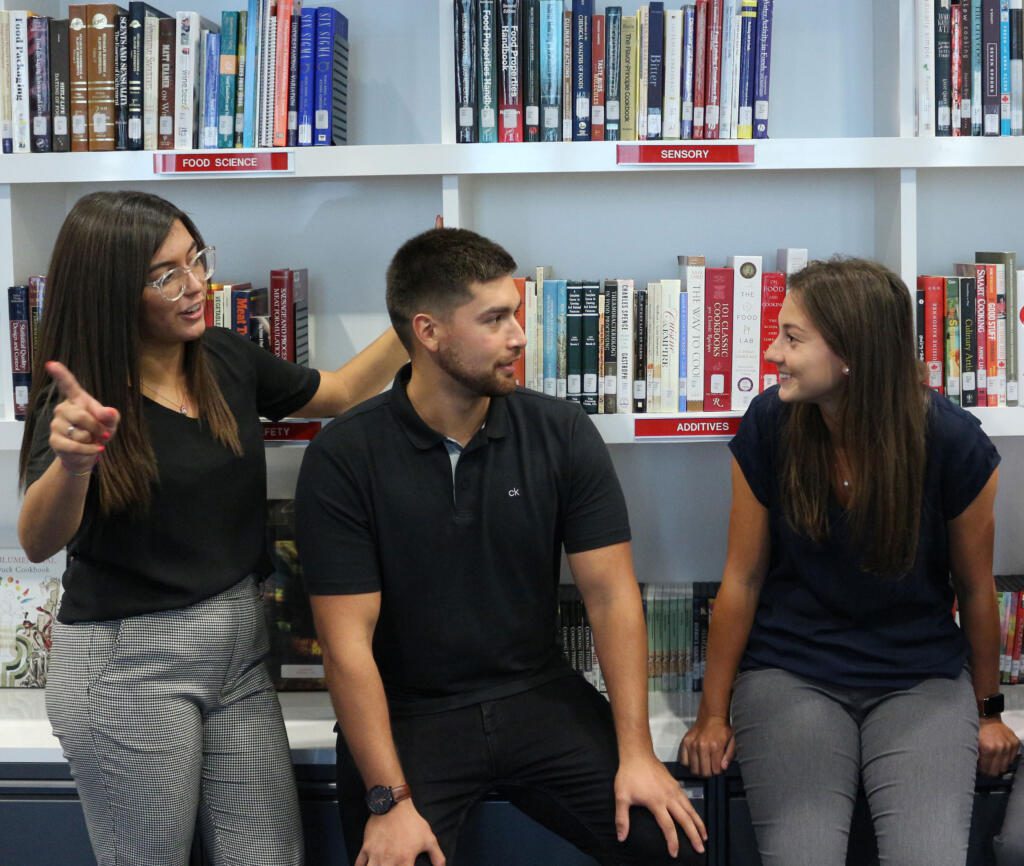 New grad job program
Maple Leaf Foods has created a three-year career development program for recent graduates called the Leadership Track Graduate Program (LT Program). It is a development program for talented, driven and ambitious individuals who have recently graduated from post-secondary institutions.
In the three-years that you spend at Maple Leaf Foods, you will develop leadership skills and expertise in different business areas in Canada and the US in preparation to be a future Maple Leaf Foods leader.
Sound exciting? Want to learn more? We sat down with Megan Mattie, Senior Learning Specialist, to get the scoop.
Q: What can students expect from the Leadership Track Graduate Program?
We offer participants of the Leadership Track Graduate Program (LT Program) real responsibilities in their work environment to make an impact. They will participate in projects that are directly tied to achieving Maple Leaf Foods' purpose to Raise the Good in Food and vision to be the most sustainable protein company on earth.
They will get a lot of the experience! They will get on-the-job training, learning and networking opportunities with other participants and program graduates, senior management mentoring, annual performance reviews, competitive compensation package and career coaching.
Unlike other graduate career development programs, our LT Program was designed to enable participants to acquire real general management experience. To develop our young leaders,  participants will experience three 12-month rotations in different functions while reporting directly to a director or a vice president.
Participants who graduate from the program go into leadership roles at Maple Leaf Foods where they will continue to grow their career.
Q: Can students choose what areas of the business they complete their yearly rotation?
The program is broken down into three roles and participants will spend one year in:
A client or market-facing role where they will immerse themselves in our commercial organization and may find themselves in departments such as sales, marketing or revenue management.
An operations role where they will gain hands-on experience and develop supervisory skills in departments such as production, health and safety, food safety quality assurance, engineering and others.
A support role where they will help drive the business in departments such as finance, information solutions, human resources, strategy and others.
Q: How is this career development program different from other rotational programs?
We wanted to differentiate ourselves in the entry-level competition for talent with four unique offerings:
First, we provide an entrepreneurial experience for our participants. We are uniquely positioned to offer a dynamic start-up experience that allows participants to develop critical leadership skills, innovative thinking, agile decision making and help them develop their own entrepreneurial mindset.
Secondly, we offer management training to our participants where they can acquire real, general-management experience with real accountabilities.
Then, we pair-up participants with a mentor at the director or vice president level who remains their mentor for the duration of the program.
Finally, we offer our participants internal and external development opportunities in areas that are of most interest to them.
Q: What qualifications does a new grad need to have to apply?
We are looking for students in their last year of study from a university with a minimum of an overall B-average. We look for individuals who are passionate, committed to manufacturing and operations, and align with Maple Leaf Foods' Leadership Values.
The program is for those who are curious to explore positions that are outside of their comfort zone. They must also be willing to relocate for a year anywhere in Canada and/or US to take advantage of the best learning opportunities.
Some other things we look for: demonstrated leadership through work experience or volunteer roles, community activities and sports. And, they must be a team player.