Introducing Fantino & Mondello, our newest Italian deli meat brand coming to stores near you in 2023!
By Lenka McGregor, Director of Brand Marketing
Did you ever notice that the first four letters in "delicious" are "deli"? March is National Deli Meat Month, and it's a great time to celebrate the many "deli"cious deli meats our company produces under leading brands.
Maple Leaf Foods is Canada's leader in deli meats and the largest producer of deli meats among the branded players in the category. We have a variety of household names under our portfolio, including Maple Leaf Natural Selections, Schneiders, Sila, Greenfield, Main Street Deli, Mere Michel, Deli Express, and of course, Fantino & Mondello.
Get to know one of our newest brands, Fantino & Mondello, offering a modern twist on authentic Italian charcuterie meats, all crafted in Canada. Fantino & Mondello has long been a favorite in Quebec, but later this year, the brand will roll out across Canada giving more Canadians the chance to enjoy its Italian goodness.
Brand history
If Fantino & Mondello is a new name to you, let us give you a preview.
Quality, authenticity, and modernity are the words often used to describe the brand, which was created in 1949 and named for its two Italian immigrant cofounders. Together, the pair began producing capicollo and fresh sausage products in Montreal and soon expanded to a wide portfolio of Italian charcuterie.
In 1999, 50 years after it was founded, Viau Food Products acquired the brand, and Fantino & Mondello became part of the Maple Leaf family when our company eventually acquired Viau in 2018.
Although the brand's owner may have changed, Fantino & Mondello is still producing its signature products including sandwich meat, dry salametti sausage, sliced Italian charcuterie, diced charcuteries, and a premium deli meat list available at specialized grocery stores in Montreal.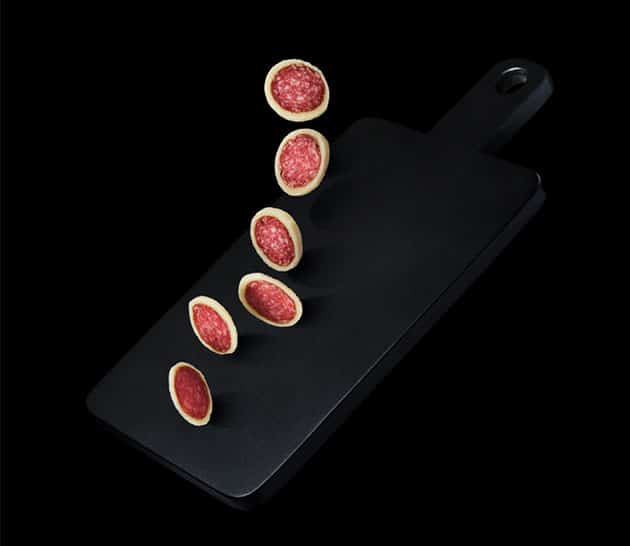 Crafting authentic Italian meats
Four pillars drive the Fantino & Mondello brand:
Authentically Italian: They adhere to traditional Italian craftsmanship introduced to Montreal by our ancestors 70 years ago.
Premium Ingredients: They only source the best ingredients for their products to make them deserving of the brand.
Mouth-watering: They create absolutely delicious products that elevate culinary and social experiences, enticing people to come back for more.
Modern: They're a modern, progressive Italian charcuterie brand in the way they think, look, and care for the planet.
By being Verità (authentically Italian), Fantino & Mondello celebrate 'la Dolce Vita' (The good life!) to position food as more than just a form of nourishment but a way to live life. This approach is reflected in the brand's proven, traditional methods of producing their meats, taking their time to slow dry charcuteries.
Through their dedication to Qualità (premium ingredients), the brand commits to only using Canadian-raised pork. Fantino & Mondello honours the simplicity and freshness of Italian cuisine, reflected in their respect for all ingredients and spices they choose to finish each product masterpiece.
You can expect Delizioso (mouth-watering) cold cut products that highlight the natural flavours of their deli meats with an original blend of spices and an abundance of taste.
And finally, Fantino & Mondello products are Contemporaneo (modern) that innovate with unique products and appeal both in the meats and how they're delicately packaged. The brand shares Maple Leaf Foods' sustainability commitment and believes caring for our planet now means that future generations will be able to enjoy 'la Dolce Vita.'
Make your best charcuterie board using premium Italian meat
Fantino & Mondello's wide variety of deli meat offerings will enhance your next charcuterie board with authentic flavours and craftsmanship.
The brand's sliced charcuterie meats include thin sliced salametti, chorizo, and dry pepperoni. Switch up your board with diced charcuteries such as prosciutto cotto, cooked pancetta, or chorizo. Craving Italian salami? Fantino & Mondello offer salametti in a variety of flavour profiles to please every palate. Red wine, calabrese, champagne, pink pepper, and more — you name it! Just slice and serve for your perfect charcuterie board.
Fantino & Mondello's pepperoni is the perfect addition to homemade pizzas, panzerottis, snacks and more. Up your lunch meat game with premium Italian cold cuts topped high on soft bread with an array of cheese and vegetables for the ultimate Italian sandwich.
Is your mouth watering yet? Perfect. Check out the Fantino & Mondello website for more decadent product images and recipe ideas, and mark your calendars for Fall 2023 when the brand officially launches in stores across Canada.