We address this long-standing debate by exploring the history and definition of hot dogs and why—spoiler alert—they're not sandwiches
By Janet Riley, Vice President of Communications, Maple Leaf Foods, aka 'The Queen of Wien'
In our third and final round of The Hot Dog Debate, we're tackling the question: is a hot dog a sandwich?
This question has been swirling on the internet for years, perhaps even longer as a private debate among friends, family, colleagues, and the like.
There are many combinations of bread, meat, veggies, and other toppings that can be considered a sandwich—is a hot dog one of them?
Q: What is a hot dog?
Let's first dive into what's considered a hot dog by dictionary standards. Merriam-Webster's hot dog definition is: "a frankfurter with a typically mild flavour that is heated and usually served in a long split roll."
When it comes to the ingredients that go into a hot dog, the National Hot Dog and Sausage Council (NHDSC) writes that, "All hot dogs are cured and cooked sausages that consist of mainly pork, beef, chicken, and turkey or a combination of meat and poultry." Other ingredients that could be found in hot dogs include water, curing ingredients and spices, like garlic, salt, sugar, ground mustard, nutmeg, coriander, and white pepper.
Q: Why is it called a hot dog? The history of the dog
The name "hot dog" has been the subject of great culinary historical research and kind of remains a mystery to this day, as the history of franks dates back quite a few centuries.
For years, the name hot dog was rumoured to have been created in 1906, by a cartoonist who struggled with the spelling of 'dachshunds' in describing the "hot dachshund sausages" sold enthusiastically by German vendors. As the story went, the cartoonist Tad Dorgan sketched an image of a dachshund dog stuffed into a bun and topped with a mustard drizzle, accompanied by the caption, "get your hot dogs." But historians were unable to find the cartoon in any records and eventually it was deemed little more than a clever rumour.
More recently, historians unearthed sketches of German vendors who emigrated to the U.S. and sold their steamy sausages alongside their dachshunds from carts dubbed "dog wagons." Some of these vendors were linked to vaudeville and known for their wit. They joked that their beloved and similarly shaped dachshunds were the main ingredient in their sausage, and this appears to have inspired the name "hot dog."
As for the hot dog's creation, did you know it actually dates back more than 500 years? The NHDSC says that Frankfurt, Germany claims to be the creator of the hot dog, AKA 'frankfurter.' It's reported that the hot dog's grand debut was all the way back in 1487. The city even celebrated the hot dog's 500th birthday in 1987.
However, the people of Vienna (AKA Wien), Austria also claim that the 'wiener' was born in their city. That explains why 'franks' and 'wieners' are used interchangeably as nicknames!
It's also important to point out that, "while hot dogs, franks, and wieners are commonly used interchangeably today, a frank typically refers to an all-beef product, while a wiener usually contains pork," writes the NHDSC in its Hot Dog Facts, Figures and Folklore brochure.
And that fluffy bun that completes your beloved frank is one of the newer inventions, as hot dogs were typically eaten alone when they first debuted. They were served by hot dog vendors steaming hot to customers with a pair of white gloves to protect their fingers, but those weren't always returned. In 1904, Bavarian concessionaire, Anton Feuchtwanger reportedly asked for assistance from his brother-in-law who worked as a baker. His solution: long, sausage shaped rolls to wrap around the hot dogs—today known as the hot dog bun.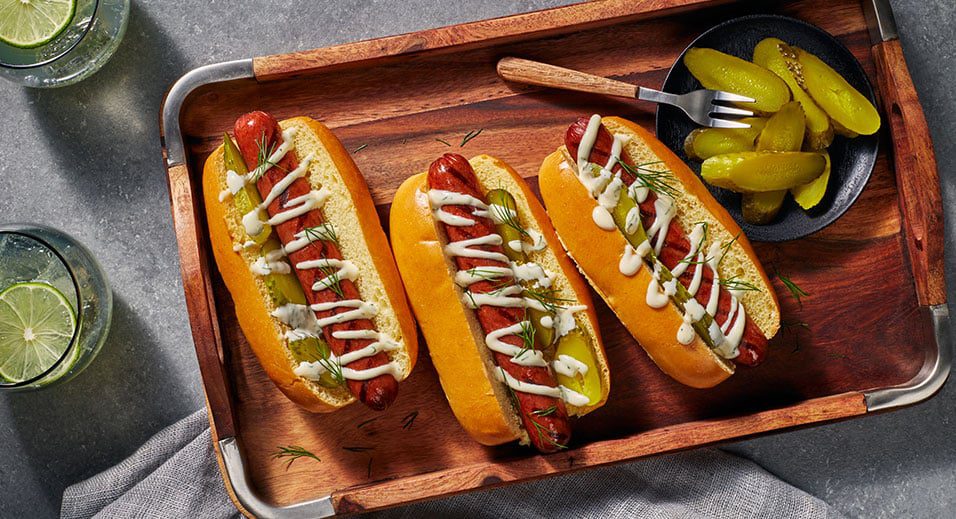 Q: What is a sandwich?
Let's now dive into how a sandwich is traditionally defined.
According to Merriam-Webster, a sandwich is, "two or more slices of bread or a split roll having a filling in between." A secondary sandwich definition is, "one slice of bread covered with food."
So, are hot dogs sandwiches?
After covering the history, definition, and fun facts about hot dogs, you may still be asking: is a hot dog a sandwich, yes or no?
According to our own Canadian Hot Dog Etiquette guide, hot dogs are sacred in Canada and the name stands with or without the presence of bread. But a sandwich without the bread is just – well, ingredients.
The NHDSC also sets it out pretty frankly (pun intended), taking first spot in its 25 Hot Dog Facts for 25 Years: "A Hot Dog is not a sandwich." And as I've said before, limiting the hot dog's significance by saying it's "just a sandwich" is like calling the Dalai Lama "just a guy."
So, there you have the hot dog sandwich debate settled by the Maple Leaf Foods team. Have we whet your appetite for a juicy frank topped with all the fixings?
Q: What are your gourmet hot dog recipes for people of all appetites?
At Maple Leaf Foods, we take hot dogs very seriously. That's why our chefs work nonstop in the kitchen to come up with the best recipes for hot dogs to share with you.
Whether you think it's a sandwich or not, here are five hot dog recipes to whip up in your kitchen.
Meat lovers unite for loads of meat and fixings on the Meat Lovers Pizza Dog featuring Maple Leaf®'s Natural Top Dogs™, Ready Crisp® Bacon Bits, and Natural Selections® Pepperoni, topped with your favourite pizza ingredients and crisped to perfection in the oven.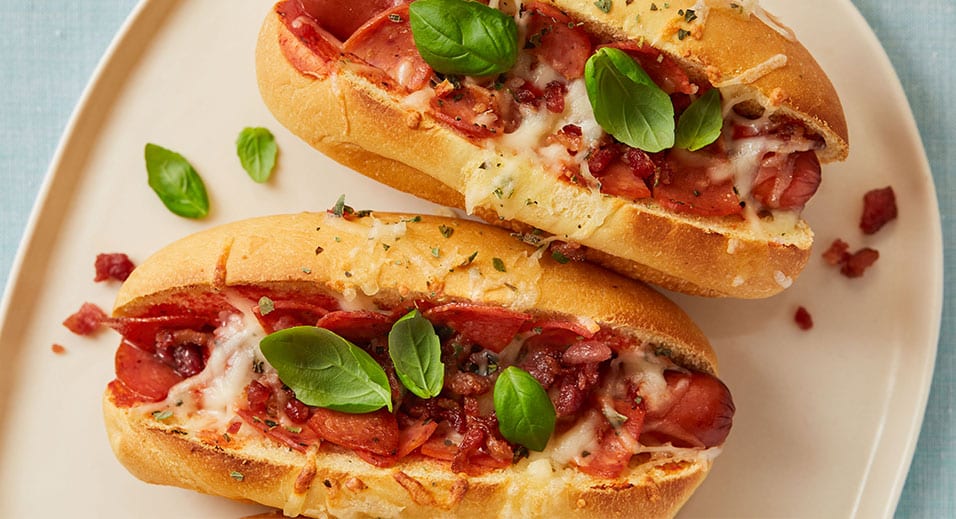 Trying to eat lower carb this summer? We have you covered with Caesar Dog Lettuce Wraps made with Schneiders® Original Recipe All Beef Wieners and Hickory Smoked Classic Cut Bacon, and large pieces of romaine lettuce that act as the hot dog buns!
For a fancy hot dog treat topped with loads of veggie condiments, check out these Classic Smoky Style Chicago Frankfurters made with Field Roast Classic Smoked Plant-Based Frankfurters on poppy seed buns and a homemade Char-Grilled Tomatoes recipe.
No buns on hand? No problem! These Canadian Beer-Battered Corn Dog Bites feature Schneiders Original Juicy Jumbos cut into pieces and dipped into homemade beer-batter for a bite-sized corndog twist.
Recipes for National Hot Dog Day – July 20
Grilling season is incomplete without hot dogs from Maple Leaf Foods' exciting portfolio of brands. Save these recipes for National Hot Dog Day coming up on July 20!