Learn about the differences between tempeh and tofu, what it's made of, and why it's one to watch in 2023.
By Brenna Tudor, Brand Manager
All-natural. Fermented. Packed with protein and fibre. It sounds too good to be true, right? Tempeh (pronounced tem-pei) is one of the best kept secrets in the superfood world, and it's poised to take off in 2023.
We dive into everything that you need to know about the plant-based superfood. Follow along for delicious recipes using Lightlife® Tempeh to prepare for your family.
What is tempeh?
Tempeh is one of the oldest known plant-based foods. It originated in Indonesia more than 2,000 years ago and is a fermented, all-natural, minimally processed, highly bioavailable, and nutritious protein source.
Tempeh is made with three simple ingredients: soybeans, water, and rice. It's high in protein, fibre, and vitamins and minerals like calcium, manganese, phosphorus, and iron. It is also a complete protein, with all nine essential amino acids the body needs to function, and it's produced with a fermentation process, much like kombucha, yogurt, cheese, bread, or beer and wine. That's when the magic happens!
Fermentation enhances the nutritional value and digestibility of tempeh, unlocks new flavours, textures, and the appearance of the plant-based protein. Plus, the fermentation process helps make tempeh a healthy food options that can support your digestive health, weight management, and exercise recovery.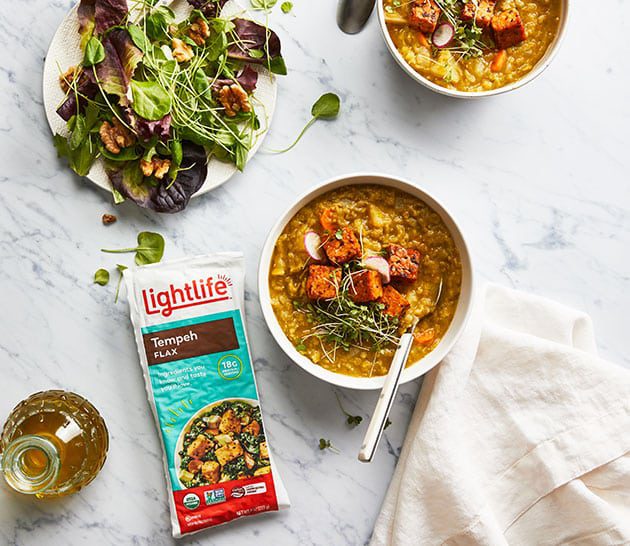 How to cook tempeh
Tempeh has a hearty, nutty taste and texture. It quickly absorbs any marinade, spice, or sauce, and can be baked, fried, steamed, or grilled.
With tempeh, you can:
Cut it up into triangles and steam it
Slice it into strips to air fry or oven-bake
Crumble it into chunks to top a salad or power bowl
Cut it into cubes and pan-fry it
Use it as a filling for dumplings or pot stickers
Serve it warm on a sandwich
…and so much more!
What's the difference between tempeh vs. tofu?
You might be wondering about the comparison between tempeh and tofu — both are soy based, so what's the difference?
While tempeh is made from whole soybeans that you can see and taste, tofu is made from processed soy milk which provides the softer texture.
Plus, tempeh has twice the amount of protein as tofu and six times more fibre!
Lightlife® Tempeh
Lightlife® was founded in 1979 in an old, converted car wash, with the original name, "Tempeh Works" and was the first company to launch tempeh into the mainstream market.
Today, Lightlife® is part of Greenleaf Foods, SPC, owned by the parent organization Maple Leaf Foods. Lightlife® is the #1 selling tempeh brand in North America, and each year, the brand produces millions of pounds of tempeh using organic, non-GMO soybeans that are sourced from right here in North America.
Tempeh recipes
Here are some easy and incredibly flavourful recipes using tempeh to add to your lunch or dinner menu.
Build a Smoky Tempeh Club Sandwich with homemade lemon mayo featuring Boston lettuce, hot house tomato, avocado, and Lightlife® Smoky Tempeh Strips piled high on multigrain bread.
Looking for a power bowl? The Sesame Ginger Tempeh Power Bowl with quinoa and sweet potatoes features warm and comforting flavours with avocado, chickpeas, cherry tomatoes, pea shoots, and topped with pickled pink onions, a sesame ginger vinaigrette, and pan-fried Lightlife® Original Tempeh.
You can also try out some new flavours with Tempeh Kimchi Bowls that highlight rich flavours from homemade kimchi and peanut sauce, topped on brown rice with steamed Lightlife® Original Tempeh triangles.
What are you waiting for? Head to your nearest grocery store and try out tempeh for yourself!