Here, Behzad reflects on how it feels to win this prestigious award from Save on Energy and why Maple Leaf Foods' environmental goals and business purpose are his guiding light.
By Behzad Hosseinpour, Leader of Sustainability and Energy at the Heritage manufacturing plant in Hamilton, ON
It takes a lot of moving parts and working hands to run a manufacturing plant. And even more exceptional talent to operate an eco-friendly factory that strives to perform up to the highest energy efficient standards while producing great food.
I'm so proud to be part of the team at our Hamilton, Ontario plant that was a big part in a milestone I'll never forget: receiving the 2021 Energy Manager of the Year award.
Presented each year by Save on Energy, this noteworthy award recognizes innovative energy managers across Ontario who commit to energy-efficient operations throughout all their professional endeavours.
Save on Energy recognizes reputable energy efficient organizations
The Energy Manager of the Year award is sponsored by IESO (Independent Electricity System Operators) within the Save on Energy program.
There are hundreds of energy managers across the industrial spectrum, including those who work in school boards, hospitals, industrial environments, and more.
Every year, Save on Energy recognizes the companies that are putting their energy conservation or sustainability efforts at the highest priority. The program's incentives and grants help to ensure that organizations like Maple Leaf Foods can participate in new opportunities, receive approvals, and advance projects in a timely manner, including fast-tracking the typical time it would take to gain approval and investment for larger projects.
Targeting our environmental goal for sustainable manufacturing
I started at the Maple Leaf Foods 'Heritage' plant in November 2020 and bring a background with a master's degree in mechanical engineering.
Day to day, I help Maple Leaf achieve our environmental target mandate: we aim to reduce our environmental footprint by 50% by 2025.
As the energy manager at Heritage, I also ensure we're operating an energy efficient factory up to sustainable manufacturing standards. This is done by leading awareness campaigns, educating people and staff, and monitoring our energy consumption.
Much of what I'm responsible for is proactively identifying opportunities for optimizing efficiency. Energy conservation is top of mind in everything I do, and I must communicate with external stakeholders, bring them to Heritage to conduct preliminary assessments on our main energy sources, and work together to identify the highest priorities that will generate the biggest return to meet our corporate sustainable production targets.
This is all part of being in a sustainable industry that's striving to make a difference in the lives of our customers, consumers, and people — every day, in any way.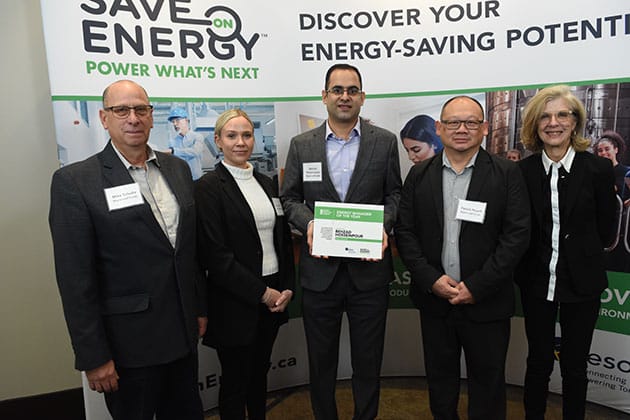 Taking pride in being part of a sustainable industry
Winning the Energy Manager of the Year award is an incredible career milestone for me — it's a huge accomplishment and is a big deal for Maple Leaf Foods. I'm so glad that I received it as part of a company where sustainability is at the core of our business strategy. That's the guiding light for us.
As a forward-thinking and values-based company, Maple Leaf Foods operates with a bold purpose: to Raise the Good in Food. This purpose encourages me to work harder, be creative, and always sharpen my skills, while empowering me to share my ideas that can help Heritage perform up to the highest operational energy efficiency standards.
I was presented with the award on November 24 at the Energy Manager of the Year award ceremony with a group of my Maple Leaf colleagues: Mike Schultz, Director of Technical Services; Patrick Huynh, Director of Carbon & Energy; Lynda Kuhn, Senior VP and Chair of CAFS; and Leaya Amey, Senior Specialist of Sustainability Reporting.
While I won the award as recognition of my work at Heritage, the company also received an award too, which is now sitting in head office. It will remain on the wall as a reminder of what we've achieved as an organization on our sustainability journey that we continue to go along together.
Please watch this video featuring myself, Mike, and Patrick in the Heritage facility. Thank you to Save on Energy for featuring our story in the 2021 Energy Manager of the Year award video series.