Join us on our carbon neutral journey — disconnect at dinner time with your family so we can all help protect the planet together.
By Joe McMahan, Vice President of Sustainability
November 7 marks the second annual Little Changes Day, and four years since Maple Leaf Foods went carbon neutral. It's a time to celebrate our commitment to becoming the most sustainable protein company – not just in Canada – but on earth! As we work to protect the planet for future generations on Little Changes Day and beyond, we're calling on Canadians to join us in a day of collective action. If we step up for sustainability together, what may seem like little changes can have a big impact on the environment.
Did you know that 48% of Canadian families often watch TV while eating meals, yet 86% say they'd like to spend more time together away from screens? That's why on November 7, we're encouraging Canadians to participate in the Disconnected Dinner Challenge. By turning off screens and sharing a meal together, we can reduce carbon emissions and help friends and family reconnect with one another.
Breaking away from the TV screen for an hour a day is just one example of a little change that can have a big impact on the environment. It would take planting trees across more than 50 hockey rinks to offset the amount of CO2 generated by just one hour of TV watching by Canadian families!
Ready to join in? View our helpful infographic below for ideas on how to get started and read our Disconnected Dinner tips below.
Share your plans to disconnect this Little Changes Day by using the hashtag #DisconnectedDinner and tag us @MapleLeafFoods.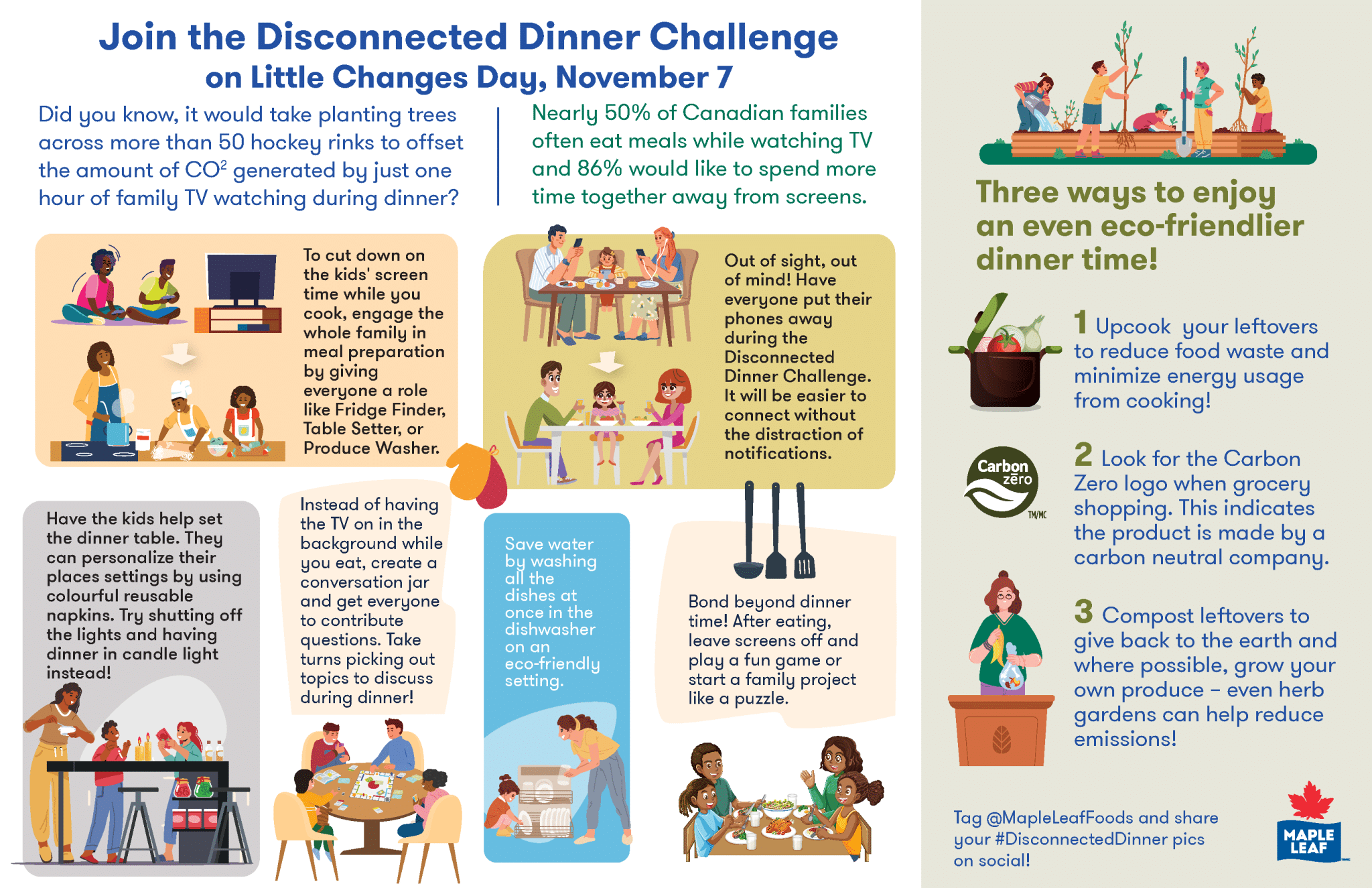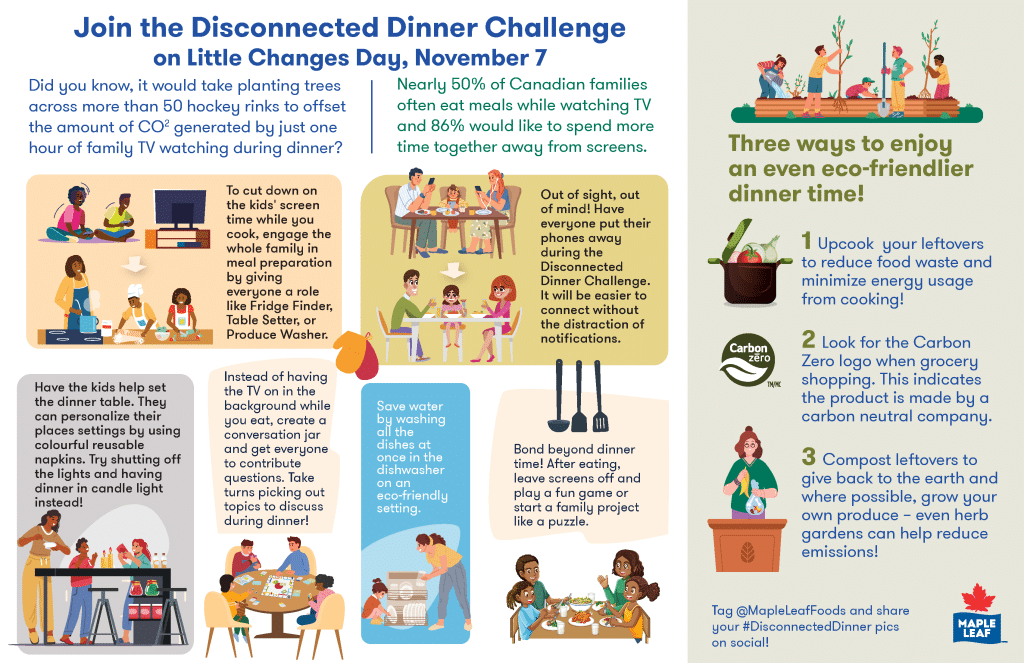 Disconnected dinner tips
Engage little helpers: Do your kids use screen time while you cook? Engage the whole family in meal making by giving everyone a role — from Fridge Finder to Produce Washer — and a chance to participate ahead of mealtime!
Make the table a feature: The kids will love to set a special dinner table. Personalize place settings with colourful reusable napkins. Create atmosphere by disconnecting lights and screens and opting for candles instead.
Say 'no' to notifications: Out of sight, out of mind! Get everyone to pop their phone into a basket and tuck it away during the Disconnected Dinner Challenge. Without distraction, it will be easier to connect through conversation.
Create a conversation jar: Is your TV on as background entertainment? Turn it off! Create a conversation jar and get everyone to contribute questions in advance. Take turns starting up a table topic.
Embrace the eco-friendly: 'Upcook' leftovers for a fuss-free dinner that reduces food waste. Look for the Carbon Zero logo on protein products. Save water by washing all the dishes at once and using your dishwasher on an eco-friendly setting.
Bond beyond dinner time: Leave your screens off after dinner. Play a retro game from your childhood or start a family project, such as a puzzle!
Our commitment to a more sustainable future extends beyond Little Changes Day. Recently, our Hamilton plant achieved LEED (Leadership in Energy and Environmental Design) certification! Learn more about our commitments here.