Our
Animal Care Standards and Oversight
We care deeply about the animals we raise and handle. Our Vice President of Animal Care, Kathleen Long, DVM, leads our comprehensive animal care program to ensure that every animal that we care for has a good life.
Team of animal care experts who care
Dr. Long and her team of animal care experts oversee programs to ensure that when we transport animals and handle them at our plants, we do it in a humane way that minimizes stress. We measure our progress and we strive to improve our programs every day.

We comply with the many laws and codes of practice that govern animal raising, production, transportation and handling practices. But we also hold ourselves to higher standards by committing to science-based, best practices and by working with an expert external Animal Care Advisory Council that challenges us to improve continuously.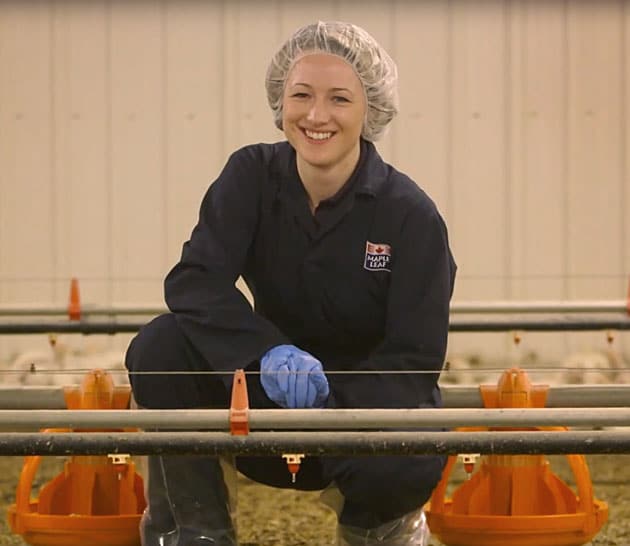 Meet our animal care advisory council
Our Animal Care Advisory Council includes some of the leading experts in the field who meet with us regularly to review our programs, advise us on emerging science and to push us to strive for greater improvements.
Temple Grandin, Ph.D.
Animal Science Professor, Colorado State University
Designer of Livestock Handling Systems, Autism Expert, Author and Speaker
Dr. Temple Grandin is a world-renowned Animal Science Professor at Colorado State University and designer of livestock handling systems. Dr. Grandin teaches courses on livestock behaviour and facility design and consults with the livestock industry on facility design, livestock handling and animal welfare. Other areas of research include cattle temperament, environmental enrichment for pigs, reducing dark cutters and bruises, bull fertility, training procedures, and effective stunning methods for cattle and pigs at meat plants. She has also developed an objective scoring system for assessing handling of cattle and pigs at meat plants.
Collette Kaster, M.S.
Chief Executive Officer, American Meat Science Association (AMSA)
Executive Director, Professional Animal Auditor Certification Organization (PAACO)
Collette Kaster is the CEO of the AMSA and Executive Director of PAACO, and brings more than 25 years of industry experience in animal welfare, food safety, quality assurance, meat quality and business management. Kaster has long been involved with key industry activities such as the animal welfare, food safety and meat quality committees of both the North American Meat Institute (NAMI) and the National Pork Board (NPB). She has served as a past appointee to the National Advisory Committee on Meat and Poultry Inspection and is past president of the AMSA as well as an AMSA Fellow.
Karen Schwean-Lardner, Ph.D.
Associate Professor, University of Saskatchewan College of Agriculture & Bioresources
Dr. Karen Schwean-Lardner is an Associate Professor at the University of Saskatchewan College of Agriculture & Bioresources. Dr. Schwean-Lardner's research is often multi-dimensional, using production, behaviour and physiological indicators to examine how various management practices impact both the welfare and productivity of turkeys, broilers and laying hens, and to provide producers alternatives for management practices that can maintain productivity and improve bird welfare. Dr. Schwean-Lardner is also heavily involved in teaching poultry sciences, including production and management, but also behaviour and welfare of poultry and other livestock species, and serves a number of organizations in an advisory capacity.
Yolande Seddon, Ph.D.
Assistant Professor, Western College of Veterinary Medicine / Prairie Swine Centre
Dr. Yolande Seddon is an Assistant Professor at the Western College of Veterinary Medicine and an adjunct research scientist at the Prairie Swine Centre. Dr. Seddon's research focuses on the behaviour and welfare of farmed pigs and explores the interactions between management, pig behaviour, welfare and productivity, with a strong multi-disciplinary and applied research approach. Dr. Seddon also holds the Natural Sciences and Engineering Research Council of Canada (NSERC) Industrial Research Chair in Swine Welfare at the University of Saskatchewan.
The government's role
Many local, provincial, and federal laws and codes of practice govern how we raise, transport, handle and process our animals. In fact, Canadian Food Inspection Agency veterinarians and inspectors are on site at our processing plants every day overseeing our animal handling practices. They are empowered to act – including stopping our operation – if they see a violation.
We are proud of our strong record of compliance, but we're never satisfied with simply meeting a standard. We aim to go above and beyond! It's simply the right thing to do for our animals.
The standards we follow
Within our operations, we follow many standards, codes and best practices, including:
National Farm Animal Care Council (NFACC) Codes of Practice
Canadian Pork Excellence and PigCARE
North American Meat Institute (NAMI) Animal Handling Guidelines
Canadian Hatching Egg Producers CHEQ™ and Animal Care Programs
Canadian Hatchery Federation Animal Welfare Program
Chicken Farmers of Canada Animal Care Program
Certified Humane® Raised and Handled
Certified Organic
National Chicken Council Animal Welfare Guidelines for Broilers
National Chicken Council Animal Welfare Guidelines for Broiler Breeders
Maple Leaf Foods is the first company in Canada to move to full, annual on-farm Canadian Pork Excellence and PigCARE program audits that include animal-based measures.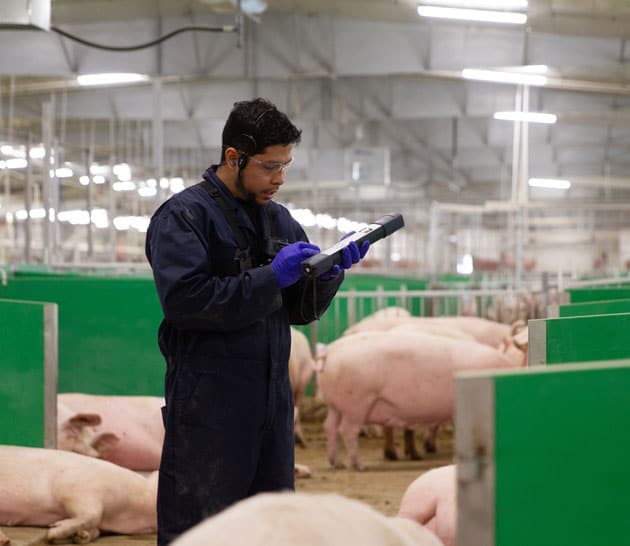 Our commitment to education and training
A well-trained team is the foundation of a good animal care program. We require every employee involved in raising, transporting and processing animals be trained and adhere to our animal care policies and procedures when they join our company. We also deliver ongoing training to keep skills sharp.

Maple Leaf Foods' Animal Care Team includes more than 37 experts who are Professional Animal Auditor Certification Organization (PAACO) certified across our pork and poultry operations.
We embrace auditing
We truly believe that feedback is a gift. We welcome internal and external audits to keep our skills and practices sharp and our animal care standards high.

Our trained Professional Animal Auditor Certification Organization (PAACO) auditors conduct a variety of audits according to the relevant standards for each site, including:
– Monthly audits of our hatcheries, pullet flocks and breeder flocks
– Routine auditing of companies who catch and load our chickens
– Annual audits of all of our hog barns
– Routine auditing of companies that transport our animals
– Daily monitoring of our plants that handle animals, together with federal inspectors
– Weekly audits of our pork and poultry plants

Third party companies also perform animal welfare audits including:
– Annual audits of our hatchery, pullet and broiler breeder operations
– Annual audits of our full chicken supply chains
– Annual audits of all of our hog barns
– Annual audits of our pork and poultry processing plants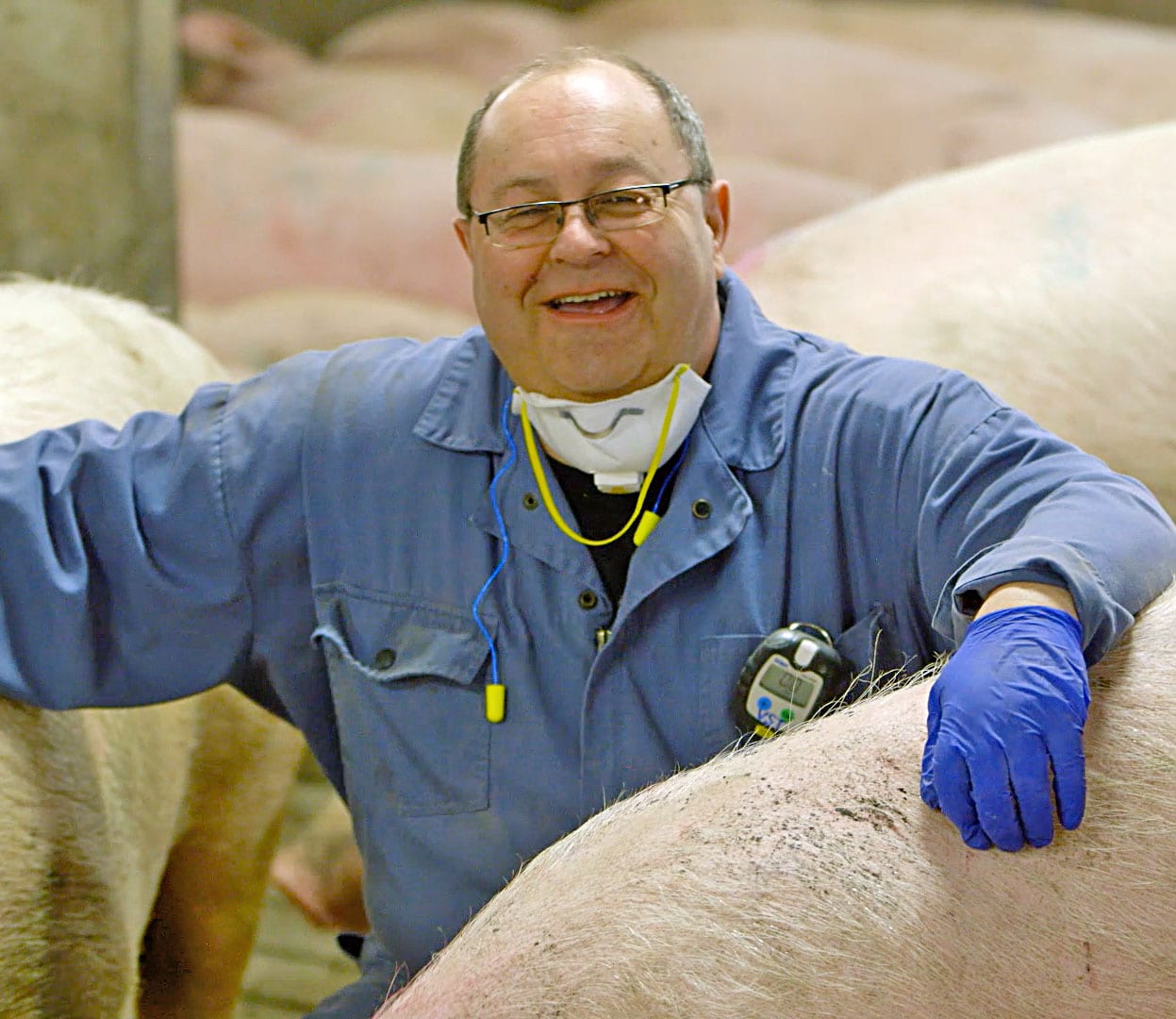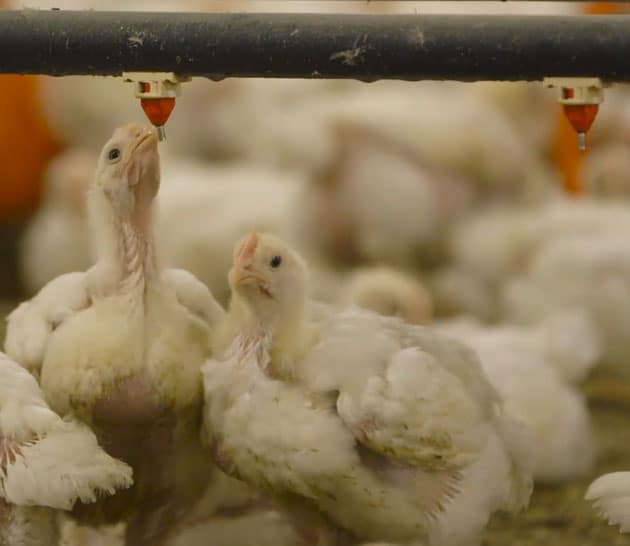 Extra Eyes: remote video auditing
Maple Leaf Foods uses Arrowsight remote video auditing (RVA) technology throughout our operations to monitor and measure performance and to alert us when problems occur. Cameras are deployed at key locations at our sites. Trained third-party auditors audit our site operations every day and score performance. They send immediate notifications to site leaders if they observe a concern or infraction.

This system keeps us accountable – and that's one of our Leadership Values! We currently have Arrowsight systems installed in our hatcheries and plants that handle live pigs and chickens. We are also working with Arrowsight to test mobile RVA technology capable of auditing catching and loading processes on chicken farms.
Environmental enrichment
We're adding environmental enrichments to the farms where our pigs and chickens our raised. Environmental enrichments support natural behaviours, reduce boredom and improve the health of our animals.

We provide hanging toys to our nursery-finisher pigs and group housed sows, and we are piloting additional sow enrichments such as burlap. We have also implemented specially designed enrichments for broiler chickens including ramps, hiding huts, and pecking objects.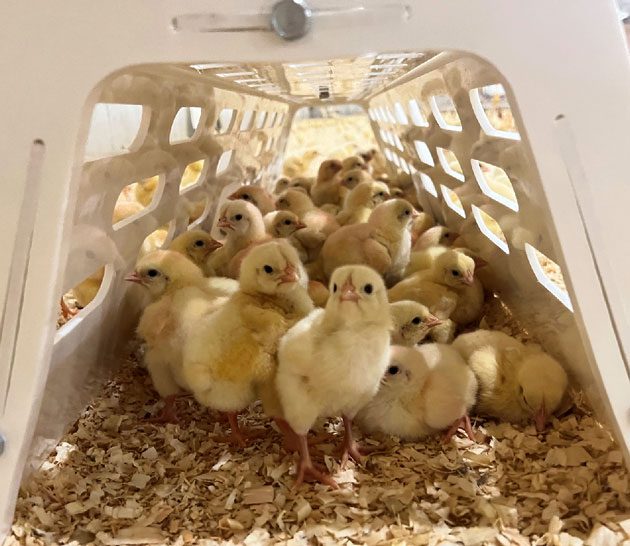 Minimizing stress during transportation
Maintaining comfort and care during transportation is essential to our animal welfare program. We've identified how animals can become stressed during transportation and taken steps to reduce their stress and increase their comfort.

All drivers transporting animals to our processing plants must be certified in Transport Quality Assurance® (TQA) or have Canadian Livestock Transport (CLT) certification or equivalent.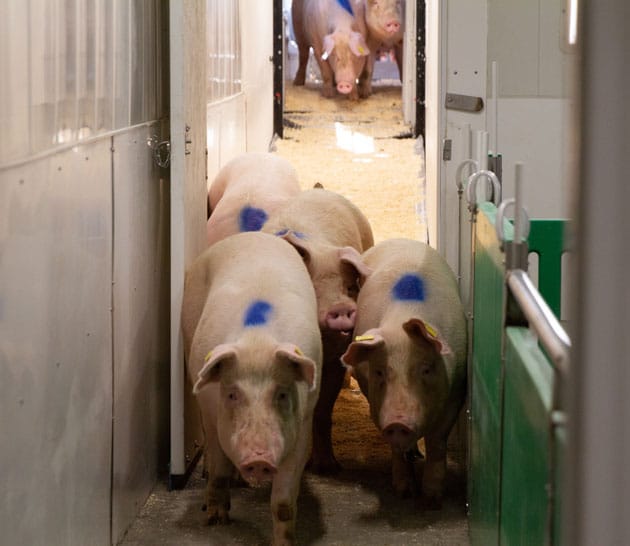 We 'elevated' pig transportation
Walking up and down ramps to board trucks can be stressful for pigs. We've converted all our pig trailers to hydraulic-lift deck trailers that raise pigs to upper truck decks, eliminating the need to use ramps. Our hydraulic lift trailers bring the pigs from sow barns to nursery barns, and from nursery barns to finishing barns.

Our experience tells us that hydraulic lift trailers significantly reduce pig stress. How do we know? Pigs tend to vocalize loudly when they are stressed, but our pigs are measurably quieter when boarding hydraulic lift trailers.

Well-trained people play a key role, too. We train our pig transport drivers at professional driving schools to ensure they meet our high standards, and we run an annual driving course with a focus on winter driving hazards.
We keep chickens comfortable in the cold
Cold weather is a part of life in Canada. We invested in five climate-controlled poultry trailers in Alberta to provide added protection for birds during harsh weather conditions.
We've also developed a custom real-time, digital temperature and humidity monitoring system called SafeFlight for use across our poultry transportation network. This system reports trailer conditions in real time to our drivers and lairage monitors enabling them to take immediate corrective actions if necessary, improving the comfort and well-being of our birds. All of our Alberta and Ontario poultry trailers have been implemented with SafeFlight digital monitoring.
All chickens that we process in Alberta come from Alberta barns. Likewise, we source chickens we process in Ontario from Ontario barns.
Animal Care Performance Report
We're documenting our animal care goals and measuring our progress. See how we're doing in our 2022 Animal Care Performance Report.
Introducing our inaugural
2022 Integrated Report
Our new Integrated Report builds on nearly a decade of sustainability reporting and presents a more holistic view of our Company. We continue to evolve our reporting process every year to meet changes in the reporting and regulatory landscape and growing demands from our stakeholders.