On April 26th, the Maple Leaf Centre for Action on Food Security (the Centre) hosted its second annual Food Security Symposium, bringing together participants and speakers representing a broad range of skills, experience and interests from across Canada.
"Food insecurity is a social justice issue, not a food scarcity issue or a matter of charity," said Michael McCain, President and CEO of Maple Leaf Foods and Honorary Chair of the Maple Leaf Centre for Action on Food Security. "This Symposium brings together government, business, academia and civil society to share perspectives on what needs to change to ensure all Canadians, regardless of income, geographic or health barriers, can reliably access healthy food."
The Symposium has brought together individuals from the industry, government and academia to join in open dialogue on what needs to change so that all Canadians have access to healthy, nutritious, affordable food.
The Symposium started with a panel of individuals sharing their experiences and perspectives gained from living through food insecurity – Kerry Nolan, Co-Facilitator at the Yukon Anti-Poverty Coalition; Charlyn Ellis, Growing Good Food Market Project Coordinator at FoodShare Toronto; and Ervin Bighetty, Mayor of Leaf Rapids, Manitoba.
These individuals live in different parts of Canada, yet their stories share a common theme – food insecurity needs to be recognized. Access to food is an issue no matter where you are – in the North, in remote communities or in big cities, like Toronto.
Nolan was raised in small communities in the Yukon and reflected on how she lived off of powdered and canned food. Even if you work and have money, you worry about that money lasting all month because of the high cost of food. "People who are homeless are not the only ones living with food insecurity. It's working people as well. It's single mothers afraid to ask for help," said Nolan.
Bighetty shared Nolan's sentiment as he lives in a small community of Leaf Rapids, Manitoba. He remembers traveling long distances to get food, which only gets more difficult as the colder weather sets in. As the mayor of Leaf Rapids, he is happy to be in a position where he can build relationships with people in his community and hear what they have to say.
Meanwhile, Ellis spoke about the struggle of food access in a big city. She went to university, yet wasn't able to find employment. She said that as a woman of colour, raising three boys, she faced multiple barriers and struggled to access healthy food for her family. Food is really important to her and today she works in a community garden in the Jane and Eglinton area of Toronto helping people gain access to fresh, nutritious food.
More than 160 Symposium participants hung onto the speakers' every word as their stories drove home the importance of food and how food justice needs to be recognized.
The Symposium also saw speakers and panellists speak on topics including views from the private sector on social change, social impact and how businesses can make a difference; government priorities and approaches; the power of collaboration to drive social policy; and a forward-looking discussion on what needs to be done to make change happen.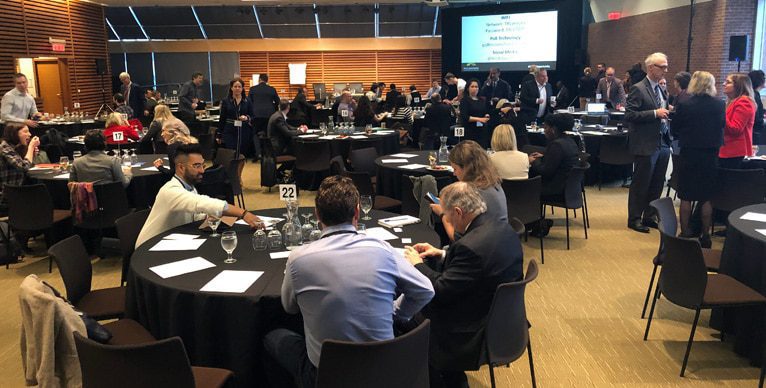 Getting ready to start the second annual Food Security Symposium in Toronto on April 26, 2019.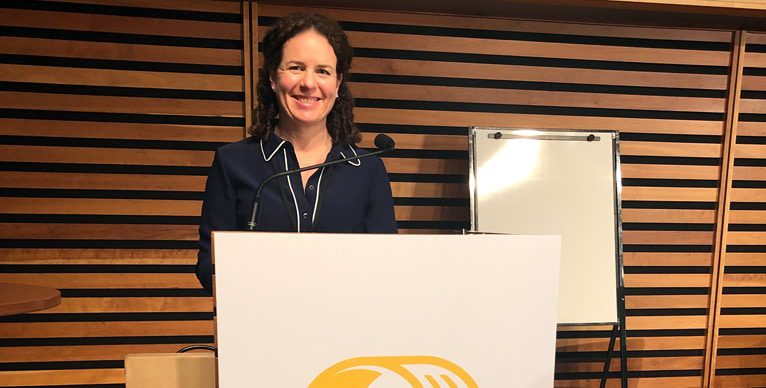 Sarah Stern, Director of the Maple Leaf Centre for Action on Food Security, kicked-off the Symposium with opening remarks and acted as the MC for the day's events.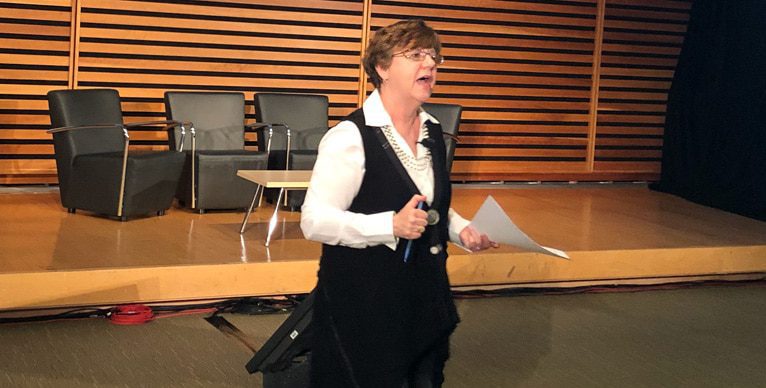 Allyson Hewitt, McConnell Foundation Senior Fellow, Social Innovation @MaRS started her session with an exercise where everyone had to list stereotypes associate with non-profit, private sector and government and led a discussion on what it takes to refresh those stereotypes.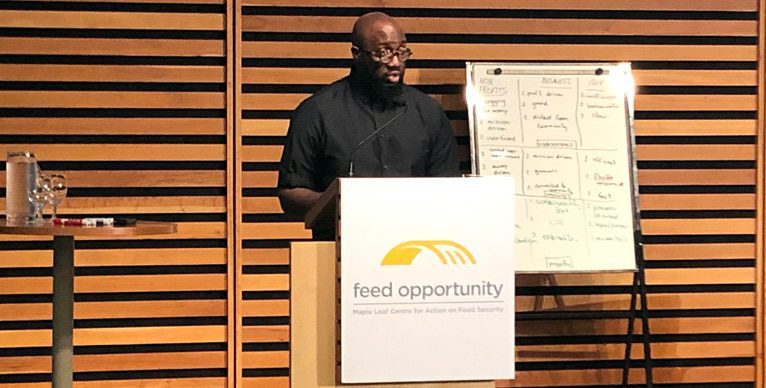 Paul Taylor, Executive Director of FoodShare Toronto talked about the state of food insecurity in Canada. "Some of you might think that food insecurity only affects people on social assistance, but the reality is that 62% of food insecure people derive their income from employment. This means Canadians are working hard at paid jobs and still not able to make ends meet."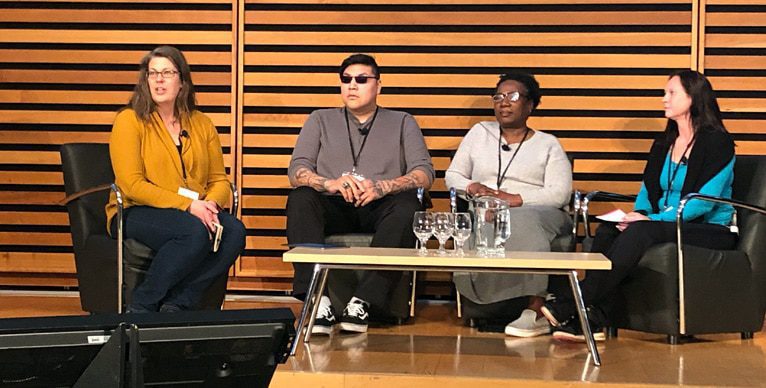 Julie Price, Coordinator at Northern Manitoba Food, Culture and Community Collaborative led first panel discussion: perspectives on progress and barriers to change. Kerry Nolan, Charlyn Ellis and Ervin Bighetty shared their stories of living with food insecurity.
Phil Haid, CEO & Co-Founder of Public Inc., moderated a dynamic panel discussing how to break with conventional philanthropy and how the private sector can make social impact.
Panel included Kathleen McLaughlin, Chief Sustainability Officer, Walmart and President, Walmart Foundation; and Willa Black, Vice President, Corporate Affairs, Cisco Canada; and Michael McCain, President and CEO, Maple Leaf Foods.
"How do we create systems that are regenerative environmentally and inclusive economically? It's in the interest of business to work on these issues. Social systems, environmental systems economic systems – you can't separate them," said Kathleen McLaughlin.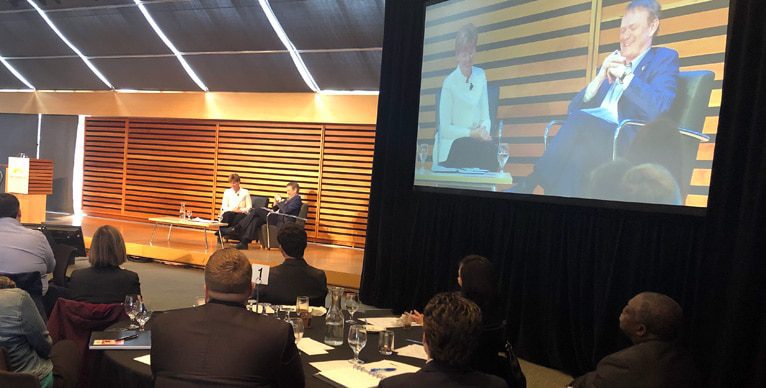 Evan Fraser, Director at the Arrell Food Institute, University of Guelph, sat down with Minister of Agriculture and Agri-Food, Marie-Claude Bibeau to talk about a National Food Policy for Canada and the federal government priorities to solving key problems.
"Canada's first-ever food policy will help ensure all people in Canada are able to access a sufficient amount of safe, nutritious, and culturally diverse food through an innovative and environmentally sustainable food system," said Minister Marie-Claude Bibeau.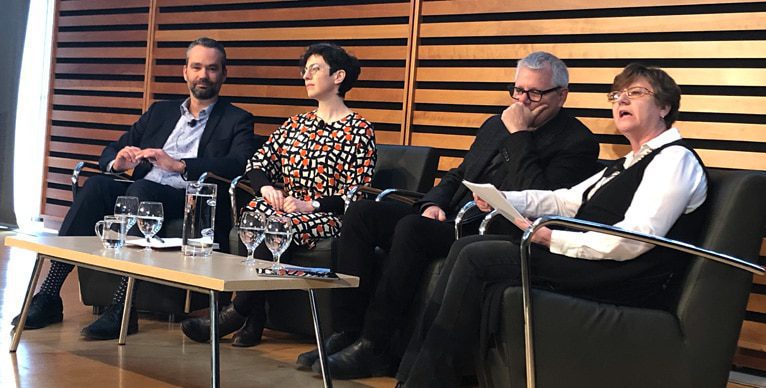 The afternoon session started with a panel discussion on the power of collaboration and how it can drive social policy changed moderated by Allyson Hewitt. On the panel were: Pedro Barata, Senior VP, Community Impact and Strategy, United Way of Great Toronto; Dana Rose Granofsky, Prinicipal, BGM Strategy Group; and Adam Vaughan, Parliamentary Secretary for Housing and Urban Affairs.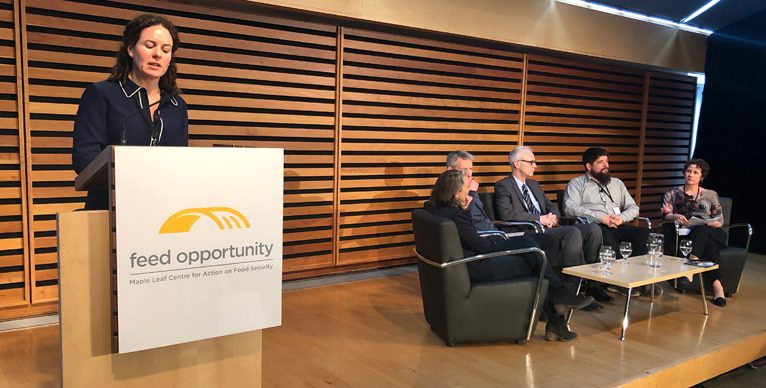 The final panel discussion of the day had moderator Lauren Baker, Director of Programs at Global Alliance for the Future of Food, asking participants to look forward and try to provide insight into what needs to happen next to see food insecurity in Canada reduced.
Panel included Julie Dabrusin, MP, Toronto Danforth and Chair of Liberal Food Caucus; Joseph Le Blanc, Director, Indigenous Affairs, Northern Ontario School of Medicine; Rory McAlpine SVP, Government & Industry Relations at Maple Leaf Foods; and Nick Saul, President & CEO of Community Food Centres Canada.
"The issue is how we bring these real truths to the vast majority so they can say 'I don't want to be in a town, city or country where so many of my neighbours don't have a space at the table.' You have to have that sense that we are all in it together," said Nick Saul.
Lynda Kuhn, Chair, Maple Leaf Centre for Action of Food Security, provided the closing remarks. In her speech, she said that the Symposium is the result of many conversations and relationships that have grown to become valued friendships and trusted advisors. She said that the Centre will continue to use its resources to elevate public awareness of food insecurity as an intolerable social issue, through the voice of our partners and others in the food security movement.