At Maple Leaf Foods we have set a big, bold goal for ourselves to reduce our environmental footprint by 50 per cent by 2025. Our bold goals are driven by the passion of our people to reduce our impact on the environment – everything from emissions to eliminating waste.
Across the company, our facilities have created recycling programs that help divert waste that would otherwise end up in the landfill. Mostly all our facilities are able to recycle cardboard, plastic, paper and wood pallets.
"There is a pride at the plant that we are becoming more sustainable and are sending less waste to landfills, which lowers our carbon footprint," said Mitchell Flynn, production manager at our Drew Road facility in Mississauga, Ontario.
Some facilities are taking recycling up a notch.  Our Brandon facility in Manitoba, partners with the Brandon Recycle Centre to recycle batteries used at the plant. They harvest metals from the batteries to be re-used, and then responsibly recycle the remaining battery parts. In 2017, Brandon recycled 518 lbs. of batteries. In 2018, they recycled 1,120 lbs., and in 2019, they are planning to beat their 2018 goal and recycle 2,000 lbs.!
Here is a deeper look at some of our recycling programs:
Eliminating plastics in cafeterias
During the past several months, media attention has focused on plastic pollution, sharing compelling images of marine life harmed by plastic straws and plastic material. The increasing media coverage has led to a number of government bans on plastic use and corporate pledges to reduce plastic use like bags, straws and cups. We, at Maple Leaf Foods, are also doing our part.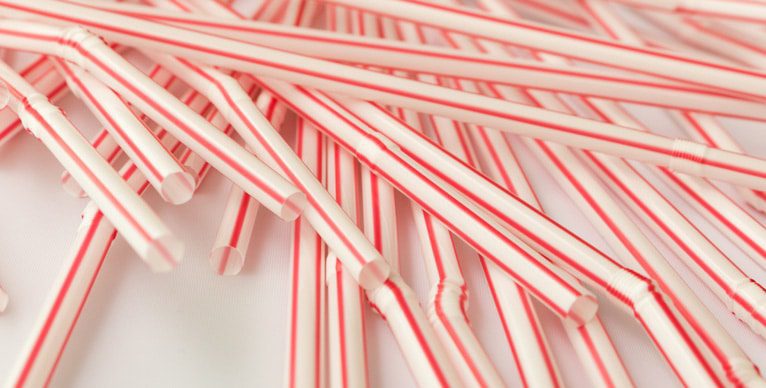 Our Brandon facility has made major changes in its cafeteria. Each year, more than 100,000 cold drinks are sold in the cafeteria – and that added up to a lot of straws! The plant's sustainability team no longer offers plastic straws and has moved to a wooden stir stick that eliminates the plastic.
"I believe the value of our Green Team lies in several places. First, we are collectively working together to help minimize our environmental impacts, and second, we are giving folks at the plant a chance to get involved and help directly drive our sustainability goals," said Jay Bashucky, Brandon plant manager. "It feels good to know that we are helping!"
Plastic straws and sticks are not the only ones getting the attention. There's another culprit that is causing a negative environmental impact – cigarette butts.
Cigarette filters are made of tiny plastic materials that take decades or more to decompose, and yet many smokers discard them on the ground.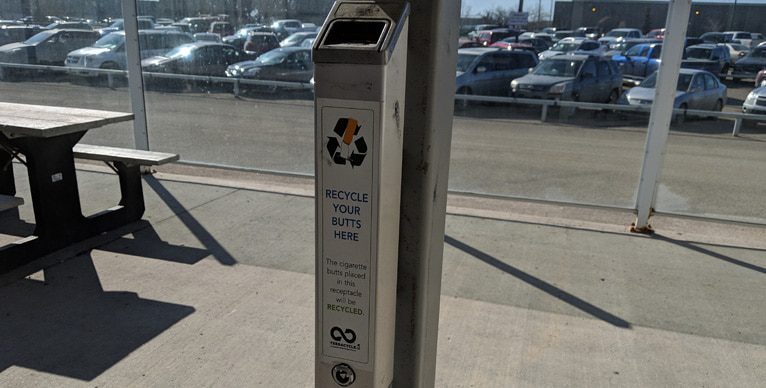 Our prepared-meats facility McLeod in Saskatoon, Saskatchewan is working to change this by partnering with TerraCycle, a company that specializes in finding ways to recycle hard-to-recycle items, to set-up cigarette-butt recycling receptacles at three different locations throughout the plant.
"When we started the program, people had no idea that you could recycle cigarette butts and had never realized the impact of the trillions of cigarettes consumed each year," said Brooke Knutson, environmental and sustainability specialist at McLeod.
Since launching, the plant has recycled thousands of cigarette butts. And, now, other facilities at Maple Leaf Foods are looking to implement the program at their location.
Diverting rubber boots from the landfill
At our McLeod facility, every employee receives a pair of rubber boots when they start working. That's about 400 pairs of rubber boots a year.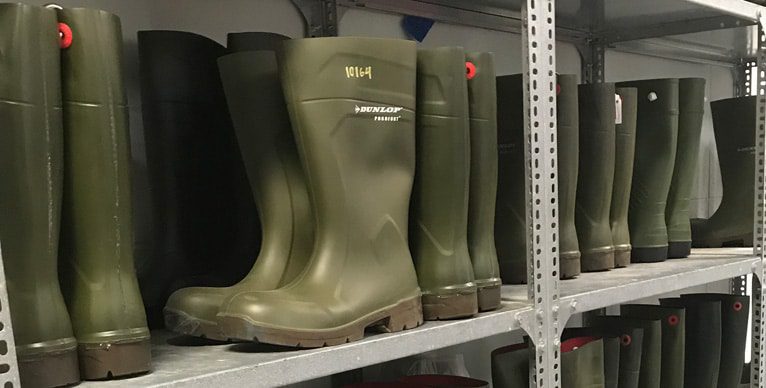 When an employee decides to leave the company, we can reuse the rubber boots if they are in good condition. We wash, disinfect and reissue them to a new staff member. But, when the rubber boots develop a small tear that would impact our workers ability to do their job, but otherwise are still functional, we are not able to reissue them due to microbiological concerns to our staff.
Unfortunately, there are no realistic options for recycling rubber, and when they end up in the landfill, it takes more than 50 years to decompose. That's why, we donate rubber boots that may no longer be suited to a plant to Diabetes Canada where they are re-purposed and given to people who need warm, dry footwear. Since we started the partnership a year ago, we have donated close to 75 pairs of rubber boots.
"We are working hard to accelerate our actions to meet our goals at Maple Leaf Foods and it's incredible to hear positive response from our employees at the plant level who are actively participating in our recycling initiatives," said Tim Faveri, vice president of sustainability and shared value. "Together, we can all reduce our environmental footprint."