Leadership in animal care is foundational to Maple Leaf Foods' vision to be the most sustainable protein company on earth. We have achieved meaningful progress through years of investments and focus.
While all our hogs, which supply consumers with pork, are raised in open pens, breeding sows have typically been housed in restrictive gestation crates. Conventional wisdom and industry practice amongst most scale producers is to constrain sows during gestation to reduce aggression, protect each sow's access to feed, and increase the success of breeding programs.
In 2008, Maple Leaf Foods embarked on a commitment to transition its sows from conventional gestation crates to humane open sow housing. Over almost ten years, we have conducted extensive research to assess various open sow housing systems and determine what program would work best in a Canadian environment, as no producer of scale had embarked on this transition in North America. The primary focus was to establish a system, including the most humane approach to transitioning sows from confined to open housing, that would mitigate aggression, competition for feed, and ensure that animal welfare was significantly enhanced. This involved pursuing innovative ways to improve sow welfare ranging from housing improvements, to customized feeding systems, to husbandry and humane transportation.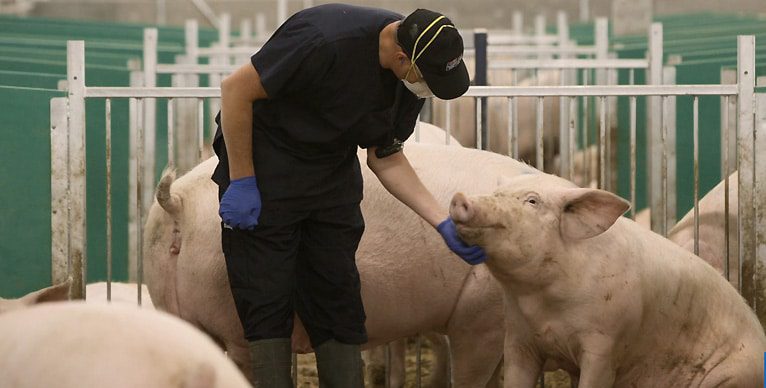 Today, more than 40,000 sows have made the transition to our advanced open sow housing system, and we are on track to transition all sows under our management by the end of 2021 and become the first scale producer in North America to achieve this high-standard of care.
"We have transitioned more than half of our sows to open housing, where they are able to exhibit more natural behaviour, socialize in their social groups and move around freely," said Dr. Greg Douglas, vice president, animal care. "In our advanced system, our pregnant sows spend 100 per cent of their time in open pens, and we are on track to convert our entire system by the end of 2021."
"The system we have developed goes well beyond even other open housing systems and is a best practice in animal husbandry," added LeeAnn Peters, director, technical services.
The vast majority of the North American industry confines pregnant sows 100 per cent of the time in restrictive gestation stalls. Most conventional open sow housing systems continue to house sows an average of 42 days in stalls during early pregnancy. In Maple Leaf Foods' advanced system, pregnant sows live 100 per cent of the time in open pens, where they are free to move, feed and socialize with other animals.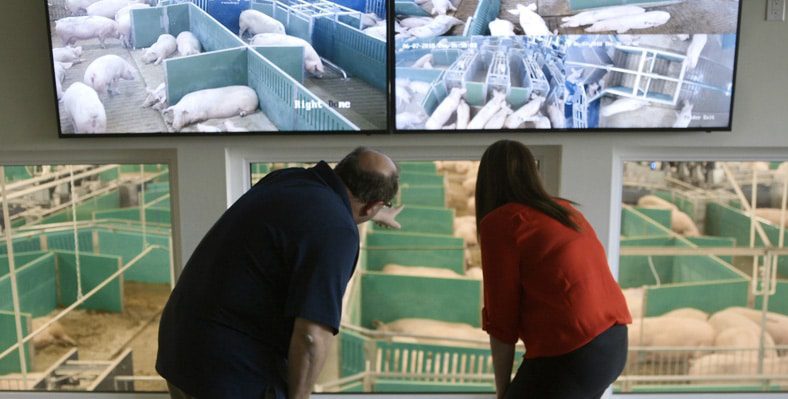 To achieve this high-standard of care, Maple Leaf Foods has invested significant capital, rebuilt its sow barns, changed systems and husbandry practices, and devoted considerable emphasis on training sows to adapt to their new environment and social groups.
To support education and transparency, we have built an observatory barn in Manitoba which provides a complete overhead view of all aspects of sow housing through large glass windows. At the barn, sows learn how to use customized electronic feeding systems, freely access water and live in open social groups. The barn incorporates recycled materials, LED lighting, increased ventilation for clean air and windows for natural light.
Maple Leaf Foods is also deploying innovation in transportation, acquiring a new fleet of trailers with automated lifts that gently move the animals onto the upper levels of the truck and eliminate the need for pigs to navigate narrow steep ramps, which cause stress and potential injury to the animals.
"These are very exciting times from an animal welfare point of view," said Neil Booth, director, hog production. "We've put a lot of resources into it, put in a lot of capital, we are learning a lot, and we are giving them really good lives."