Going Beyond With the Lightlife Burger
Lightlife Foods introduces a new plant-based burger.

8The new plant-based Lightlife Burger goes beyond the impossible! The pea protein-based burger delivers the same great taste and juicy texture as a traditional beef burger, but it is 100 per cent plant based.
With the rapid growth in consumer demand of plant-based protein products, Lightlife Foods Inc. – the #1 refrigerated alternative protein brand in U.S. retail – announced on January 23, 2019 a new burger as part of its new core line of products. The new burger delivers on a sensory breakthrough in taste and texture that consumers are craving.
"Our new burger is delicious thanks to decades of culinary know-how, and we know we'll be serving up an entirely better experience for consumers who want a break from traditional meat or whose palates are craving a new adventure," said Dan Curtin, President of Lightlife Foods.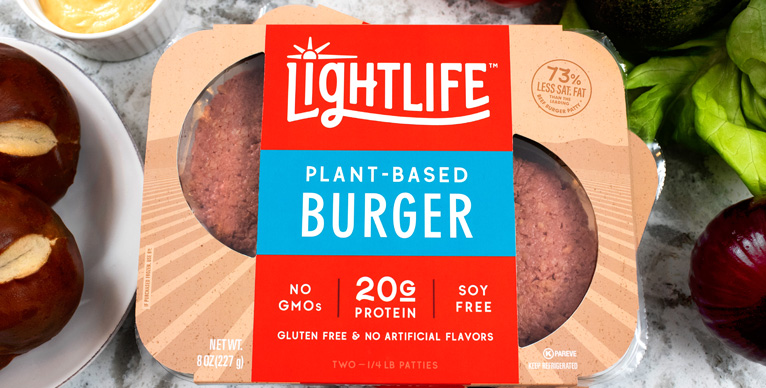 The Lightlife Burger has 20 grams of pea protein with 0 grams of cholesterol and only 2.5 grams of saturated fat in a quarter-pound patty. Now, compare that to 80 grams of cholesterol and 9.3 grams of saturated fat that's found in a quarter-pound patty made from traditional beef. No matter how you cook it, the burger is juicy and meaty with a beef texture. It will deliver on taste, texture, aroma and appearance of traditional meat, but made from plants.
The Lightlife Burger doesn't just satisfy, but it's also better for you and the environment. Whether you're a meat-lover or a vegetarian, this meaty, plant-based burger will fill you up with a familiar taste, but it won't weight you – or the planet – down.
The new burger is part of a new core line of products that Lightlife is introducing as part of a larger brand redesign to mark its 40th anniversary. Lightlife Burger, Lightlife Ground, Lightlife Bratwurst Sausage and Lightlife Italian Sausage all deliver on taste, texture, aroma and appearance of traditional meat, but are made from plants, with protein derived from peas.
The Lightlife Burger will start shipping to foodservice companies in January in the U.S. and will start hitting grocery shelves in late March. The Canadian launch follows suit in April.
2019-01-23