Planning a Thanksgiving dinner and deciding what goes on the menu is a tough task. Whether you're hosting or simply bringing a dish over to a family gathering, we've got great Thanksgiving meal ideas that are not only easy to make but will wow everyone at the table.
We've looked through hundreds of recipes at Maple Leaf and narrowed it down to a complete Thanksgiving menu with dishes designed to pair well together and fit in with everything else you're serving. We've got a delicious starter, an easy-to-make main dish, a bacon side dish, and a sweet and savoury dessert.
Now, let's get cooking!
Meat-Lover's Thanksgiving Recipes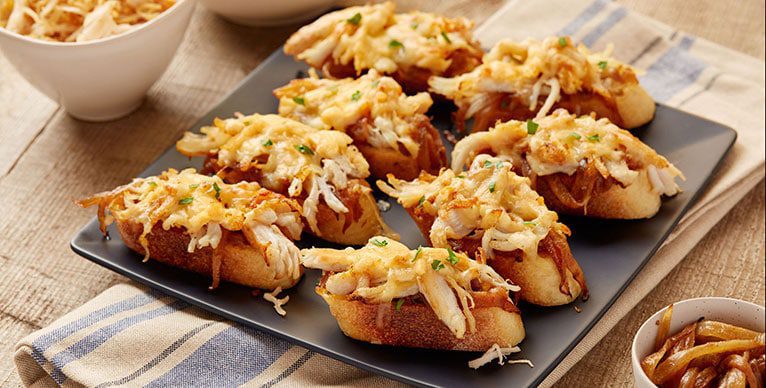 French Onion Chicken Crostini
This is a great starter that is a perfect addition to all your holiday gatherings.
Prep Time: 5 mins | Total Time: 50 to 55 mins
Skill Level: Easy | # Servings: Makes 14 to 16 pieces
Ingredients:
1 250 gr pkg Maple Leaf Natural Shredded Chicken
2 medium to large Spanish or Yellow Cooking Onion, thinly sliced
2 ½ tbsp butter
1 small dry bay leaf
1 sprig fresh thyme
1 ½ tbsp cooking sherry
1 cup swiss cheese, grated
1 cup mozzarella, grated
14 to 16 slices French baguette or ciabatta, sliced ¾ inch think on the bias
Garlic butter, prepared
Salt
Pepper
Fresh parsley
Directions:
Preheat oven to 400°F and prepare a baking sheet lined with parchment paper.
Heat butter over low heat in a large non-stick skillet. Add onions, bay leaf and thyme. Cook on low to medium heat for 30 to 40 minutes stirring often until deep golden brown and caramelized. Add cooking sherry and season with salt and pepper and cook for 1 to 2 minutes longer. Discard bay leaf and thyme and place onions into a bowl and set aside.
Set same pan to medium-high heat and add chicken, break up the larger pieces with the back of a wooden spoon or spatula. Cook on high for 1 to 2 minutes stirring frequently until chicken is just starting to brown and crisp. Add a little butter or oil if pan is too dry.
Spread garlic butter on top of each slice of bread and place on to prepared baking sheet.
Divide and spoon onion mixture onto each slice of bread followed by chicken over top. In a small bowl mix together cheeses and sprinkle evenly over top.
Place tray onto center rack of oven for about 5 minutes or until cheese has melted and crostini has warmed through.
Set oven to low broil and cook for 1 to 2 minutes longer until golden and bubbling. Remove from oven and garnish with parsley. Serve immediately.
Tips: You can make the onions 1 to 2 days in advance and keep in an airtight container in the refrigerator until ready to use. Try using Maple Leaf Natural Shredded Turkey for a festive change during the holidays!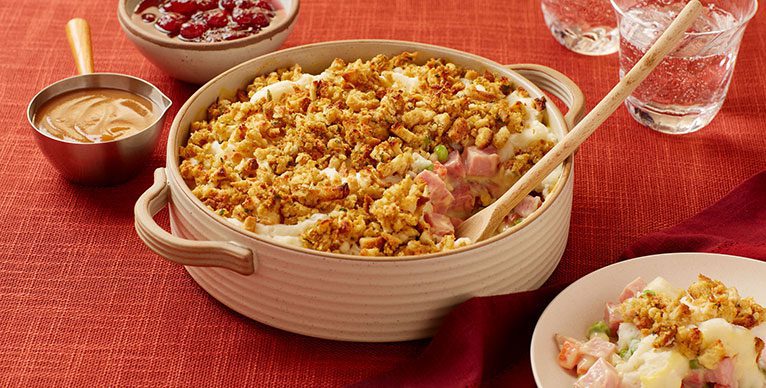 Thanksgiving Ham Jumble Casserole
A simple, one-pot main dish that is sure to have everyone asking for seconds.
Prep Time: 10 mins | Total Time: 40 to 45 mins
Skill Level: Easy | # Servings: 4
Ingredients:
1 600 gr Maple Leaf Original Smoked Ham, diced
1 ½ cup frozen pea and carrot blend, thawed
1 284 ml can cream of chicken soup
567 gr prepared mashed potatoes
1 small onion, diced
1 120 gr pkg stuffing mix prepared per package directions
¼ tsp thyme, dried
1/8 tsp sage, dried
Butter
Directions:
Heat oven to 375°F.
Generously butter an 8" casserole dish.
In a large bowl mix ham with vegetables and soup. Spoon into base of casserole dish. Spoon mashed potatoes evenly over top follow by stuffing.
Loosely tent with tin foil and bake in middle rack of oven for 30 minutes. Remove foil and set oven to broil for about 1 to 2 minutes until golden brown.
Tips: Serve with a drizzle of gravy and cranberry sauce.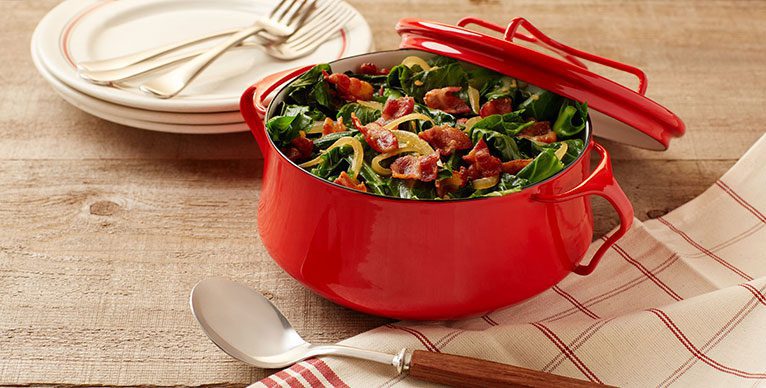 Bacon Braised Collard Greens
Take your family dinner to the next level with this festive favourite side.
Before you start, easily clean your collard greens by plunging leaves into a large bowl filled with cold water. Swirl around to loosen any debris. Allow to stand for about 10 minutes to let debris fall to the bottom. Carefully lift leaves out onto paper towel – don't disturb the water as it will redistribute onto the leaves. Fold leaves in half and cut along the vein to remove from leaf. Roughly chop and you are done!
Prep Time: 15 mins | Total Time: 1 hr 45 mins
Skill Level: Easy | # Servings: 6 (side dish)
Ingredients:
1 375 gr pkg Maple Leaf Original bacon, diced
2 bunches collard greens, woody ends and thick veins removed – cleaned and roughly chopped
1 large onion, thinly sliced
1 tbsp garlic, minced
2 cup chicken broth
1 ½ tsp apple cider vinegar
Freshly ground pepper
Hot pepper sauce – to taste, optional
Directions:
Place bacon in a large deep nonstick skillet with tight fitting lid or a Dutch oven.
Cook bacon over medium high heat stirring for about 3 to 4 minutes until just starting to turn golden brown. Add onions and cook for 2 minutes more. Add garlic and cook for an additional minute. Add collard greens and combine with bacon mixture and allow to wilt for 2 to 3 minutes. Pour chicken broth and apple cider vinegar into mixture and stir well. Cover and reduce heat to low and allow to simmer for about 1 to 1 ½ hours.
Season with fresh ground pepper and add hot sauce to taste if using.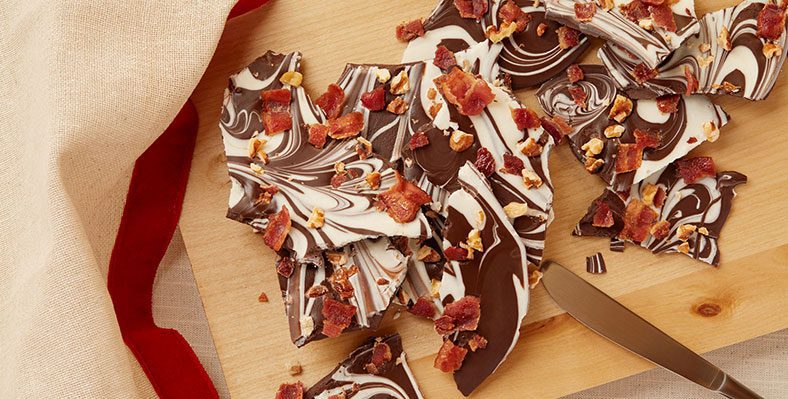 Marbled Bacon Walnut Bark
This is the ultimate sweet and savoury dessert for bacon lovers! It also makes a great gift for your guests. Wrap bark in a reusable bag and tie with a festive ribbon or holiday bow.
Prep Time: 5 mins | Total Time: 25 mins + 30 mins for chilling
Skill Level: Easy |# Servings: Can be broken up from 12 medium pieces to 18 to 20 small pieces
Ingredients:
6 slices Maple Leaf Original Bacon OR Lazy Maple Bacon
1 250 gr bag good quality bittersweet chocolate chips
1 225 gr bag good quality pure white chocolate chips
2 tbsp toast walnuts or pecans, finely chopped
Directions:
Preheat oven to 400°F.
Line a baking sheet with parchment paper and lay 6 slices of bacon flat. Cook on center rack of oven for 15 to 20 minutes or until completely crisp and golden brown. Remove onto a cooling rack and blot bacon completely on both sides, set aside to cool.
Meanwhile pour bittersweet chocolate into a microwave glass bowl and the white chocolate into a second bowl. Line a large baking sheet with parchment paper. Microwave bittersweet chocolate for 35 to 40 second intervals stirring each time until chocolate has melted. Be careful not to overheat and burn the chocolate during the last interval – reduce time to ensure smooth melted chocolate.
Using a rubber spatula pour the chocolate onto prepared baking sheet.
Using an off-set spatula spread the chocolate into the shape of a square being careful not to spread too thin.
Repeat heating step for white chocolate.
Spoon dollops of white chocolate all over the bittersweet chocolate. Drag your rubber spatula in a zig zag pattern across the chocolate square to create marbling.
On a clean surface chop cooled bacon into fine pieces and immediately sprinkle evenly over marbled chocolate. Sprinkle nuts over top and softly press down with the back of a clean spoon any toppings that are not adhered to the chocolate bark.
Refrigerate for at least 30 minutes. Once completely chilled use a butter knife and crack bark into desired number of pieces. Enjoy right away or place in an airtight container and refrigerate for up to 1 week.
Tips: Be creative and make this bark your own. Things that go great with bacon:
Smores bark – bacon, mini marshmallows and crushed graham crackers
Bacon, fruit and nut – bacon, assorted nuts and chopped dried fruit such as apricots and cranberry