Every year during National Nursing Week in May, nurses are recognized for their efforts in providing patient care in a variety of settings. With COVID-19 pandemic dominating the news coverage during the last several months, media have spotlighted nurses on the front lines in emergency rooms and intensive care units. But some of the unsung nursing heroes are occupational nurses who work in industries like meat and poultry processing, striving to ensure workplaces are safe as they can make them.
The health practitioners team at Maple Leaf Foods includes 12 nurses working in the corporate office and at our plants. Many have worked in other areas of nursing, but became intrigued by occupational health and now say they've found their niche. And Maple Leaf Foods is a better company thanks to these dedicated nurses. According to a 2008 Schulich School of Business study conducted for the Ontario Occupational Health Nurses Association (OOHNA), occupational health nurses can significantly reduce the injury rates and severity of injuries among employees – and this is good for employees and for the companies they serve.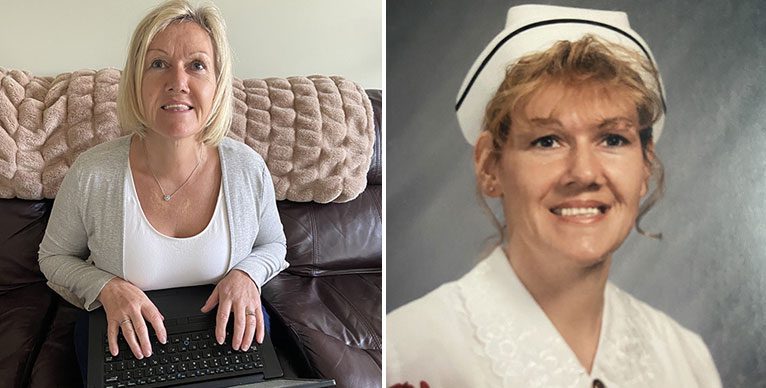 Although beloved throughout the company, some Maple Leaf Foods Team Members have established particularly special bonds with our nurses recently. They are the people who have been tested for COVID-19 and await results, who have symptoms or who have been diagnosed with COVID-19 and receive daily follow-up calls from the nursing team checking on their health. Many say those calls are a great source of comfort during a stressful and sometimes frightening time.
"Our nurses always play an important role at Maple Leaf Foods, but since COVID-19 occurred, they have moved to the center of our company's response to this unprecedented pandemic," said Vice President of Health and Safety, Mike Walsh. "I know the entire company counts itself very lucky to work with so many great nurses. Their calmness and compassion have been reassuring to all of us during this anxiety-provoking period."
With nurses leading Maple Leaf Foods' COVID-19 response, the pressure has been intense and the hours long. But according to veteran nurse Morag Bowlby, RPN. "I'm in my element." And how does she handle stress? After many years of experience working in hospital settings caring for cancer patients and those having surgery, she has practice with coping.
"We just deal with it," said Teresa Wong Tooze, RN, in a matter-of-fact way about rising to the need that the pandemic has presented. She said the experience of providing both guidance and emotional support during this critical time has "brought us together".
Kimberly Palmer, RPN, a nurse and an Emergency Medical Technician (EMT) who has worked at the Maple Leaf Foods Winnipeg plant for 20 years, echoes that sentiment. "The teamwork is unlike anything I've seen before."
Maple Leaf Foods nurses are not only assessing health, they are taking an active role in communication efforts to encourage Team Members to follow practices and to understand that proper self-care is the best thing they can do for themselves, for their families and for the company.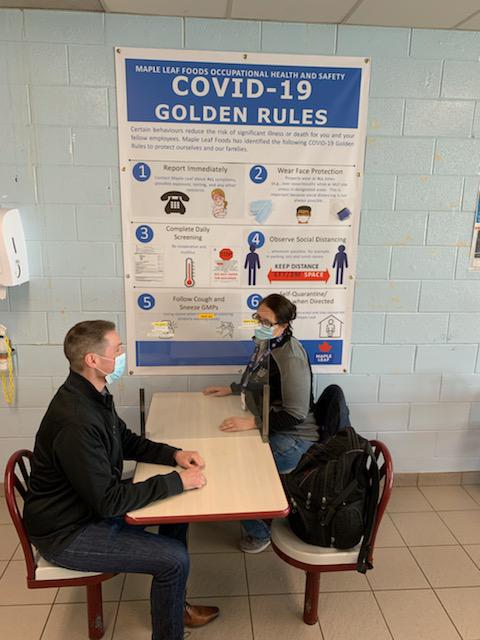 At our Winnipeg plant, the fact that Palmer is a nurse is well-known among the 1,500 employees, and many call her with questions about their health or their family's health – and she's happy to help. For Palmer, the most meaningful part of managing the plant's pandemic response has been the daily contact with employees who are in self-isolation.
"People are very open about their own health and the health of their families," she said, her voice cracking with emotion. "They tell you about their 80-year-old grandma who lives with them and how they fear for her. You get to know their worries."
Similarly, some of the most meaningful moments for Bowlby have come when speaking to the families of Team Members affected by COVID-19. All three nurses say they draw heavily on the years of experience caring for people in settings like emergency, oncology, surgery and long-term care.
For all the members of the nursing team, the drive to send people home safely at the end of the day is a powerful motivator during this unprecedented time. According to Palmer, "people safety has never been more paramount."
From all of us at Maple Leaf Foods, thank you and bravo to all the nurses on the COVID-19 front lines. Your courage and your caring make a big difference in the lives of so many.