We have high
Animal Welfare Standards
We're committed to doing what's right for the animals in our care whether in our barns, on our trucks or at our plants.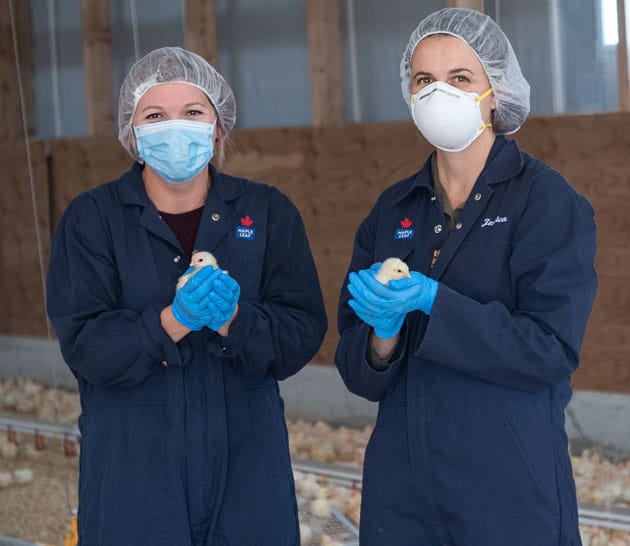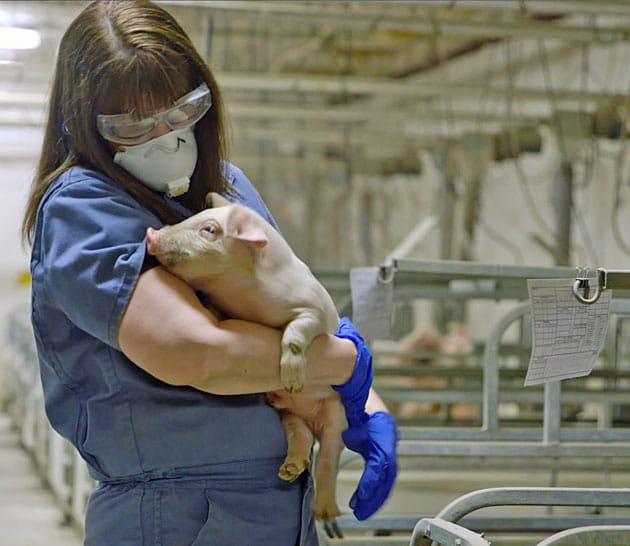 Why animal welfare matters
At Maple Leaf Foods, we respect and honour the role livestock play in nourishing people. We believe animals should have a good life characterized by comfort and care, where their social and instinctual needs are met and stress is minimized. Put simply– providing this kind of care is the right thing to do.

We also know our customers care like we do and expect us to treat animals humanely. Our animal welfare standards are based on science and our company's Leadership Values, and we use the established Five Freedoms and Five Domains models to guide our ongoing efforts.

We're committed to taking care of our animals and being held accountable for their well-being, to seeking ways to improve our animal care program every day, and to being transparent about our practices and the care we provide.
What are the Five Freedoms of animal welfare?
The Five Freedoms are the most widely accepted standard for responsible animal care. These Five Freedoms address an animal's physical state and are the foundation of our animal care programs.
They are:
Freedom from hunger and thirst by providing ready access to fresh water and a diet that maintains good health and vigour
Freedom from discomfort by providing an appropriate environment, including shelter and a comfortable resting area
Freedom from pain, injury or disease through prevention or rapid diagnosis and treatment
Freedom to express normal behaviours by providing sufficient space, proper facilities and company of the animal's own kind
Freedom from fear and distress by providing conditions and treatment which avoid mental suffering
Brambell FWR. (1965). Report of the Technical Committee of Enquiry into the Welfare of Livestock Kept under Intensive Conditions; HMSO: London, U.K
What are the Five Domains of Animal Welfare?
Where the Five Freedoms focus on an animal's physical state, the Five Domains of Animal Welfare focus on an animal's mental state and its impact on their well-being.

At Maple Leaf Foods, our animal care program considers both the Five Freedoms and the Five Domains to provide the best possible lives for our animals.

For example, our Advanced Open Sow Housing System enables our team members and our sows to interact more freely. We see sows and humans build relationships, and sows often greet and play with their caregivers. We're proud that our open sow housing supports these relationships. Our housing system also promotes better sow comfort. It's just one example of how we support both the Five Freedoms and the Five Domains.

Mellor DJ, Beausoleil NJ, Littlewood KE, McLean AN, McGreevy PD, Jones B, Wilkins C. The 2020 Five Domains Model: Including Human–Animal Interactions in Assessments of Animal Welfare. Animals. 2020; 10(10):1870. https://doi.org/10.3390/ani10101870
We're innovating our animal transportation
Transportation can have a big impact on animal well-being. We've made big changes to our pig and poultry trailers to improve animal comfort during transportation.
From hydraulic lifts that help with loading and unloading our pigs to climate-controlled trailers that protect our chickens during cold weather– we're improving comfort and reducing stress during transportation.
Animal Care Performance Report
We're documenting our animal care goals and measuring our progress. See how we're doing in our 2022 Animal Care Performance Report.
Introducing our inaugural
2022 Integrated Report
Our new Integrated Report builds on nearly a decade of sustainability reporting and presents a more holistic view of our Company. We continue to evolve our reporting process every year to meet changes in the reporting and regulatory landscape and growing demands from our stakeholders.