Leading Plant-Based Brand's Tempeh line now available at more than 18,500 retail stores nationwide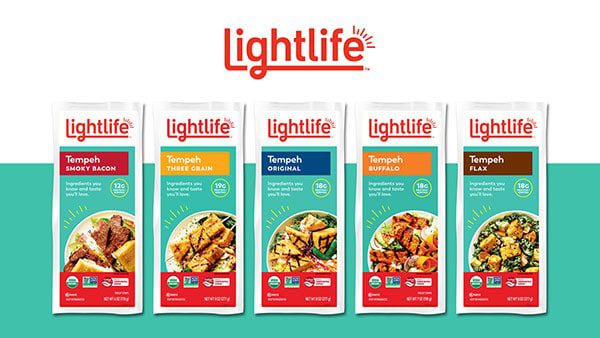 CHICAGO – November 17, 2020 – Greenleaf Foods, SPC today announced a significant retail expansion of its Lightlife® ("Lightlife") brand Tempeh—a versatile, high-protein, naturally-fermented food that appeals to plant-based and meat eaters alike. Lightlife Tempeh is now available in more than 3,500 Walmart locations nationwide—a more than ten-fold growth from its previous 300 stores—bringing the product's retail distribution to over 18,500 retail locations. Lightlife is the market leader in tempeh, having grown at a rate of 44% in 2020 alone.[1]
"Lightlife Tempeh accounted for about 80% of total U.S. tempeh dollar sales so far this year,"[2] said Dan Curtin, president of Greenleaf Foods, SPC. "We are excited to grow our partnership with Walmart, the world's largest retailer, and get tempeh into the hands of all consumers. This is only the beginning as we further grow the plant-based category with our variety of plant-based products."[3]
Lightlife Original Tempeh is organic, non-GMO and made with just three simple ingredients: cultured organic soybeans, water and organic brown rice, all which are natural, nourishing ingredients that together serve as an excellent source of complete protein.
In addition to its Original Tempeh, other Lightlife Tempeh varieties include Buffalo Tempeh Strips, Smoky Tempeh Strips, Three Grain Tempeh and Flax Tempeh. All are organic, non-GMO, Kosher-certified and offer between 12 and 19 grams of protein per serving. Tempeh products can be eaten raw or cooked, crumbled onto salads, cubed or chopped into stir fry, and even sandwiched between warm bread.
Lightlife Original Tempeh is available now in the produce section at Walmart stores across the country, as well as Meijer, Publix, Kroger, Whole Foods and more.
Earlier this year, Lightlife debuted a full brand refresh, making the logo more balanced and approachable, with a spark of inspiration. Now consumers can expect to see newly-stocked Lightlife Tempeh products to reflect the bright and bold packaging design that's rolling out into stores across the country over the next few weeks, as well.
For more information on Lightlife and for delicious recipe ideas, visit lightlife.com and follow @LightlifeFoods on Facebook, Instagram and YouTube.
+++
About Greenleaf Foods, SPC
Greenleaf Foods, SPC, is transforming plant-based protein with a wide array of delicious and innovative products that satisfy consumers interested in adding protein variety to their diets. Our leading brands include Lightlife® ("Lightlife") and Field Roast Grain Meat Co.™ ("Field Roast"). Together, these brands are delighting loyal, longtime fans and enticing new ones who never knew plant-based protein could taste so good. The Lightlife and Field Roast portfolios feature nearly 50 products and represent a leading market position in the refrigerated, plant-based protein category in the U.S. Greenleaf Foods, SPC is a wholly owned, independent subsidiary of Maple Leaf Foods Inc. (TSX:MFI).
[1] SATORI, SPINS, Total MULO + Natural Channel, Latest 52 Weeks Ending 10/4/20.
[2] SATORI, SPINS, Total MULO + Natural Channel, Latest 52 Weeks Ending 10/4/20.
[3] https://nrf.com/resources/top-retailers/top-100-retailers/top-100-retailers-2020-list