Tattoo lovers can get a chance to win to have their timeworn hot dog tattoos cleaned up for a fresh new look or get a new custom Smart Dog tattoo designed by Bang Bang for free
CHICAGO – June 2, 2021 – Calling all hot dog lovers: are you hungry for a new tattoo? If your summertime indulgence just isn't enough, Lightlife®, owned by Greenleaf Foods, SPC, is teaming up with tattoo artist, Bang Bang, to offer hot dog enthusiasts the chance to get Bang Bang's custom-designed Smart Dog Tattoo, for free.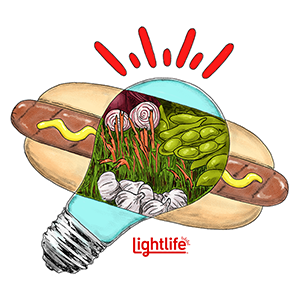 On Friday, June 18, Lightlife—maker of the #1 selling plant-based hot dog in America —and Bang Bang will host a pop-up tattoo shop at 62 Grand Street in New York City from 11:00 a.m. to 7:00 p.m. ET. Bang Bang, or one of his artists, will fix the existing hot dog tattoos of five contest winners and give one Bang Bang custom-designed Lightlife Smart Dog tattoo to a Lightlife super fan winner. The winner will also receive a year's supply of Lightlife (via coupons).
Participants can enter for a chance to win by posting a photo on Instagram of their old hot dog tattoo, or where they want the new Bang Bang Smart Dog tattooed, plus why they deserve to win, using #smarttattooscontest and tagging @lightlifefoods®.
"Part of loving a tattoo is maintaining and improving it over time," said Bang Bang. "They're a fun way to show off your personality and interests, so for the hot dog lovers out there: no matter if you like 'em with ketchup, mustard or just plain naked, we're not here to judge you."
Earlier this month, Lightlife announced a complete redesign of the recipes of 19 of its plant-based products, removing items like carrageenan from its #1 selling Smart Dogs, delivering on consumer demands for cleaner plant-based protein options.
"Hot dogs are an iconic part of American culture, with Americans estimated to eat 20 billion hot dogs every year," said Dan Curtin, President of Greenleaf Foods. "We want to offer people a delicious, guilt-free, plant-based option that's great for the whole family—that's why we lightened up and improved the ingredients in our #1 selling Smart Dogs."
Lightlife products can be found at more than 30,000 stores throughout the United States and Canada, including retailers like Kroger, Meijer Corp, Publix, Safeway, Sprouts Farmers Market, Target, Walmart, Wegmans, Whole Foods, Albertsons, Ahold and Wakefern. For more information, visit Lightlife.com and follow @LightlifeFoods on Facebook, Instagram and Pinterest.
+++
NO PURCHASE NECESSARY. Void outside CT, NJ, NY & PA & where prohibited. The Smart Dog Tattoo Contest is Sponsored by Lightlife Foods, Inc. Open to legal U.S. residents, residing in CT, NJ, NY & PA, 18 years of age or older. Begins 12:00 a.m. ET 6/1/21; ends 11:59 p.m. ET 6/6/21. For Official Rules additional eligibility, restrictions, prize descriptions/judging criteria/ARVs and complete details, visit smarttattooscontest.dja.com.
About Greenleaf Foods, SPC
Greenleaf Foods, SPC, is transforming plant-based protein with a wide array of delicious and innovative products that satisfy consumers interested in adding protein variety to their diets. Our leading brands include Lightlife® ("Lightlife") and Field Roast™ ("Field Roast"). Together, these brands are delighting loyal, longtime fans and enticing new ones who never knew plant-based protein could taste so good. The Lightlife and Field Roast portfolios feature more than 50 products and represent a leading market position in the refrigerated, plant-based protein category in the U.S. Greenleaf Foods, SPC is a wholly owned, independent subsidiary of Maple Leaf Foods Inc. (TSX:MFI).