Brands collaborate on co-branded breakfast innovations to meet growing consumer demand in the vegan breakfast category
CHICAGO, November 8, 2021 – Greenleaf Foods, SPC, owner of leading plant-based brand Field Roast™ ("Field Roast"), announced today the debut of the Field Roast Classic Style Sausage, Egg & Cheese Plant-Based Breakfast Sandwich, a restaurant-quality plant-based breakfast innovation developed in collaboration with the California-based food technology company Eat Just.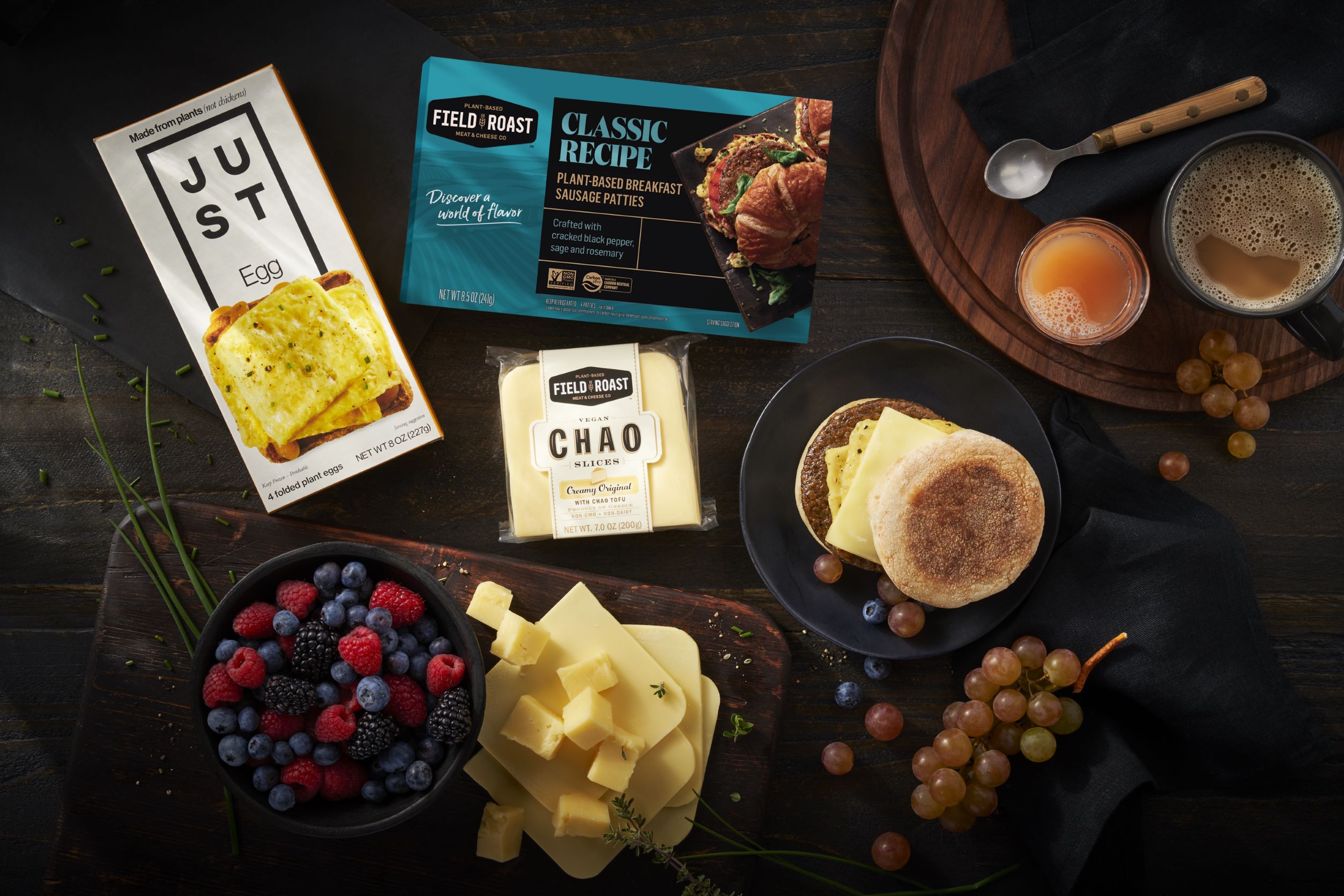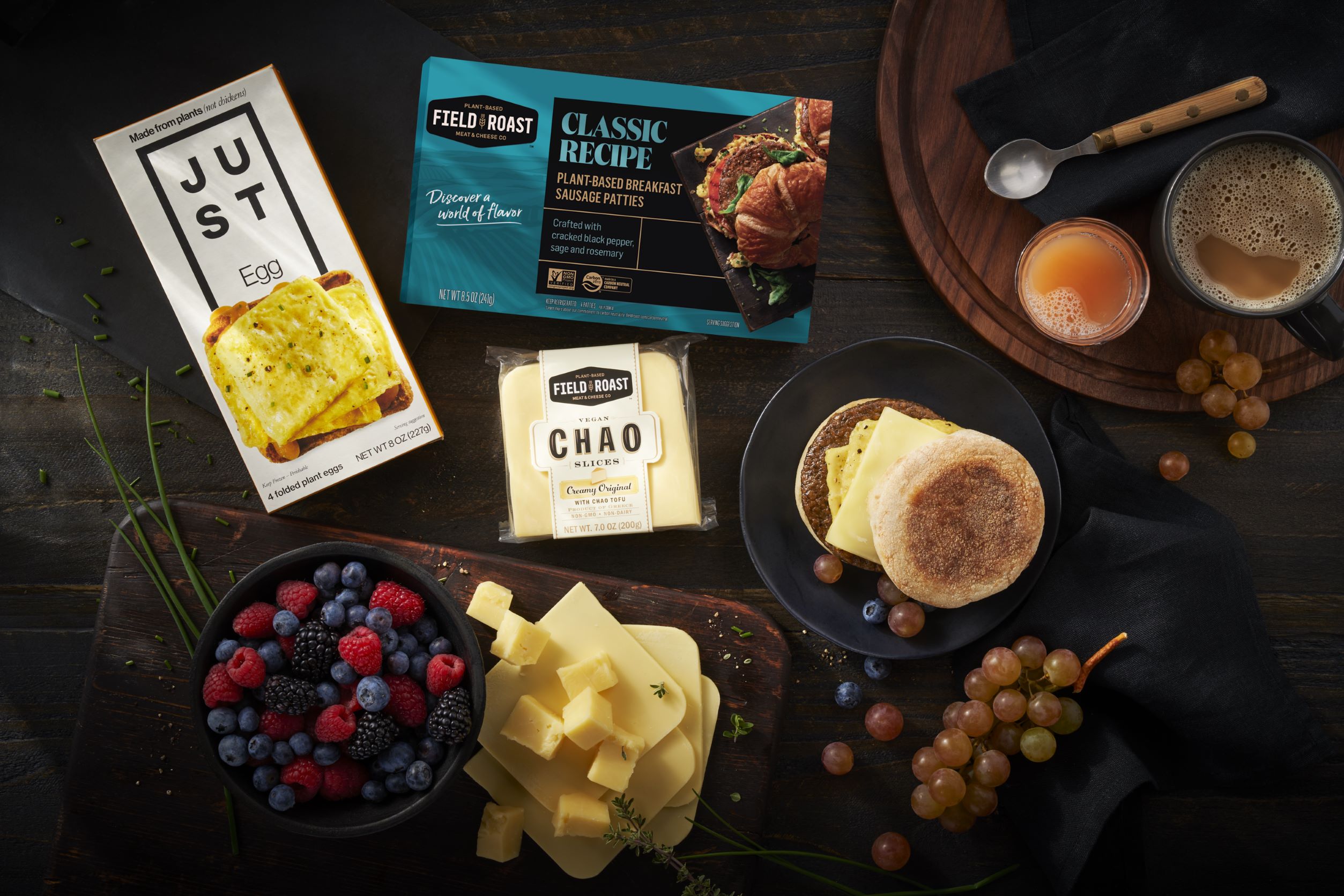 This first-of-its-kind co-branded vegan breakfast sandwich combines some of consumers' favorite plant-based product offerings—Field Roast Plant-Based Breakfast Sausage Patty, JUST Egg™ Folded and Chao Creamery Creamy Original Cheese Slice, all sandwiched in one convenient, delicious bite—and will be available exclusively at Whole Foods Market locations across the U.S., followed by expanded national distribution at additional retailers in 2022.
"We are pleased to expand our valued relationship with an innovator like Eat Just, as we continue our focus and brand momentum on Field Roast portfolio innovation," said Dan Curtin, President of Greenleaf Foods. "This collaboration with two plant-based industry leaders joining forces will provide a better breakfast solution for the consumer seeking high-quality and delicious plant-based options for their mornings."
A recent OnePoll survey commissioned by Eat Just found that many respondents were going plant-based during breakfast versus other meals and more than 80% were open to trying a plant-based meal one day a week[1]. With the global plant-based egg market anticipated to be worth an estimated $1.5 billion by 2026[2], JUST Egg has expanded to a variety of formats since launching nationally in 2019 and is looking to continue that momentum in collaboration with Field Roast's popular plant-based breakfast sausage and dairy-free cheese products.
"Since its inception, Field Roast has built equity leveraging bold flavour profiles to create mouth-watering plant-based food. This collaboration adds an innovative new co-branded product to their already impressive portfolio," said Josh Tetrick, co-founder and CEO of Eat Just. "Our combined expertise in the breakfast space has produced a superior breakfast offering that delivers on both flavour and convenience."
Field Roast continues to prioritize innovation, investing in a robust expansion of its product portfolio with the addition of several recent crave-worthy plant-based options for consumers to enjoy, most recently including:
Field Roast Signature Stadium Dog – Following its debut in March as the first pea protein-based hot dog at retail in North America, it has since become the official plant-based Dodger Dog and is currently available as a menu item on chef Roy Choi's famed Kogi trucks in the Los Angeles area and via Goldbelly nationally through 2021.
Field Roast Plant-Based Pepperoni – First introduced in January 2021 at Pizza Nova locations in Canada and currently available at participating Little Caesars locations, Whole Foods Market and select other retailers' shelves across North America.
Field Roast Plant-Based Nuggets – Recently expanded retail distribution of this plant-based chicken staple to now offer a new-and-improved formula that utilizes several relevant food technologies including high moisture extrusion (HME) technology to better deliver on consumers' expectations improvements in taste, texture, and color.
In the last 12 months, the Field Roast brand has seen tremendous growth in the U.S., introducing nearly 10 new products and gaining distribution at more than 5,500 retailers throughout North America. Its portfolio of high-quality plant-based sausages, burgers, roasts, appetizers and entrees and its leading Chao Creamery dairy-free cheese products are crafted for those who want to discover, indulge and share in bold taste experiences.
For more information on Field Roast, visit fieldroast.com and follow @FieldRoast on Facebook, Twitter and Instagram. 
ABOUT GREENLEAF FOODS, SPC
Greenleaf Foods, SPC, is transforming plant-based protein with a wide array of delicious and innovative products that satisfy consumers interested in adding protein variety to their diets. Our leading brands include Lightlife® ("Lightlife") and Field Roast™ ("Field Roast"). Together, these brands are delighting loyal, longtime fans and enticing new ones who never knew plant-based protein could taste so good. The Lightlife and Field Roast portfolios feature nearly 50 products and represent a leading market position in the refrigerated, plant-based protein category in the U.S. Greenleaf Foods, SPC is a wholly owned, independent subsidiary of Maple Leaf Foods Inc. (TSX:MFI).
ABOUT EAT JUST, INC.
Eat Just is a food technology company with a mission to build a healthier, safer and more sustainable food system in our lifetimes. The company's expertise, from functionalizing plant proteins to culturing animal cells, is powered by a world-class team of scientists and chefs spanning more than a dozen research disciplines. Eat Just created America's fastest-growing egg brand, which is made entirely of plants, and the world's first-to-market meat made from animal cells instead of slaughtered livestock. The company has been recognized as one of Fast Company's "Most Innovative Companies," Entrepreneur's "100 Brilliant Companies," CNBC's "Disruptor 50" and a World Economic Forum Technology Pioneer. JUST Egg has been named among Popular Science's "100 Greatest Innovations" and Fast Company's "World Changing Ideas" and the history-making debut of GOOD Meat was heralded as one of 2020's top scientific breakthroughs by The Guardian, Vox and WIRED. For more information on JUST Egg, visit https://ju.st. For more information on GOOD Meat, visit http://goodmeat.co.
Media Contact: Bianca Mooney, bmooney@160over90.com
Investor Contact: investor.relations@mapleleaf.com
[1] Many-Americans-Going-Plant-Based-for-Breakfast-New-Study-Finds, 2020
[2] Expert Market Research, 2020