Where we work
Maple Leaf Foods Saskatoon
100 McLeod Ave,
Saskatoon, SK
S7M 5V9
We make a variety of prepared meat products, such as sausages, hot dogs and deli meats.   
What we make at the Maple Leaf Foods Saskatoon plant
Our McLeod plant in Saskatoon is our mid-sized boutique sausage facility. Here, we specialize in making great tasting wieners, sausages, and other deli meat products. We make our products with the finest quality meat, natural ingredients, and delicious spices.
Sustainability initiatives at McLeod
As part of our commitment to lower our environmental footprint and help strengthen communities where we work, we've got great initiatives in place at our McLeod plant in Saskatoon, Saskatchewan: a cigarette-butt recycling program, in partnership with TerraCycle; a rubber boot donation policy for any rubber boots that are in good, functional condition but cannot be reissued to a new staff member, which prevents them from ending up in the landfill.
 
Plus, we're the first plant to convert unused land around the plant into a community garden. Our green idea inspired two other plants to follow in our footsteps. The community garden at McLeod is 185 feet long by 80 feet wide. Twenty plots are for our team members to grow their own produce, and the other half of the garden is managed by volunteers. Produce grown here is donated to the Saskatoon Food Bank.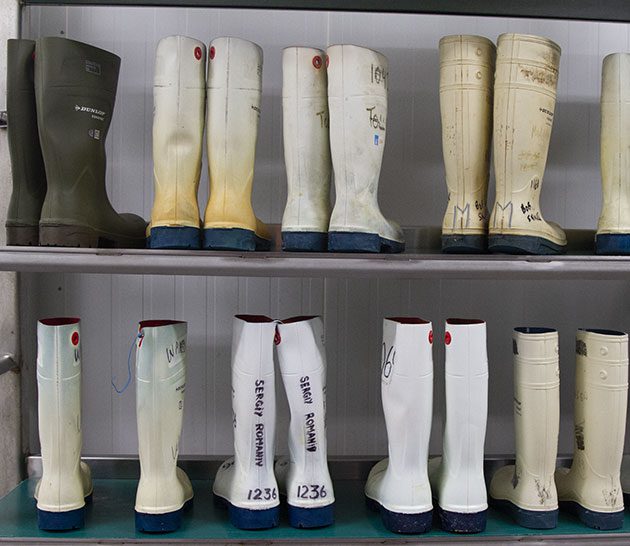 Plant facts
Total # of Team Members: 680 Team Members
Size of plant: 205,000 sq ft
Manufacturing at McLeod
A peek inside our plant.
Q&A with the McLeod leadership team
Tell us about your plant and what you produce there?
Our McLeod plant opened in the year 2000, and today employs approximately 680 people. We make a variety of prepared meat products, such as sausages, hot dogs, and deli meats. Some examples of our brands include Maple Leaf, Schneider's, Greenfield, Mitchells Gourmet Foods and more! Each year, we produce more than 20 million kgs of product which equates to over 100 million packages of product.
What's an interesting fact about your site or operations that people wouldn't know?
We make approximately 260 products at McLeod, and we are the only facility across Maple Leaf that produces Hot Rods.
What makes this a fun place to work, and a good community to work in?
The people in addition to the dynamic and inclusive team environment make this a great place to work. Just take it from this quote: "Saskatoon is a great multicultural city in which to live, work, study, and play. Known as the City of Bridges, it's found on the banks of the South Saskatchewan River, in the heart of the Canadian Prairies. Residents of the city are called Saskatonians."
– Living In Saskatoon, Saskatchewan – Prepare For Canada
Does your plant do events or team building?
Yes! Here's a list of some of our events:
– We host Summer BBQs from June – August
– Tickets for Rush games
– 'Caught Doing It Right' program where employees can receive gift cards
– Employee lunches
– Kaizen projects (where our teams come together to work on projects)
– Annual Children's Holiday Party
– Annual Employee Holiday Dinner (catered on site)
What are the different teams/departments that work here? What is your location and access like?
McLeod's departments include Operations, Maintenance, Sanitation, Food Safety, Human Resources, and Safety, Materials & Planning, Six Sigma, and Finance. Our location offers free parking on site with a bus stop located right in front of our building.
What does Diversity and Inclusivity look like at McLeod?
We have a diverse workforce with a variety of languages spoken on the production floor. We are 2SLGBTQ+ friendly and have women in a variety of different roles including but not limited to: lead hand positions, supervisory positions, and our senior leadership team.
What is the process to receive your uniforms and PPE? Is this provided or paid for out of pocket?
Uniforms and PPE are provided by Maple Leaf upon an employee's first day.
What does professional growth and development look like at McLeod?
It varies based on what the career aspirations are of each individual employee. Examples include but are not limited to:
– Hourly employees who have moved into supervisory roles,
– Salaried employees who have moved into different departments like Finance to Maintenance, HR to Production, or Sanitation to Maintenance.
Do you have a success story?
Yes – Candace Snyder. Candace joined Maple Leaf 22 years ago and has served in a variety of roles throughout her tenure. She began her career as Human Resources Coordinator at the North Battleford Bacon Plant, and since then, has held increasingly responsible senior management roles. Her accomplishments are many including the piloting of a new and very successful Temporary Foreign Worker Program at the North Battleford facility. At McLeod, she reduced attrition through engagement with new employees by developing a new Ambassador Program. Candace has now officially assumed the position of Site Leader at McLeod.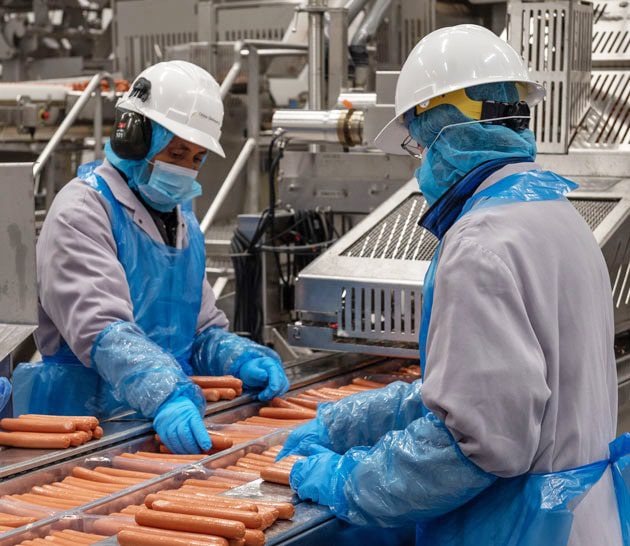 Want an exciting career in manufacturing? Join us!