Where we work
Maple Leaf Foods Brantford
10 Canning St,
Brantford, ON
N3T 1P1
We make chicken, turkey and beef products for foodservice and retail customers.
What we make at the Maple Leaf Foods Brantford plant
At our Brantford plant, we process fresh chicken into delicious chicken wings, strips, nuggets and other products. We also individually quick-freeze fresh chicken for our foodservice customers and make various other chicken, turkey, and beef products for our foodservice and retail customers.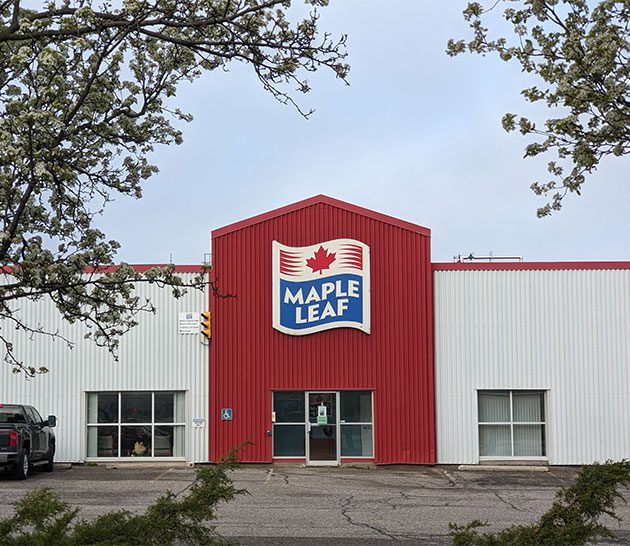 Plant facts
Total # of Team Members: 156 Team Members
Size of plant: 115,000 sq ft
Q&A with the Brantford leadership team
Tell us about your plant and what you produce there?
The Brantford plant was originally built in 1899, and then was rebuilt in the early 1940's after a fire occurred. Today, Brantford employs 150 people and produces approximately 9.4 million kg's per year. In terms of what we produce, we are a further process poultry facility. We currently make items like chicken wings; chicken, turkey, and beef fajitas; and chicken tenders.
What's an interesting fact about your site or operations that people wouldn't know?
The Brantford plant was originally built in 1899. Our address is on Canning Street as when we were first built, we had farmland all around us and we would grow vegetables in the summer and 'can' them in the fall. This was prior to becoming Maple Leaf Foods. The farm foreman's houses are still located beside the plant.
What makes this a fun place to work?
We promote a positive working environment; we reward excellence and show our genuine appreciation for the team's hard work through our rewards programs. We have monthly event days that are focused around giving our employees a small token of our appreciation in the form of treats or gift cards. We have several pizza and food truck events throughout the year. We have festive events as well, which includes lunches, toy donations, and gift card collections for donation to our local charities.
What makes this a good community to work in?
Brantford is nicknamed the 'Telephone City' because it's where Alexander Graham Bell worked on the invention of the telephone at his home. In August 1876, Bell made the first long distance call to Paris, Ontario. Brantford is conveniently located along major transportation highways and is dedicated to promoting diversity and quality employment and educational opportunities for everyone. Brantford offers the benefit of small town living alongside the amenities found in bigger cities. It has performing arts venues, multicultural organizations, libraries, museums, galleries, and historic sites. Brantford and local areas continue to grow in residential options which attracts many to relocate.
What are the different teams/departments that work here? What is your location and access like, and what is the process to receive your uniforms and PPE?
Brantford's team include Production, Maintenance, Sanitation, Food Safety/Quality Assurance, and Powerhouse. The Brantford plant is easy to get to, has free parking, is on a bus route, and is close to highway 403. All uniforms and PPE are provided free to employees.
What kind of perks does Brantford offer? How do you reward and value your employees?
We have regular market days where employees can purchase our product at a low cost. We reward employees through a recognition program and monthly events.
What does Diversity and Inclusion look like at Brantford?
We have a culturally diverse team at Brantford, welcome and promote teamwork, and encourage outside the box thinking from everyone. We conduct Gemba walks — a Gemba Walk is a walk-through of a plant that observes practices in action. Gemba Walks are done with a cross functional team to ensure the team has the opportunity to help us identify areas of improvement and how best to address them. We offer the ability for our team members to volunteer and support the community. We have a strong diverse and inclusive team here that's committed to include every voice in a collaborative environment.
What does professional growth and development look like at Brantford? Do you have a success story?
We provide internal postings available for all to apply and enhance their professional growth and development. As for success stories, we have multiple examples of employees that have been promoted to lead hands and other salaried roles at Brantford.
Want an exciting career in manufacturing? Join us!