Where we work
Maple Leaf Foods Brandon
6355 Richmond Ave E,
Brandon, MB
R7A 7M5
We make fresh pork products.
What we make at the Maple Leaf Foods Brandon plant
Maple Leaf Foods' pork "super plant" is one of our largest at 650,000 square feet and 2,200 employees. Here, we process hogs to make fresh pork products for domestic and international markets.
 
Our world-class plant focuses on continuous improvement throughout our operation to maintain the high standards of excellence our Canadian and international customers expect.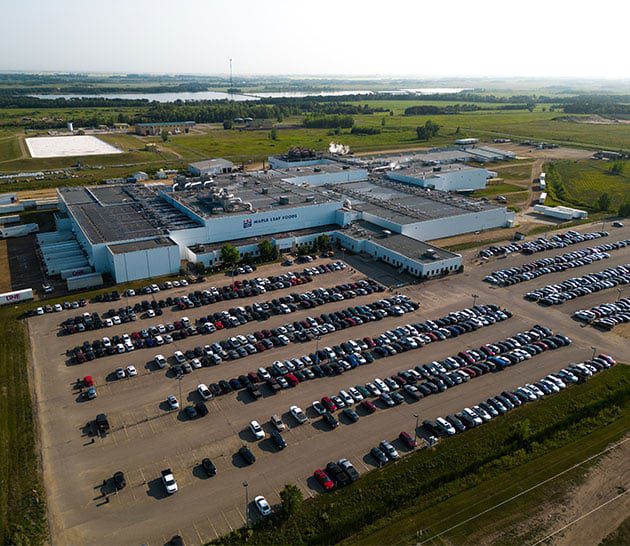 Growing produce at the Brandon plant
As part of our commitment to strengthen communities where we work, we're very involved in our Brandon, Manitoba community. Our community garden project located at the Brandon plant offers fifty 10 feet by 12 feet plots to employees to encourage them to grow their own produce.
 
Thanks to the project's success, we've added a Volunteer Garden where all produce grown is donated to the Samaritan House.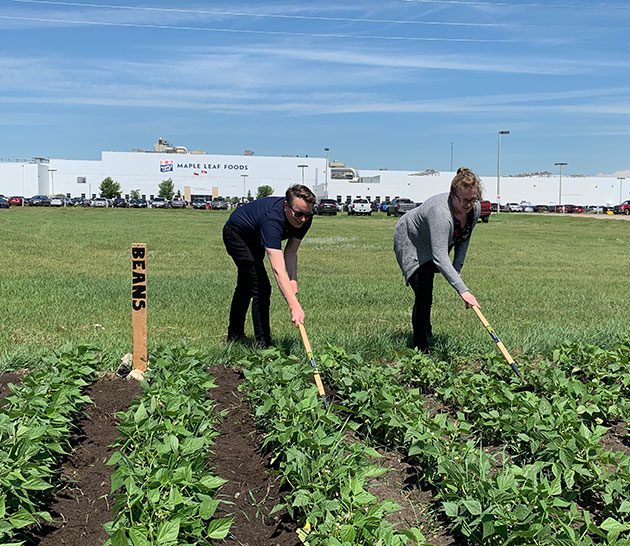 Plant facts
Total # of employees: 2,200 employees
Size of plant: 650,000 sq ft
We have 7 official languages in our plant
Q&A with the Brandon leadership team
Tell us about your plant and what you produce there?
The first boxes rolled off the line July 1999, and we will be celebrating our 25th anniversary in Brandon in 2024! At the time of writing, we employ 1,962 hourly and 158 salary folks.

Our main item is pork products, there isn't much we don't make. From the cut side, we produce items such as: leg ham, tenderloins, side ribs and back ribs, brisket bones, bellies, and much more.
What's an interesting fact about your site or operations that people wouldn't know?
We have an employee garden with 53 plots that folks can sign up for.
Do you have a unique plant tradition or culture?
Because of the size of our workforce, it's hard to schedule holiday events and find appropriate venues. But fortunately, we have a large yard site so for our holiday event every December we host a fireworks show in the front yard that folks can watch from the comfort of their warm vehicles with a playbill of fireworks set off in the colour schemes of the flags representing the many countries working at the plant. In the summer, we tried something new and hosted a Movie on the Lawn event inviting all families to bring blankets and snacks and enjoy a movie at dusk.
What makes this a fun place to work in?
The people!
What are the different teams/departments that work here? What is your location and access like?
Our teams are Production, Maintenance, Shipping and Distribution, Finance, Procurement, Human Resources, Health and Safety, Optimization, and FSQA.

As for location, our plant offers free parking and dedicated city buses during peak shift change times.
What kind of perks does Brandon offer?
We provide an on-site cafeteria.
How do you reward and value your employees?
We have a dozen separate recognition programs such as Attendance Bonus, Employee of the Month, Long Service Awards, Monthly Birthdays, Quarterly Appreciation Meals, Productivity Bonus, Work Anniversary, Referral Bonus, and more!
What does Diversity and Inclusion look like at Brandon?
We have translators on staff available for the following main languages represented at the plant: Ukrainian, Japanese, Tagalog, Kirundi, Punjabi, French, Arabic, Swahili, Spanish, Somalian, Mandarin, Korean, Chinese, Amharic/Tigrigna, Hindi/Gujarati.
What is the process to receive your uniforms and PPE? Is this provided or paid for out of pocket?
We have on site laundry services and clean uniforms are provided to employees daily.
Do you have a success story?
Half of Brandon's current Senior Leadership Team started in entry level positions and worked their way up throughout their careers!
Want an exciting career in manufacturing? Join us!