Where we work
Maple Leaf Foods Lethbridge
4141 1 Ave S,
Lethbridge, AB
T1J 4P8
We produce chilled pork cuts bound for Japan and other Asian countries.
What we make at the Maple Leaf Foods Lethbridge plant
At our Lethbridge pork processing plant, we process hogs into fresh and frozen pork products. Here, we specialize in quick-chill pork cuts bound for Japan and other Asian countries.

Our world-class quality is what we are proud of!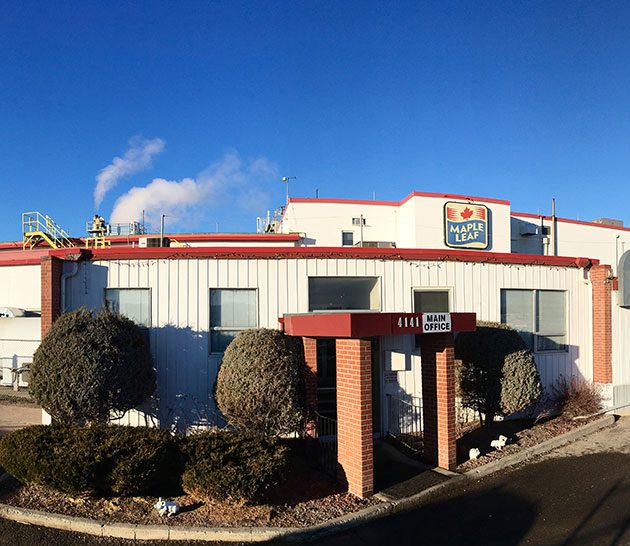 Plant facts
Total # of employees: 450 employees
Size of plant: 45,000 sq ft
Highly diverse workforce
Q&A with the Lethbridge leadership team
Tell us about your plant and what you produce there?
The Lethbridge plant was built in 1962 and originally operated as a beef processing facility. Maple Leaf Foods purchased the building in 1996, retrofitting to a Japanese processing style, and it became a premium pork processing facility in 1998.
At Lethbridge, we produce chilled custom premium pork products, mainly for international markets with a focus on our Japan customers.
We employ 450 Team Members and process approximately 400,000 kgs of fresh pork annually.
What's an interesting fact about your site or operations that people wouldn't know?
Lethbridge used to be a beef processing plant, and we have our own rendering abilities to reduce or eliminate processing waste.
What makes this a fun place and a good community to work in?
The team. Everyone helps each other be successful — if one of us wins, we all win, and if one of us fails, we all fail.
As for the area our community is located in, the weather is amazing in Lethbridge, and we have both man-made and natural trails. The city is close to the mountains, is only 12 hours to the Vancouver port, and an hour from the American border. Lethbridge has the Japanese Gardens which celebrates the history of Japanese people and culture in the Lethbridge area, beginning with a beautiful garden and sharing of traditions.
Does your plant do events or team building?
We host picnics, BBQs, luncheons, movie outings (for Team Members' kids below 12 years), and Christmas lunches.
What are the different teams/departments that work here? What is your location and access like?
Production department (divided into Kill floor, cut floor, and pack/ship floor), Sanitation, Maintenance, Rendering, Boiler Engineering, Health and Safety, Food Safety and Quality Assurance (FSQA), Project Engineering, Logistics, Optimization, Procurement, Human Resources, and Finance. We have free parking, and the plant is a 5-minute walk to the bus stop.
What kind of perks does Lethbridge offer? How do you reward and value your employees?
We have an annual retention bonus as well as a quarterly opportunity bonus based on our safety and production targets. We encourage referrals by offering a referral bonus. And we encourage a healthy lifestyle by rewarding Team Members to join a gym or purchase work out equipment. We also reward our Team Members with gift cards and pork products, for bringing forward safety concerns and sharing improvement ideas.
What is the process to receive your uniforms and PPE? Is this provided or paid for out of pocket?
PPE is provided free of charge. After six months of service, Team Members can purchase safety boots, and get up to $150 every 12 months, or up to $275 every 24 months for reimbursement for the cost of safety boots; as well as up to $30 every two years for reimbursement of a freezer jacket. Maintenance Team Members get up to $200 for the cost of tools for every 12 months, and the balance can be carried over to the next year, and all Team Members get $300 every two years for prescription safety glasses.
What does professional growth and development look like at Lethbridge?
Lethbridge pork ensures that employees are offered the opportunity to grow through the ranks. Succession planning is conducted annually during performance reviews, and this is updated regularly to reflect the current realities of the business. Training needs are assessed throughout the year, and Team Members are trained accordingly. The efficiency of our professional growth and development initiatives is reinforced by the fact that all our lead hands and supervisors consist exclusively of exceptional production workers that were promoted to take on more responsibilities.
Do you have a success story?
We have many success stories here. Our FSQA Manager, Jasna Suarez, started her career with Maple Leaf Foods as a lab technician. Most of our supervisory leadership team all started their careers on the floor and were promoted up due to their commitment, values, and exceptional performance, including Production Manager, Chris Chapman. Plant Manager April Wiebe started as an hourly production Team Member on the loin line in Brandon, Manitoba. Through various leadership positions within and external to Maple Leaf Foods, she is now leading the Lethbridge team.
Want an exciting career in manufacturing? Join us!