We're proud to provide funding for WWF-Canada's newest research that aims to restore land in Canada back to its natural state.
By Randy Huffman, Chief Food Safety & Sustainability Officer
As the world's first major carbon neutral food company, we're passionate about protecting the planet and are deeply committed to our sustainability goals. We continue to support environmental projects that have a positive impact on the environment and align with our sustainability agenda.
One of the ways we're displaying this commitment is through our support of the research efforts by WWF-Canada.
What is the new study that was published today in Conservation Science & Practice?
WWF-Canada partnered with academic research partners to map and find areas in the country that would benefit from restoration. Doing this will help protect the biodiversity of our planet and the animals that live among it.
As part of this project, researchers determined that there are 3.9 million hectares of converted land that's most optimal for potential restoration — because restoration in these areas would deliver comparatively large biodiversity and climate benefits. This land is primarily in southern Ontario and Quebec and southern Manitoba, with pockets located in all provinces and territories across Canada.
"Restoration is one of the key pillars of WWF-Canada's 10-year plan to regenerate Canada. We're working to restore one million hectares of lost, complex ecosystems that will provide wildlife with healthy habitats where they can live, feed, and mate," says Megan Leslie, WWF-Canada's president and CEO. "These habitats also act as carbon sinks, helping us mitigate the effects of climate change. This study is an important contribution to understanding the role that targeting high impact restoration can play."
How is Maple Leaf Foods involved and what are we doing to help protect our Canadian landscape?
We recognize the food production industry and our company have interferences and dependencies on nature — both our own operations and our supply chain. We also understand the deep interconnections between climate change and nature loss and that there's an urgency for action to help prevent devastating changes to our climate, nature, and environment. That's why it is critical to us that we are involved in solutions and positive changes.
It's also why we're so proud of being a carbon neutral company! We support organizations like WWF-Canada to introduce leading edge research and solutions that help stabilize the climate, preserve natural resources, and protect and regenerate our Canadian land. In 2021, we provided funding to support WWF-Canada and the Remote Sensing Lab at McMaster University to create the first-ever map that shows how much carbon is stored in landscapes across Canada to ensure these lands are protected and preserved. More recently, we provided funding to support WWF-Canada's latest research to identify landscapes in Canada that have the greatest potential to benefit from restoration.
We are also investing in Regenerative Agriculture projects with farmers in our supply shed where we source feed ingredients for our animals. By regenerating the land, although not fully converting it back to its natural state, farmers are using practices and techniques to help make environmental improvements so that the land and soil are healthier and more biodiverse. Regenerative agriculture practices restore the nutrients and carbon in soil to create more sustainable and resilient land for farmers.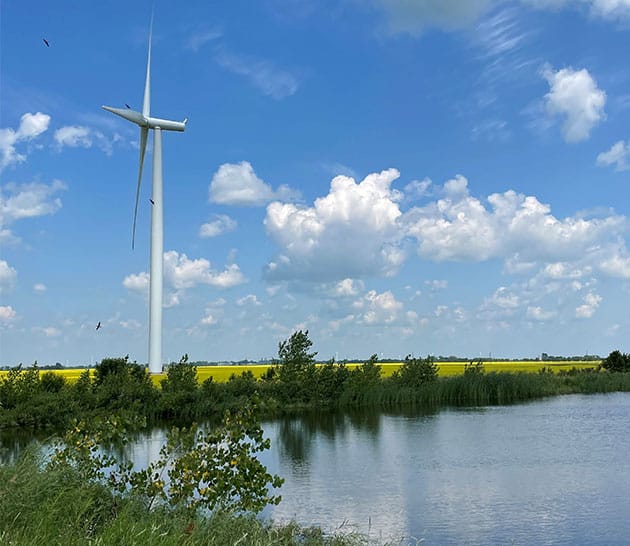 Understanding ecosystem terms that impact our environment
"Ecosystem restoration" is the process of supporting the recovery of ecosystems that have been degraded, damaged, or converted due to human activities. WWF-Canada identified the restoration potential of "converted lands" which can be defined as lands that were originally rich ecosystems, such as wetlands or forests, and got converted into human-dominated landscapes, such as agricultural areas and roads. That pushes out wildlife and plant life from these areas.
Natural ecosystems that are harmed by human activity but are still considered to be forests, wetlands, grasslands, or other barren land are referred to as "degraded lands." There is less data available on degraded lands than there is on converted lands.
WWF-Canada focused its analysis on identifying keys areas with the highest potential for carbon storage and preserving Canadian wildlife.
How does this new study help protect Canadian wildlife and agriculture?
In 2023, WWF-Canada identified that nearly 50 million hectares of land in Canada were turned from natural habitats into humanmade infrastructure — like roads, agricultural lands, and energy infrastructure. This means that all that land was taken from our wildlife and ecosystems!
As a result, taking away those ecosystems not only increased Canada's greenhouse gas emissions but reduced the planet's ability to fight climate change. That's why WWF-Canada is now working to reverse these actions and restore some of the converted and degraded land back to its original state.
Did you know that trees, soils, and other plant life capture carbon? It's important to keep this stored carbon in the ground as nature intended. But, by uprooting trees and plants, the carbon is released, causing unnecessary emissions into the atmosphere.
By identifying plans and targets and working with community partners in some of these lands, WWF-Canada along with other organizations focusing on nature-based solution support restoration goals.
Why is this study so important for Maple Leaf Foods' sustainability goals?
The time to act is now! We're proud to support WWF-Canada in their restoration work to help ecosystems in Canada flourish.
In 2021, our partnership with WWF-Canada helped identify a Carbon Storage Map of Canada. Researchers discovered and mapped carbon-rich areas or "hotspots" throughout Canada that stored enormous amounts of carbon. The aim of this project was to protect carbon-rich landscapes and help Canada reach its emissions targets.
The contrast between these projects is simple: in 2021, WWF-Canada identified lands that were carbon hotspots and shouldn't be touched. In this 2022 research, they've identified what lands have been developed and why some of these areas need to return to a natural state — all for the preservation of our biodiversity and climate.
There are so many things that both we, as an organization, and every other Canadian company can do to start reversing the negative consequences that we've been imposing on the planet.