Over the past 35 years, The Depot has grown from being a small community food pantry to providing over 20 healthy food programs, and now proudly serves over 8,000 people every year. Through the support of the Maple Leaf Centre for Food Insecurity, it has created a model to successfully expand the much-loved Boîte à Lunch food skills and literacy program for children at a key age – grades 4 and 5 – to seven low-income Montreal neighbourhoods.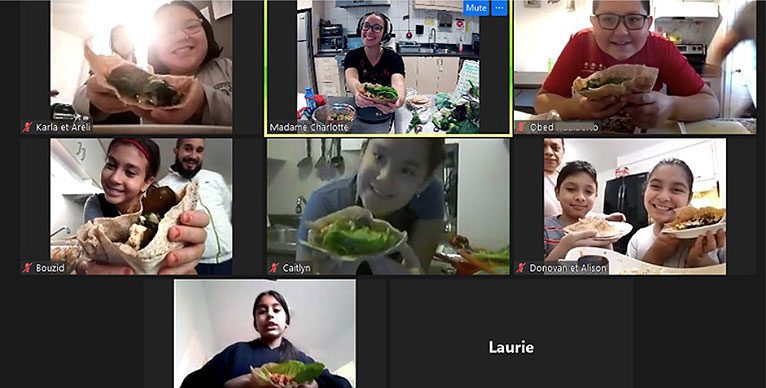 Can you tell us more about Boîte à Lunch?
It's an after-school program that uses food to break down barriers to food security and promote access to food and food skills. It is aimed at developing the capacity of children to make healthy food choices for the rest of their lives.
We focus on knife skills, components of cultural cooking, and food ingredients. Activities explore where food comes from, food waste and how to grow food. Children roll up their sleeves to make a wide variety of fun, healthy, and delicious meals, such as smoothies, breakfast burritos, and sushi. The program is rigorously evaluated – following the program, kids have improved knowledge of basic cooking skills, and choose more fruits and veggies to eat.
Can you speak to the stigma of food insecurity?
Worrying about paying for the next meal can be detrimental for families. Our activities give kids a chance to cook delicious, healthy, affordable meals in a safe and fun setting, which gives them important life skills. The program increases their access to food in a non-stigmatizing way because the program is free and open to everyone. Another huge plus of the program is that parents also get tapped into all the other supportive services the Depot provides, which can help families cope with other barriers to food security. Getting connected to others in the community can really help manage the feelings of stigma and social isolation that happens when it's hard to put food on the table.
How did COVID impact the program?
We had to shift to virtual classes which is logistically complicated as packages with ingredients and recipes are prepared and sent to homes in advance, and we created work stations for the instructors to be able to show kids what's happening on the cutting board. Unfortunately, kids get less of the social benefits of the program when it's virtual, but on a positive note, we see more parents getting involved in the classes and spending time with their children during this challenging time. We do look forward to being in person with the kids again soon!
What is inspiring you about the program going forward?
Our new regional coordinator is a nutritionist and we are most excited about creating culturally diverse and nutritious recipes to honour the local culture of the neighbourhoods we serve. As we have expanded the program, we will continue to balance the need to stay consistent to the model we created and the need to give neighbourhood coordinators the flexibility to incorporate different techniques and recipes.
I hope to continue to expand to every neighbourhood in Montreal!​