Environmental Management
and
Performance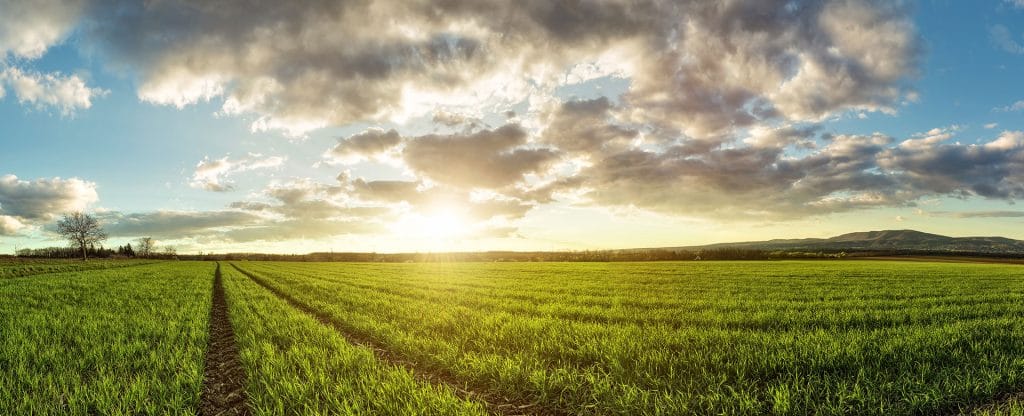 Maple Leaf Foods'
enhanced
management and governance approach to sustainability provides a strong foundation, including strategic oversight, visibility, accountability and resources to
support
our purpose, vision and robust sustainability strategy and reduction roadmap.
Environmental Sustainability Commitment
Maple Leaf Foods has a formal environmental policy entitled "Our Environmental Sustainability Commitment" that guides our environmental sustainability strategy and day-to-day practices. This policy has been approved by the Board of Directors' Safety and Sustainability Committee and is monitored on a regular basis by the Committee, including compliance with regulatory requirements and the use of internal environmental specialists and independent, external environmental experts.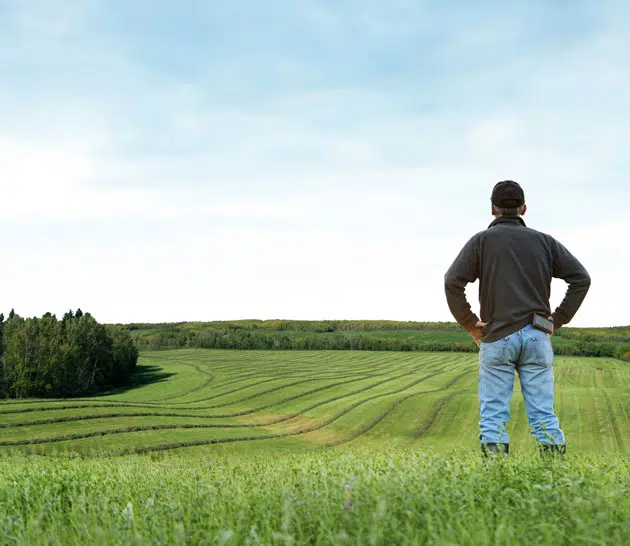 Targets and Performance
We are proud to be the world's first major carbon neutral protein company. We have set ambitious science-based targets to reduce our absolute Scope 1 and 2 emissions by 30% and the intensity of our Scope 3 emissions by 30% by 2030 (baseline of 2018), approved by the Science Based Targets initiative. In 2014, we set a bold goal to reduce the intensity of our environmental footprint by 50% by 2025 (2014 baseline). Here is how we are performing against our environmental targets:
17.8%
50% x 2025 total energy intensity reduction
21.8%
50% x 2025 electricity intensity reduction
18.7%
50% x 2025 natural gas intensity reduction
21.4%
50% x 2025 water intensity reduction
18.5%
50% x 2025 solid waste intensity reduction
92.7%
company-wide landfill diversion rate
33.3%
50% x 2025 food loss waste intensity reduction
0.34%
30% x 2030 absolute Scope 1 & 2 emissions reduction
1.95%
30% x 2030 Scope 3 emissions intensity increase
Note: Performance is measured from a 2014 baseline, with the exception of solid waste, which is a 2015 baseline, food loss waste, which is a 2016 baseline, and SBTs (Scope 1, 2 and 3), which is a 2018 baseline.
In 2021, our environmental footprint reductions largely plateaued, our Scope 1 & 2 GHG emissions reductions improved slightly and our Scope 3 emissions regressed slightly from the previous year.
Although we have shown good initial reductions from our 2014 base year, in the past three years, our annual progress in achieving our targets has slowed. Our weak intensity performance in 2021 was primarily driven by the utility consumption during the construction and start-up of four new facilities/expansions located in Ontario, Manitoba and Indiana. During construction, these new facilities/expansions consumed utilities, but had not yet started producing products. This both increased our consumption and negatively skewed our intensity performance.
In addition, throughout 2020 and 2021, we paused the execution of some of our environmental footprint reduction initiatives due to the COVID-19 pandemic in an effort to prioritize fully our comprehensive COVID-19 prevention and safety program to keep our team members safe while continuing production to meet growing demands.
We recognize we will not achieve our environmental targets without a major strategic shift and investments in high-impact, GHG reduction technologies. Therefore, we continue working on two transformational strategies: anaerobic digestion and regenerative agriculture.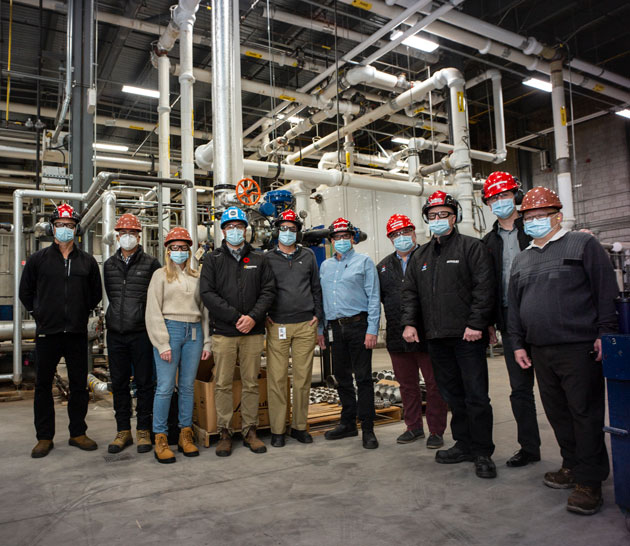 Environmental Management System (EMS)
In line with our Environmental Sustainability Commitment, Maple Leaf Foods has an EMS in place at each of our facilities using the same methods as ISO 14001. Regulatory compliance is assessed at each of our operations, progress is tracked and action plans are created to continuously improve our performance.
Auditing and Action Plans
We have a robust auditing and action plan program to achieve our environmental targets. In addition to our own internal audits, we work with a third-parties to conduct utility audits of our facilities on an annual or as-needed basis to identify savings and reduction opportunities. Based on the findings, we use an effort-impact matrix to prioritize projects. An action plan tracker is used to measure how each plant is progressing towards its own targets and our company-wide targets. See the chart below for a breakdown of opportunities identified between 2015-2021.
Lifecycle Assessment
In 2018, we conducted a life cycle assessment (LCA) of one of our products, Maple Leaf bacon (375 g product), according to the requirements of ISO 14040 and ISO 14044.

As the results show in the graphic, the assessments identified that environmental impacts occur throughout the entire pork production chain, with the most significant impacts coming from feed production and pig raising. The study highlighted several recommendations that have helped Maple Leaf Foods realize where to focus our efforts in order to have the most significant reductions in our environmental impact. Optimizing feed composition, considering different transportation modes and investigating ways for further reduction of methane emissions from barns are among the recommendations.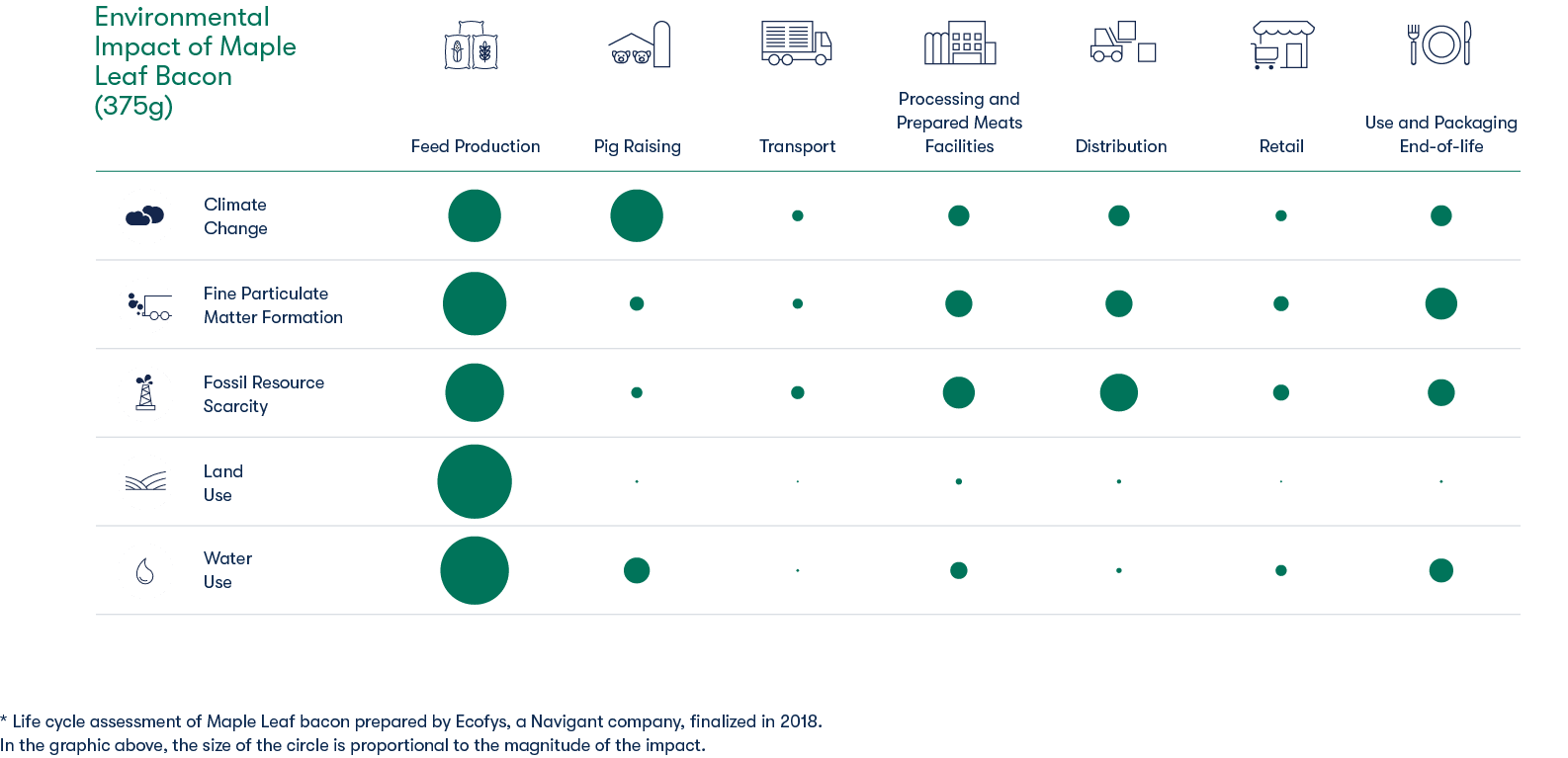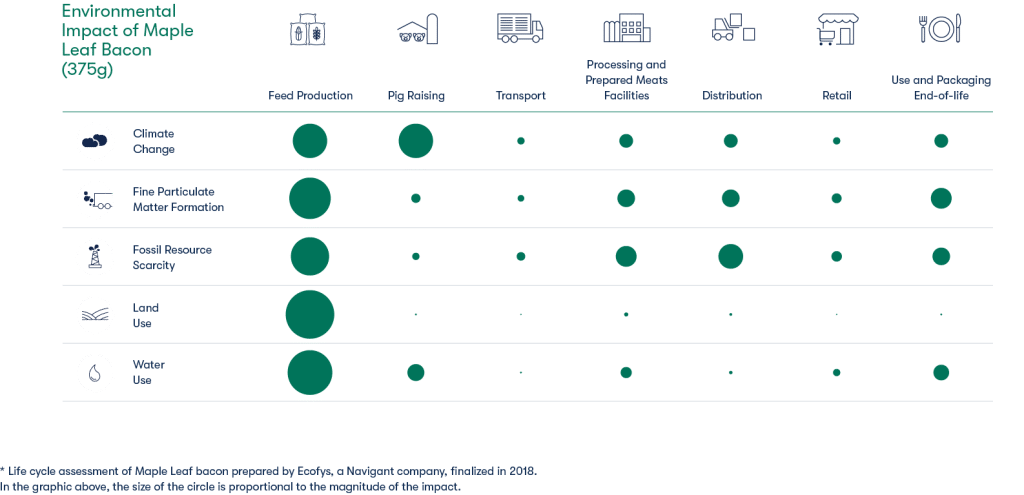 Sustainability Report
Learn more about our sustainability performance in our 2021 Sustainability Report.