A Barnside Chat
Dr. Greg Douglas on leadership in animal care.

Dr. Greg Douglas was appointed vice president, animal care, at Maple Leaf Foods in 2015. He is responsible for developing and implementing a comprehensive strategy for animal care across all Maple Leaf Foods operations.
Dr. Douglas was the chief veterinary officer for the Province of Saskatchewan and, later, the chief veterinarian for the Province of Ontario. He has also held senior roles at the Canadian Food Inspection Agency.
We sat down with Dr. Douglas to learn more about his passion for animal care and the industry-leading advances underway at Maple Leaf Foods.
You were raised on a farm in rural Saskatchewan. Did that upbringing and way of life influence your professional views and approach?
Absolutely. Growing up on a farm teaches you first and foremost about the value of hard work and earning your keep. A farming lifestyle also teaches you about finding practical solutions to challenging issues.
Because of my background on the farm, I bring an agricultural lens and passion to my work advancing animal welfare. There is an undeniable need to do better as an industry, but change in animal welfare has to be balanced with the potentially profound consequences to producers.
You've had a varied career: you have worked in veterinary medicine, as a regulatory inspector and disease specialist, and as a chief veterinary official. Why the variety, and how does it inform your current work?
Frankly, my Achilles heel is that I'm a sucker for a challenge. I get bored easily, so taking on big challenges is always very enticing to me. I didn't intend to start out with the Canadian Food Inspection Agency (CFIA). But they needed energetic people in Saskatchewan, and the job fit my studies.
About two years after I joined the CFIA, in 2003, we had to deal with Bovine spongiform encephalopathy (BSE) – the first indigenous case in Canada. Not long after I joined the Government of Saskatchewan, we had an H1N1 outbreak. I eventually moved to Ontario because of scale – the province has 40 percent of the nation's farm animals – and even more opportunity to make meaningful impacts.
Building public trust and confidence, along with working on complex challenges, is rewarding and provides for great learning opportunities.
Why did you move from government to Maple Leaf Foods?
The challenge appealed to me: it leverages all of my life's work, professional skills and experiences. Maple Leaf Foods does important things in big ways. Because it is a key player in the Canadian food system, its actions and leadership help drive systemic change. The company was already doing great work before I joined in 2015, but there was an opportunity to pull all of that work together in a comprehensive strategy that boldly advances animal care – within the company and the industry at large.
Your mandate was to design and execute the company's animal care strategy. What was your approach?
The initial challenge was creating a comprehensive strategic plan everyone understood – from the farm all the way to the plant. So we structured the plan around four pillars: culture, accountability, advancement and communication.
For the first six months, I travelled extensively to all of our sites. People needed to understand what we were working toward. What I call the "culture of animals" – the respect the company and our people have for animals – was always in place. This made my life easier. It meant we could establish governance, commitments and practices that supported our end goal.
How are we doing when it comes to animal care within the food sector? What are the opportunities and goals ahead?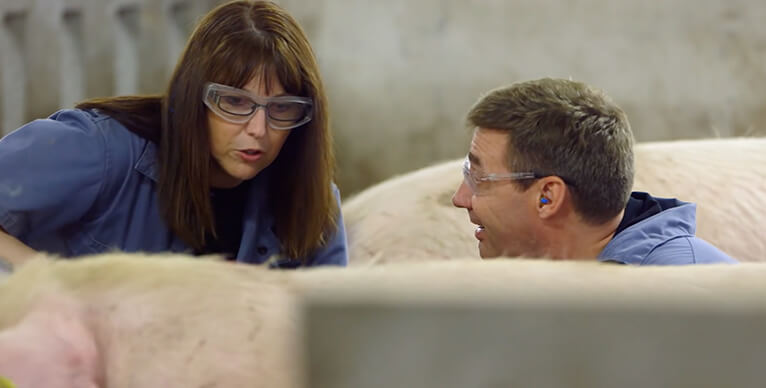 I'm proud of where we are – and how far we've come. We are making important advances in many areas of animal care including training, independent audits of our operations and in transitioning to open housing. As of 2017, we have more than 33,000 sows in open housing – that equals the total number of sows we had in traditional housing back in 2007.
We've also implemented a pioneering remote video auditing program in four major facilities, including barns, plants and a hatchery. That helps our team improve the lives of our animals in real time, and helps train new employees. And we'll roll out this platform across our other facilities this coming year.
At the same time, I'm proud that we are our own harshest critics.
An area we have more work to do is housing, including enrichment and lighting. We are further advanced in pork, where we control a significant portion of the barns, and less so in poultry where we don't. But we are on the right track, making significant strides, and creating leadership in animal care in several areas.
How do you describe our obligation to the animals in our care?
It's very simple: we need to give them the best life and welfare we can, suitable to their species. We are big believers in and champions of the Five Freedoms of Animal Welfare, which are focused on freedom from hunger and thirst; freedom from discomfort; freedom from pain, injury or disease; freedom to express normal behaviour; and freedom from fear and distress.
What role is technology playing?
It's playing an increasingly important role – like it is in many other aspects of life. Take transportation, which can be very stressful in the life of an animal. We are experimenting with new trailer lift systems to make the loading process less taxing. We're pursuing climate control sensor systems to carefully monitor humidity and temperature for pork and poultry, which is so important given our diverse weather in Canada.
We are also exploring the use of artificial intelligence in a unique program with a technology innovator to determine if there are ways to monitor herd health and make targeted treatment interventions with animals that may be struggling.
Broadly speaking, what is the food sector doing right? Where do you think it needs to improve?
The industry is doing a lot right, particularly in the last few years. But it still has a long way to go. Optimal animal care is not easy to achieve. To advance it further, complex challenges must be overcome related to cost, scale and economic sustainability for producers. An advancement in one area may create unintended large-scale environmental or viability concerns in another. So the process requires creativity, commitment, experimentation – and all the stakeholders at the table – to make tangible progress.
What are you most proud of at Maple Leaf Foods?
Our agricultural team. Our people are so passionate about animal care, and they are doing fantastic work. It's very exciting and inspiring.
Whenever I'm in our sites, I immediately sense the pride they take in treating the animals well. I've never had to play the role of "cop" at Maple Leaf Foods, unlike my old regulator days. Here, it's more like "coach".

Read More
2018-04-04
---
Our Leadership Team
At Maple Leaf Foods, we make targeted investments in leadership development, including our three-year Leadership Track Program.